<< Previous | Next >>
Archive of Published Issues: 2019
Front Matter
Front Matter associated with this Archival Unit includes:
Metadata
Metadata associated with this Archival Unit includes:
Journal URL
https://e-journal.unair.ac.id/JFIKI
Title
JURNAL FARMASI DAN ILMU KEFARMASIAN INDONESIA
Publisher
Fakultas Farmasi Universitas Airlangga
Description
Jurnal Farmasi dan Ilmu Kefarmasian Indonesia
Keywords
farmasi; pharmacy; pharmacy practice; phramaceutical sciences; farmasi praktis; farmasi komunitas; farmasetika; kimia farmasi; farmakognosi; fitokimia; farmasi klinis
Language(s)
English (en_US)

Publisher Email
jfiki@ff.unair.ac.id
Copyright

1. Hak cipta jurnal ini adalah milik Dewan Editorial dan Manajer Jurnal dengan sepengetahuan penulis, sedangkan hak moral publikasi milik penulis.





2. Aspek hukum formal aksesibilitas publikasi jurnal mengacu pada Creative Commons Atribusi-Non Commercial-No Derivative (CC BY-NC-SA), yang menyiratkan bahwa publikasi dapat digunakan untuk tujuan non-komersial dalam bentuk aslinya.





3. Setiap publikasi (cetak / elektronik) adalah akses terbuka untuk tujuan pendidikan, penelitian, dan perpustakaan.

Selain tujuan yang disebutkan di atas,

dewan editorial tidak bertanggung jawab atas pelanggaran hak cipta

LOCKSS system has permission to collect, preserve, and serve this Archival Unit.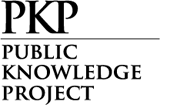 Open Journal Systems was developed by the Public Knowledge Project.