Testicular Tuberculosis in an HIV Positive Patient Co-infection with Pulmonary Tuberculosis Mimicking Malignancy: A Case Report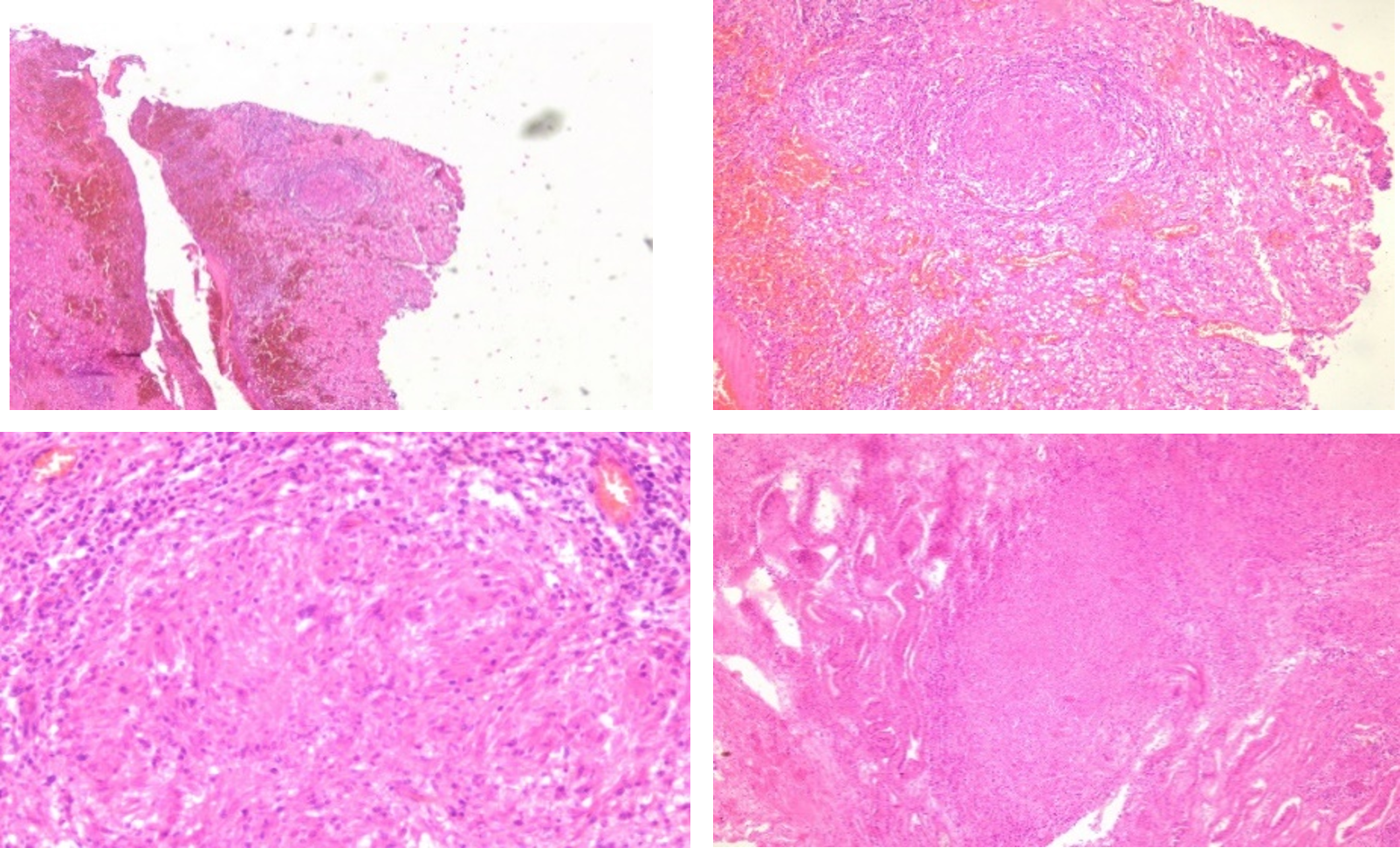 Downloads
Background: Extrapulmonary involvement can be seen in more than 50% of patients with concurrent HIV and tuberculosis (TB). Approximately 7% of those are presented as a rare case, namely testicular TB, with scrotal mass as common clinical manifestation. Testicular TB should be a different diagnosis, especially in areas with a high prevalence rate for TB.
Case: A 24-year-old male with HIV positive co-infection with pulmonary TB presented with a progressively increasing painless right testicular swelling of 1-month duration. History of chronic cough was complained, accompanied by loss of appetite and decrease of body weight. There was no history of testicular traumatic accident before. Genital examination was right testicular mass measuring 7cm x 4cm and depletion of right side scrotal skin with pus and necrotic tissue. He had right orchidectomy by an urologist in a private hospital; then an anatomical pathology was examined. The result of the microscopic evaluation showed granuloma inflammation process typical for orchitis tuberculosis. The patient was reactive for HIV and had Mycobacterium tuberculosis (MTB) detected, Rifampicin resistant not recognized as the result of Gene Xpert MTB/RIF assay.
Conclusion: Although a rare case, testicular TB should be a different diagnosis when there is a patient with HIV positive concurrent pulmonary TB with scrotal mass as clinical manifestation, especially in areas with a high prevalence rate for TB.
1.
Purnomo WA, Kusmiati T, Soedarsono S. Testicular Tuberculosis in an HIV Positive Patient Co-infection with Pulmonary Tuberculosis Mimicking Malignancy: A Case Report. JR [Internet]. 2020 May 30 [cited 2023 Nov. 29];6(2):45-8. Available from: https://e-journal.unair.ac.id/JR/article/view/15705
Golden MP, Vikram HR. Extrapulmonary Tuberculosis: An Overview. Am Fam Physician. 2005;72(9):1761-1768.
Ojo BA, Ogwuche EI, Duduyemi BM, Okani C, Umobong EO, Jombo GTA. Testicular Tuberculosis in an HIV Positive Patient Mimicking Malignancy: A Case Report. African J Urol. 2014;20(1):28-30. doi:10.1016/j.afju.2013.11.003
Chirindel A, Martinez F, Gagliardi JA, Armm MF. Testicular Tuberculosis without Epididymitis Simulating Neoplasm. Radiol case reports. 2015;3(3):133. doi:10.2484/rcr.v3i3.133
Ferrie BG, Rundle JSH. Tuberculous Epididymo-orchitis.A Review of 20 Cases. Br J Urol. 1983;55(4):437-439. doi:10.1111/j.1464-410X.1983.tb03340.x
Wijaya IMK. Infeksi HIV (Human Immunodeficiency Virus) pada Penderita Tuberkulosis. Semin Nas FMIPA UNDIKSHA III. 2013;3:295-303. http://ejournal.undiksha.ac.id/index.php/semnasmipa/article/view/2721/2301.
Farer LS, Lowell AM, Meador MP. Extrapulmonary Tuberculosis in the United States. Am J Epidemiol. 1979;109(2):205-217. doi:10.1093/oxfordjournals.aje.a112675
Muttarak M, Peh WCG. Case 91: Tuberculous Epididymo-orchitis. Radiology. 2006;238(2):748-751. doi:10.1148/radiol.2382031851
Jaffar A, Mehta JB, Godfrey JH. Tuberculous Epididymo-orchitis and Granulomatous Prostatitis Mimicking Neoplasia. J Tenn Med Assoc. 1990;83(12):605-606.
Tessler FN, Tublin ME, Rifkin MD. US Case of the Day. Tuberculous Epididymoorchitis. Radiographics. 1998;18(1):251-253. doi:10.1148/radiographics.18.1.9460131
Wise GJ, Marella VK. Genitourinary Manifestations of Tuberculosis. Urol Clin North Am. 2003;30(1):111-121. doi:10.1016/s0094-0143(02)00123-4
Muttarak M, Peh WCG, Lojanapiwat B, Chaiwun B. Tuberculous Epididymitis and Epididymo-orchitis. Am J Roentgenol. 2001;176(6):1459-1466. doi:10.2214/ajr.176.6.1761459
Reeve HR, Weinerth JL, Peterson LJ. Tuberculosis of Epididymis and Testicle Presenting as Hydrocele. Urology. 1974;4(3):329-331. doi:10.1016/0090-4295(74)90389-6
Copyright (c) 2020 Wahyu Agung Purnomo, Tutik Kusmiati, Soedarsono Soedarsono
This work is licensed under a Creative Commons Attribution-ShareAlike 4.0 International License.
1. The journal allows the author to hold the copyright of the article without restrictions.
2. The journal allows the author(s) to retain publishing rights without restrictions.
3. The legal formal aspect of journal publication accessibility refers to Creative Commons Attribution Share-Alike (CC BY-SA).
4. The Creative Commons Attribution Share-Alike (CC BY-SA) license allows re-distribution and re-use of a licensed work on the conditions that the creator is appropriately credited and that any derivative work is made available under "the same, similar or a compatible license". Other than the conditions mentioned above, the editorial board is not responsible for copyright violation.