The Effect of Adding Fermented Mulberry Leaves (Morus spp.) in Feed Formulation to Stimulate Molting of Mud Crab (Scylla serrata)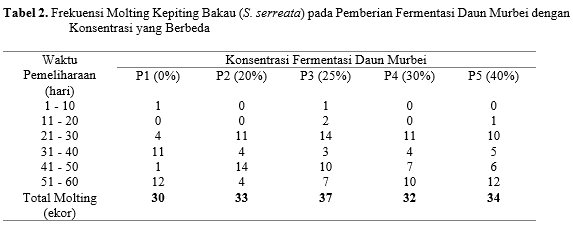 Downloads
One of the factors in aquaculture activities that affect the production and growth process of mud crab is molting. Several techniques have been developed to accelerate the molting of mud crabs, namely ablation, mutilation, and supplementation. One form of supplementation is through the use of fermented mulberry leaves in mud crab feed. Therefore, this study aimed to analyze the effect of adding fermented mulberry leaves (Morus spp.) in feed to stimulate the molting of mud crabs (S. serrata). This research was carried out in traditional ponds in Bugis Village, Sape District, Bima Regency, for 60 days. The method used was an experimental method with a completely randomized design (CRD) consisting of five treatments and three replications, namely control treatment/trash fish (P1), 20% Mulberry Leaf Fermentation (P2), 25% (P3), 30% (P4), and 40% (P5). Research parameters comprise frequency and percentage of molting, absolute growth, specific growth rate, feed utilization efficiency, feed conversion ratio, survival rate, and water quality. The results showed that the combination test feed of fermented mulberry leaf (Morus spp.) in the mud crab (S. serrata) diet did not affect all the parameters measured. The provision of mangrove crab feed formulation with a concentration of 25% mulberry leaf fermentation (P3) and control treatment (P1) gave a faster initial molting, which was the first 10 days of the rearing period with the highest average frequency and percentage of molting of 37 and 41%, respectively.
Dewi, S. S., Salnida Yuniarti Lumbessy, & Dewi Putri Lestari. (2023). The Effect of Adding Fermented Mulberry Leaves (Morus spp.) in Feed Formulation to Stimulate Molting of Mud Crab (Scylla serrata). Journal of Aquaculture Science, 8(1), 1–13. https://doi.org/10.31093/joas.v8i1.201
Akbar, W., Yusnaini., dan W.H. Muskita. (2016). Pertumbuhan Kepiting Bakau (Scylla serrata) yang diberi Pakan Usus Ayam yang dikukus dan Ikan Rucah. Jurnal Media Akuatika. 1(3), 190-196.
Anderson, A., P, Mather., dan N, Richardson., (2004). Nutrition of the Mud Crab Scylla serrata (Forskal). Dalam Proceeding of Mud Crab Aquaculture in Australia and Southeast Asia. Allan, G., D, Fielder. (Editors), 57–59.
Ansari, N. dan Sulaeman. (2010). Pemacuan Pergantian Kulit Kepiting Baku (Scylla serrata) Melalui Manipulasi Lingkungan untuk Menghasilkan Kepiting Lunak. Prosiding Forum Inovasi Teknologi Akuakultur 2010. 179-185.
Artini, Q. (2019). Penambahan Ekstrak Daun Murbei (Morus sp.) dan Ekstrak Daun Bayam (Amaranthus sp.) Terhadap Kecepatan Molting Kepiting Bakau (Scylla serrata). Doctoral dissertation, Universitas Bangka Belitung
Catacutan, M.R. (2002). Growth and Body Composition of Juvenile Mud Crab, Scylla serrata, Fed Different Dietary Protein and Lipid Levels and Protein to Energy Ratios. Aquaculture, 208, 113-123.
Djunaedi, A., S. Sunaryo, dan B. P. Aditya. (2015). Pertumbuhan Kepiting Bakau (Scylla serrata Forsskål, 1775) dengan Ukuran Pakan Berbeda pada Budidaya dengan Sistem Baterai. Jurnal Kelautan Tropis, 18(1). 121-129
Fajarudin, M.W., M. Yumus dan E. Setyowati. (2013). Pengaruh Lama Fermentasi EM4 terhadap Kandungan Protein Kasar Padatan Kering Lumpur Organik Unit Gas Bio.Jurnal ilmu-ilmu Peternakan. 23 (2): 14-18.
Fujaya, Y., D.D. Trijuno., dan E. Suryati. (2008). Pengembangan Teknologi Produksi Ranjungan Lunak Hasil Pembenihan dengan Memanfaatkan Ekstrak Bayam Sebagai Stimulasi Molting. MENRESTEK. Fakultas Ilmu Kelautan dan Perikanan, Universitas Hasanuddin. Makassar.
Fujaya, Y. (2011). Pertumbuha dan Molting Kepiting Bakau yang diberi Dosis Vitomolot Berbeda (Growth and Molting of Mud Crab Administered by Different doses of Vitomolt). Jurnal Akuakultur Indonesia, 10(1), 24-28.
Fujaya, Y., D. D. Trijuno, H. Haryati, H. Hasnidar, M. Rusdi, dan Z. Usman. (2018). Effectivity of Mulberry Leaf Extract on Stimulating Ekdisteroidhemolimph Content and Molting of Mud Crab (Scylla olivacea). TORANI: Journal of Fisheries and Marine Science, 2(1), 32-43.
Haqqi, MF (2016) Pengaruh Penambahan Daun Bayam dan Murbei yang Dikombinasikan dengan Kapur CaOH dalam Menstimulasi Molting Kepiting Bakau (Scylla serrata). Skripsi. Mataram: Program Studi Budidaya Perairan, Jurusan Perikanan dan Ilmu Kelautan, Fakultas Pertanian, Universitas Mataram.
Harisud, L. O. M., E. Bidayani, dan A. F. Syarif. (2019). Performa Pertumbuhan dan Kelangsungan Hidup Kepiting Bakau (Scylla serrata) dengan Pemberian Kombinasi Pakan Keong Mas dan Ikan Rucah. Journal of Tropical Marine Science, 2(2), 43-50.
Herlinah, H., A. Tenriulo, dan E. Suryati. (2014). Hormon Ecdysteron dari Ekstrak Daun Murbei(Morus Spp).Sebagai Moulting Stimulan pada Kepiting Bakau. Jurnal Riset Akuakultur, 9(3), 387-397.
Herlinah, A. S., A., Tenriulo, E. S. Tenriulo, dan H. S. Suwoyo. (2015). Respons Moulting dan Sintasan Kepiting Bakau (Scylla Olivacea) yang Diinjeksi dengan Ekstrak Daun Murbei (Morus sp.). Jurnal Ilmu dan Teknologi Kelautan Tropis, 7(1), 247-258.
Katiandagho, B. (2014). Analisis Fluktuasi Parameter Kualitas Air Terhadap Aktifitas Molting Kepiting Bakau (Scylla sp). Agrikan: Jurnal Agribisnis Perikanan, 7(2), 21-25.
Karim, M. Y. (2005). Kinerja Pertumbuhan Kepiting Bakau Betina (Scylla serrata) pada Berbagai Salinitas Media dan Evaluasinya pada Salinitas Optimum dengan Kadar Protein Pakan Berbeda. Disertasi, Sekolah Pascasarjana, IPB. Bogor.
Karim, M. Y. (2007). Moulting Phenomenon of Mutilated and Unmotilated Mud Crab (Scylla serrata). Torani. Jurnal Ilmu Kelautan. Vol. 15(5). Hlm. 394-399.
Kuniyo, Y. (2020). Teknologi Budidaya Kepiting Baku (Scylla serrata forsskal) Melalui Optimalisasi Lingkungan dan Pakan. CV. AA. Rizky: Serang-Banten.
Kuntiyo, (2004). Pedoman Budidaya Kepiting Bakau (Scylla serrata). Balai Budidaya Air Payau Jepara. 29.
Prasetyo, A. D., D. Hariani, dan N. Kuswanti. (2013). Penambahan Air Kapur dan Bayam pada Pakan untuk Mempersingkat Durasi Moulting Kepiting Bakau (Scylla serrata) Jantan. Jurnal Lentera Bio. Universitas Negeri Surabaya, 2(3), 271-278.
Qomariyah, L., I. Samidjan, dan D. Rachmawati. (2014). Pengaruh Persentase Jumlah Pakan Buatan yang Berbeda Terhadap Pertumbuhan dan Kelulushidupan Kepiting Bakau (Scylla paramamosain). Journal of Aquaculture Management and Technology, 3(4), 18-25.
Rizali, A., F. Fachrianto, M. H. Ansari, dan A. Wahdi. (2018). Pemanfaatan Limbah Pelepah dan Daun Kelapa Sawit Melalui Fermentasi Trichoderma sp. Sebagai Pakan Sapi Potong. EnviroScienteae, 14(1), 1-7.
Simanullang, D. F. P. 2017. Pengaruh Penambahan Sumber Karbon yang Berbeda Pada Sistem Bioflok terhadap Laju Pertumbuhan dan Kelulushidupan Ikan Nila Merah (Oreochromis niloticus). Skripsi. Jurusan Budidaya Perairan. Fakultas Perikanan dan Kelautan. Universitas Riau.
Sugiani, S., Putra, dan I., Rusliadi. (2014). Maintenance Mud Carb (Scylla serrata ) With Defferent Provision Of Need. Jurnal ilmu kelautan. 22(4), 1499-1514
Sukaryana, Y., U. Atmomarosono, V. D. Yunianto dan E. Supriyatna. (2011). Peningkatan Nilai Kecernaan Protein Kasar dan Lemak Kasar Produk Fermentasi Campuran Bungkil Inti Sawit dan Dedak Padi Pada Brioler. Jurnal Ilmu Teknologi Pangan. Vol 1(3): 167-172.
Copyright (c) 2023 Sulfah Salnida Dewi
This work is licensed under a Creative Commons Attribution-NonCommercial-ShareAlike 4.0 International License.