Editorial Policies
Focus and Scope
The journal is aimed at providing grounds for the exchange of ideas, sciences development through research experience in the broad field of occupational safety and health. We publish original research papers, systematic articles and literature review focused on Occupational Safety and Health. High priority will be given to articles on Industrial Toxicology, Industrial Hygiene, Industrial Psychology, Ergonomic, Fire Protection System, safety management, and Risk Analysis (Risk Assessment, Risk Management, Risk Communication).
Section Policies
Articles
| | | |
| --- | --- | --- |
| Open Submissions | Indexed | Peer Reviewed |
Literature Review
| | | |
| --- | --- | --- |
| Open Submissions | Indexed | Peer Reviewed |
Call for Paper
| | | |
| --- | --- | --- |
| Open Submissions | Indexed | Peer Reviewed |
Peer Review Process
The Indonesian Journal of Occupational Safety and Health (IJOSH) uses an online submission and review system. The submission and peer review of every article must be managed using this system and based on following Peer Review Policy.
IJOSH Editorial Board is responsible for the selection of papers and the selection of reviewers.
Articles must typically be reviewed by at least two independent reviewers.
Reviewers are unaware of the identity of the authors, and authors are also unaware of the identity of reviewers (double blind review)
Reviewing process will consider novelty, objectivity, method, scientific impact, conclusion, and references.
The final decision of manuscript acceptance shall be made by the Editorial Board according to reviewers critical comments.
Section Editor will send the final decision regarding the submission to the corresponding author based on the reviewer's recommendation.
IJOSH Editorial Board shall protect the confidentiality of all material submitted to the journal and all communications with reviewers.
Process flow from submission to Accepted: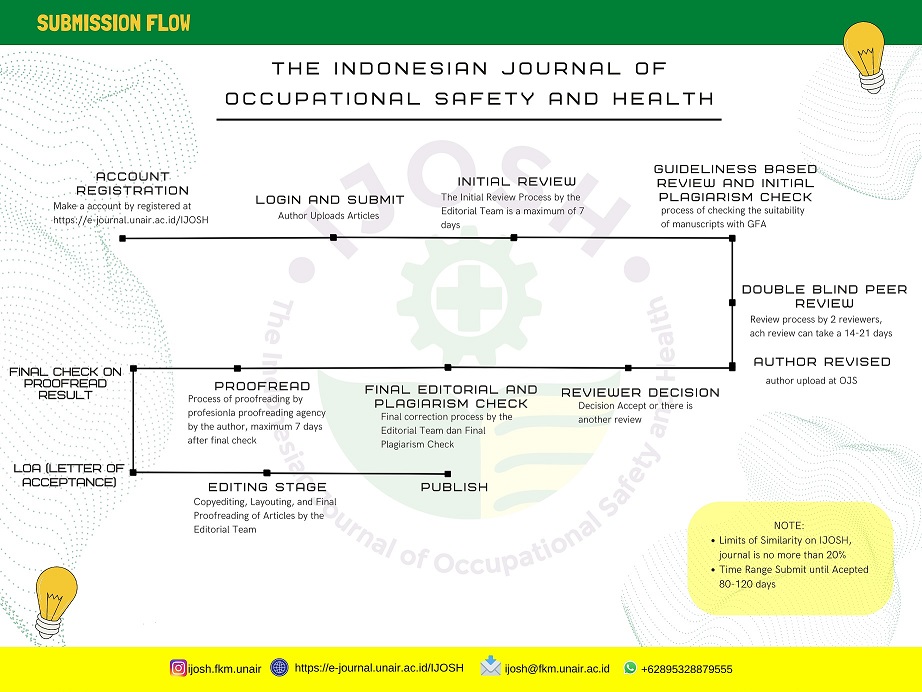 Open Access Policy
This journal provides immediate open access to its content on the principle that making research freely available to the public supports a greater global exchange of knowledge.
Archiving
This journal utilizes CLOCKSS systems to create a distributed archiving system among participating libraries and permits those libraries to create permanent archives of the journal for purposes of preservation and restoration.

Plagiarism Screening
Plagiarism screening will be conducted by the indonesian Journal of Occupational Safety and Health (IJOSH) Editorial Board twice, before and after the review, using TURNITIN Plagiarism Checker. Articles must obtain a similarity of less than 20 %.
For Author
The author can download this file Conflict of Interset Form, Copyright Transfer Agreement (CTA) Form.
Publication Frequency
This journal is published regularly three times a year, in April, August and December.
Publisher
IJOSH is managed and published by Universitas Airlangga.