The Association of Age and Number of Parturition with Mammary Gland Tumor Case Rate in Mice in Malang Raya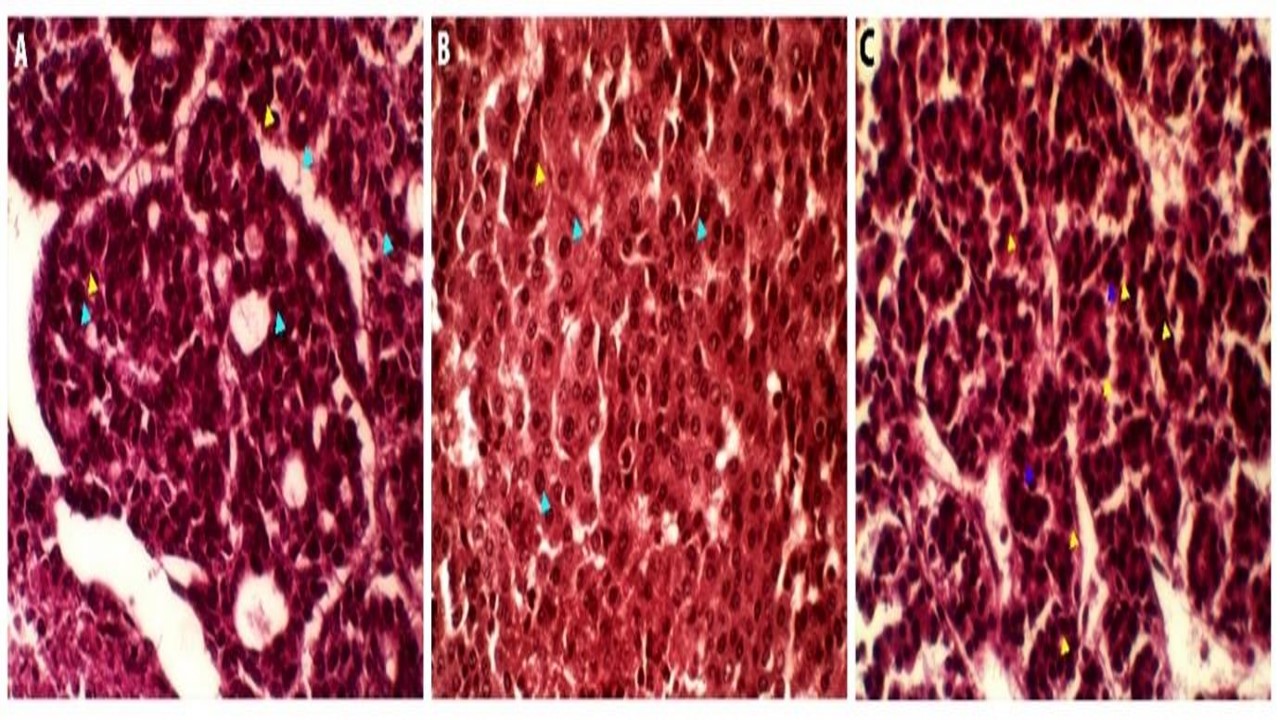 Downloads
Mammary gland tumours are frequently reported in adult female mice. It broadly affects the productivity and breeding performance of mice in breeding centres. The tumours might occur spontaneously due to internal factors such as genetic mutation and hormonal disturbance, however, external causes such as Mouse Mammary Tumour Virus (MMTV) infection was also reported. This study aimed to prove that age and number of parturition associate with mammary gland tumour case rate in female mice in Malang Raya. Chi-square tests were employed to analyse the association between risk factors and mammary gland tumour case rate in this study. Histopathologic analysis described three subtypes of mammary gland tumours in mice which were adenoma, adenocarcinoma type A and adenocarcinoma type B. Chi-square tests results of tumour case rate toward age and number of parturitions were consecutively 0,004 and 0,0025 which indicated that age and number of parturitions were associated with mammary gland tumours case rate in mice in Malang Raya. The mapping of tumour case distribution visually showed a trend that higher disease proportions were spotted in higher altitude of sampling location. This might relate to the geographical breeding characteristics or temperature which needs further study to explore the association of spatial factors with the mammary tumour incidence in mice.
Wukirani, M. R. M., Adha, E. H., Dewi, S. A. P. A., Setianingrum, A., Pratama, D. A. O. A. ., & Hardian, A. B. (2022). The Association of Age and Number of Parturition with Mammary Gland Tumor Case Rate in Mice in Malang Raya. Jurnal Medik Veteriner, 5(1), 9–15. https://doi.org/10.20473/jmv.vol5.iss1.2022.9-15
Brust, V., Schindler, P. M., & Lewejohann, L. (2015). Lifetime development of behavioural phenotype in the house mouse (Mus musculus). Frontiers in Zoology, 12, 1-14.
Faedo, M., Hinds, L. A., Singleton, G. R., & Rawlinson, W. D. (2007). Prevalence of Mouse Mammary Tumor Virus (Mmtv) in Wild House Mice (Mus Musculus) in Southeastern Australia. Journal of Wildlife Diseases, 43, 668–674.
Frith, C. H., & Ward, J. M. (1988). Colour Atlas of Neoplastic and Non-neoplastic Lesions in Aging Mice. Elsevier Science Publishers BV.
Fuad, Y. (2017). Stabilitas Sistem Dinamik Pertumbuhan Sel Kanker dengan Terapi Radiasi. Jurnal Ilmiah Matematika, 3(1).
Goldschmidt, M., Peña, L., Rasotto, R., & Zappulli, V. (2011). Classification and Grading of Canine Mammary Tumors. Veterinary Pathology, 48, 117–131.
Husby, A., Wohlfahrt, J., Øyen, N., & Melbye, M. (2018). Pregnancy duration and breast cancer risk. Natural Communication, 9, 4255–4255.
Jang, S., Gardner, J., & Ro, J. (2011). Diagnostic Approach and Prognostic Factors of Cancers. Advances in Anatomic Pathology, 18, 165–72.
Kamaliani, B. R., & Gorda, I. W. (2017). Tumor Non-neoplastik Akibat Mycotic Dermatitis pada Anjing. Jurnal Veteriner, 6, 314–319.
Lisnawati, L., Makmur, E., & Permana, D. (2017). Profil Lapse Rate Vertikal di Wilayah Indonesia (Vertical Lapse Rate Profile over Indonesia).
Mohibi, S., Mirza, S., Band, H., & Band, V. (2011). Mouse models of estrogen receptor-positive breast cancer. Journal of Carcinogenic, 10, 35–35.
Muraoka, R. S., Lenferink, A. E., Simpson, J., Brantley, D. M., Roebuck, L. R., Yakes, F. M., & Arteaga, C. L. (2001). Cyclin-dependent kinase inhibitor p27(Kip1) is required for mouse mammary gland morphogenesis and function. Journal of Cell Biology, 153, 917–932.
Obr, A., & Edwards, D. (2011). The Biology of Progesterone Receptor in the Normal Mammary gland and in Breast Cancer. Molecular and Cellular Endocrinology, 357, 4–17.
Prejean, J. D., Peckham, J. C., Casey, A. E., Griswold, D. P., Weisburger, E. K., & Weisburger, J. H. (1973). Spontaneous Tumors in Sprague-Dawley Rats and Swiss Mice. Cancer Research, 33, 2768.
Provinciali, M., Muzzioli, M., Stefano, G. D., & Fabris, N. (1991). Recovery of spleen cell natural killer activity by thyroid hormone treatment in old mice. Natural Immunity and Cell Growth Regulation, 10(4), 226–36.
Raafat, A., Strizzi, L., Lashin, K., Ginsburg, E., McCurdy, D., Salomon, D., Smith, G. H., Medina, D., & Callahan, R. (2012). Effects of age and parity on mammary gland lesions and progenitor cells in the FVB/N-RC mice. PLoS One, 7, e43624–e43624.
Repasky, E. A., Evans, S. S., & Dewhirst, M. W. (2013). Temperature matters! And why it should matter to tumor immunologists. Cancer Immunology Research, 1, 210–216.
Zachary, J. F. (2017). Pathologic Basis of Veterinary Disease, 6th ed. Elsevier, Missouri.
Copyright (c) 2022 Maulidi Robingi Mardiyani Wukirani, Essly Hervianingsih Adha, Sang Ayu Putri Aristya Dewi, Ani Setianingrum, Dyah Ayu Oktavianie Ardhiana Pratama, Andreas Bandang Hardian
This work is licensed under a Creative Commons Attribution-NonCommercial-ShareAlike 4.0 International License.
Authors who publish with this journal agree to the following terms:
1. The journal allows the author to hold the copyright of the article without restrictions;
2. The journal allows the author(s) to retain publishing rights without restrictions;
3. The legal formal aspect of journal publication accessibility refers to Creative Commons Attribution-NonCommercial-ShareAlike 4.0 International License (CC BY-NC-SA).