Cestode Infection in the Digestive Tract of Ducks from Chicken Slaughterhouses in Bojong Gede and Cibinong Market, Bogor, West Java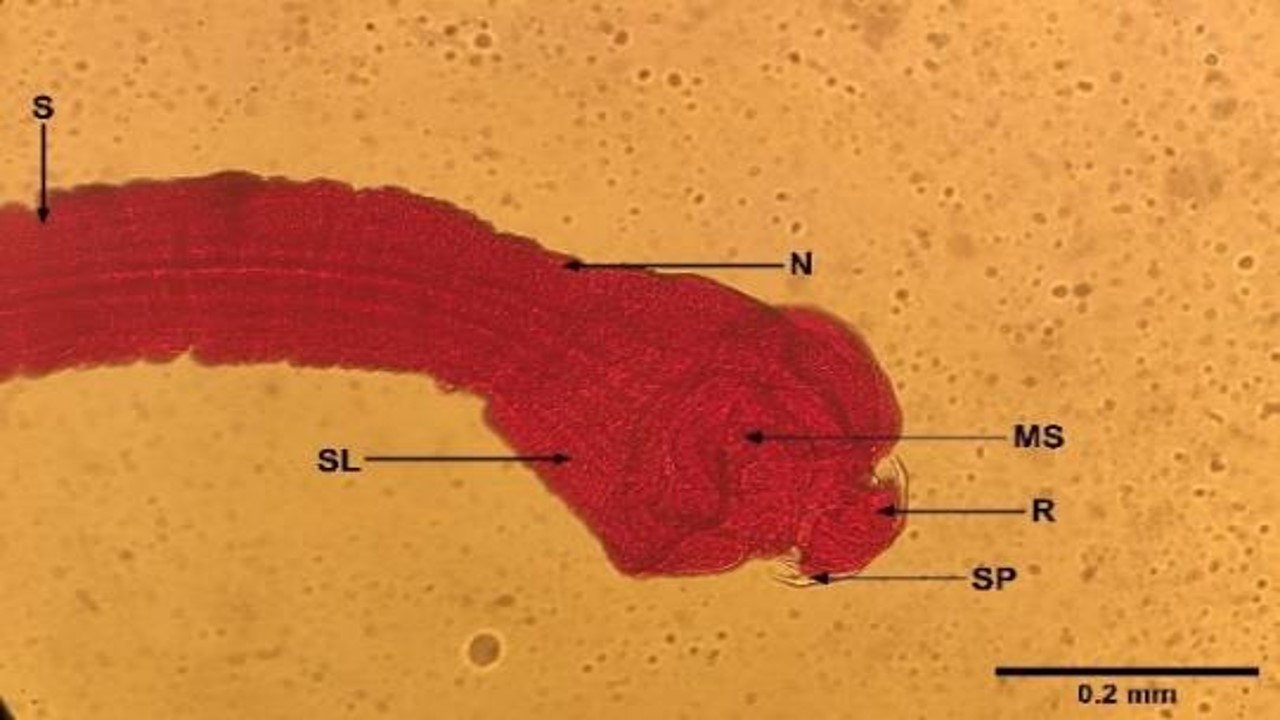 Downloads
Helminthiasis is a crucial gastrointestinal endoparasitic in ducks. This study aimed to determine the type and degree of infection of adult worms in the digestive tract of ducks at a chicken slaughterhouse in Bogor Regency, West Java. A total of 10 samples of the digestive tract of ducks were collected in this study. Five ducks were collected from a chicken slaughterhouse in Bojong Gede District and five other ducks were collected from a market in Cibinong City. Each intestinal sample was divided into 4 parts, i.e. the duodenum, jejunum, ileum and cecum. Adult cestode worms were stained with Semichon's Acetocarmine for identification. In result, three ducks were positive for endoparasite infection. The cestodes found were Raillietina cesticillus with 20% degree of infection in the jenjunum and ileum respectively. Hymenolepis nana with 20% degree of infection in the jejunum and ileum respectively. Choanotaenia infundibulum with 10% degree of infection in the ileum.
Aviola, L. ., Tiuria, R., & Nugraha, A. B. . (2022). Cestode Infection in the Digestive Tract of Ducks from Chicken Slaughterhouses in Bojong Gede and Cibinong Market, Bogor, West Java. Jurnal Medik Veteriner, 5(2), 149–156. https://doi.org/10.20473/jmv.vol5.iss2.2022.149-156
Al-Olayan, E., Elamin, M., Alshehri, E., Aloufi, A., Alanazi, Z., Almayouf, M., Bakr, L., & Abdel-Gaber, R. (2020). Morphological, molecular and pathological appraisal of Hymenolepis nana (Hymenolepididae) infecting laboratory mice (Mus musculus). Microscopy and Microanalysis, 1-15.
Arulmozhi, A., Anbarasi, P., Madheswaran, R., & Balasubramaniam, G. A. (2018). Choanotaenia infundibulum – a rare outbreak in Japanese quails (Conturnix conturnix japonica). Indian Veterinary Journal, 95(4), 48-50.
Baker, D. B. (2008). Parasites of rats and mice. In: Flynn's Parasites of Laboratory Animals Second edition. Blackwell Publishing.
Belete, A., Addis, M., & Ayele, M. (2016). Review on major gastrointestinal parasites that affects chickens. Journal of Biology, Agriculture, Healthcare, 6(11), 11-21.
Boulianne, M., Brash, M. L., Charlton, B. R., Fitz-Coy, S. H., Fulton, R.M., Julian, R.J., Jackwood, M. W., Ojkic, D., Newman, L.J., Sander, J.E., Shivaprasad, H. L., Wallner-Pendleton, E., & Woolcock, P. R. (2013). Avian Disease Manual: Seventh Edition. American Association of Avian Pathologists.
Butboonchoo, P., Wongsawad, C., Rojanapaibul, A., & Chai, J. Y. (2016). Morphology and molecular phylogeny of Raillietina spp. (Cestoda: Cyclophyllidea: Davaineidae) from domestic chicken in Thailand. Korean Journal of Parasitology, 54(6), 777-786.
Das, M., Laha, R., Goswami, A., & Doley, S. (2015). Gastrointestinal Parasitism in Turkeys and Quails of Umiam, Meghalaya. Indian Jornal of Hill Farming, 28(1), 12- 13.
Direktorat Jenderal Peternakan dan Kesehatan Hewan. (2020). Statistik Peternakan dan Kesehatan Hewan 2020. Direktorat Jenderal Peternakan dan Kesehatan, Kementrian Pertanian Republik Indonesia.
Dovc, A., Gracner, G. G., Tomazic, I., Vlahovic, K., Pavlak, M., Knific, R. L., Kralj, K., Stvarnik, M., & Rataj, A. V. (2017). Control of Hymenolepis nana infection as a measure to improve mouse colony welfare. Acta Veterinaria Hungarica, 65(2), 208-220.
El-Dakhly, K. M., Mohamed, H. I., Kamel, A. A., Mahrous, L.N., El-Nahass, E., & Aboshinaf, A. S. M. (2020). Prevalence, distribution pattern and pathological alterations of gastrointestinal helminthosis in domestic ducks in Beni-Suef, Egypt. Journal of Advanced Veterinary Research, 10(1), 1-8.
Gamra, O. W., Antia, R. E., & Falohun, O. O. (2015). Intestinal cestodes of poultry: Raillietina echinobothrida and Choanotaenia Infundibulum infection in a commercial Japanese quail (Coturnix coturnix japonica) farm in Apomu, Osun State, Nigeria. Scientific Journal of Zoology, 4(4), 20-25.
Jacobs, D., Fox, M., & Hermosilla, C. (2016). Principles of Veterinary Parasitology. Wiley Blackwell Publishing.
Ketaren, P. P. (2007). Peran itik sebagai penghasil telur dan daging nasional. Wartazoa, 17(3), 117-127.
Lalchhandama, K. (2009). On the structure of Raillietina echinobothrida, the tapeworm of domestic fowl. Science Vision, 9(4), 174-182.
Lawal, J. R., Hambali, I. U., Jajere, S. M., Bello, A. M., Biu, A. A., & Musa, G. (2015). Survey and prevalence of gastrointestinal cestode in village chickens (Gallus gallus domesticus) slaughtered in Gombe Metropolis Poultry Dressing Slab. International Journal of Livestock Research, 5(12), 21-27.
LIoyd, S. (1998). Other cestode infections: Hymenolepiosis, Diphyllobothriosis, Coenursis and other adult and larval cestodes. Oxford University Press.
Luka, S. A., & Ndams, I. S. (2007). Gastrointestinal parasites of domestic chicken Gallus gallus domesticus Linnaeus 1758 in Samaru, Zaria, Nigeria. Science World Journal, 2(1), 27–29.
Mattitaputty, P. R., & Suryana. (2010). Karakteristik daging itik dan permasalahan serta upaya pencegahan off-flavor akibat oksidasi lipida. Wartazoa, 20(3), 130- 138.
McOrist, S., Barton, N. J., & Jones, A. (2014). Choanotaenia spp. infestation of Australian finches (Estrildidae). Avian Pathology, 13, 479-486.
Monte, G. L. S., Cavalcante, D., & Oliveira, J. B. S. (2018). Parasitic profiling of Japanese quails (Conturnix japonica) on two farms with conventional production system in the Amazon region. Presquisa Veterinaria Brasileira, 38(5), 847-851.
Musa, S., Rahman, T., & Khanum, H. (2012). Prevalence and intensity of parasites in domestic ducks. Journal of Biological Sciences, 21(2), 197-199.
Nandi, S., & Samanta, S. (2010). Poultry Disease at a Glance. 1st edition. IBDC Publishers.
Oniye, S. J., Audu, P. A., Adebote, D. A., Kwaghe, B. B., Ajanusi, O. J., & Nfor, M. (2001). Survey of helminth parasites of Laughing Dove (Streptopeliasenegalensis) in Zaria, Nigeria. African Journal of Natural Sciences, 4, 65–66.
Pai, A. (2010). Encyclopedia of Animal Behavior. Academic Press.
Patterson, M. M., & Michale, S. F. (2015). Zebra Finches in biomedical research in Laboratory Animal Medicine. 3rd edition. Elsevier Inc.
Permin, A., & Hansen, J. W. (1998). Epidemiology, Diagnosis and Control of Poultry Parasites. Food and Agriculture Organization of The United Nations.
Retno, F. D., Lestariningsih, C. L., Purwanto, B., & Hartono, S. (2015). Penyakit-penyakit Penting pada Ayam. Medion.
Saari, S., Nareaho, A., & Nikander, S. (2019). Canine Parasites and Parasitic Diseases: Cestode (Tapeworms). Academic Press.
Shahin, A. M., Lebdah, M. A., Abu-Elkheir, S. A., & Elmeligy, M. M. (2011). Prevalence of chicken cestodiasis in Egypt. New York Science Journal, 4(9), 21-29.
Silva, G. S., Romera, D. M., Fonseca, L. E. C., & Meireles, M. V. (2016). Helminthic parasites of chicken (Gallus domesticus) in different regions of Sao Paulo State, Brazil. Brazilian Journal of Poultry Science, 18(1), 163-168.
Taylor, M. A., Coop, R. L., & Wall, R. L. (2016). Veterinary Parasitology. 4th edition. Wiley Blackwell Publishing.
[USDA] United States Departement of Agriculture. (2019). Duck, domesticated, meat only, raw. USDA.
Whary, M. T., Baumgarth, N., Fox, J. G., & Barthold, S. W. (2015). Biology and Diseases of Mice in: Laboratory Animal Medicine. 3rd edition. American College of Laboratory Animal Medicine.
Copyright (c) 2022 Risa Tiuria
This work is licensed under a Creative Commons Attribution-NonCommercial-ShareAlike 4.0 International License.
Authors who publish with this journal agree to the following terms:
1. The journal allows the author to hold the copyright of the article without restrictions;
2. The journal allows the author(s) to retain publishing rights without restrictions;
3. The legal formal aspect of journal publication accessibility refers to Creative Commons Attribution-NonCommercial-ShareAlike 4.0 International License (CC BY-NC-SA).