Postmortem Examination of Emu Bird (Dromaius novaehollandiae) in Ragunan Zoo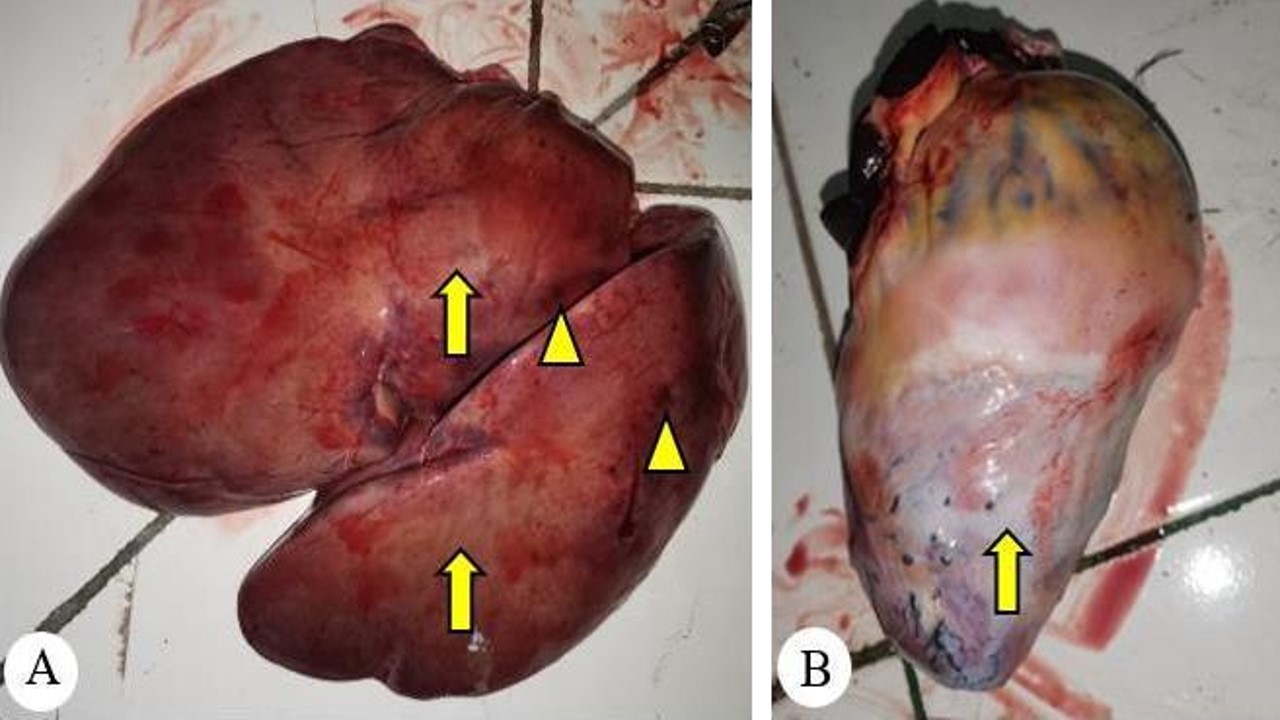 Downloads
Ragunan Zoo is one of the ex-situ conservation sites in DKI Jakarta to protect the wildlife outside their natural habitat. The emu (Dromaius novaehollandiae) is one of the TMR collection animals originating from Australia. An emu bird named Lebo, aged 19 years, and male sex was found sick on January 12, 2022. Based on physical examination, the emu bird showed clinical symptoms of anorexia, unwilling to eat, lethargic, refusing or difficult to move, unable to lift his head, and inflammation of the right eye. No further examination was performed to determine the diagnosis. Treatments were taken symptomatically, namely the fluid therapy, injection of vitamins and energy sources, antibiotics, and anti-inflammatory. The emu was found dead on February 6, 2022 and a necropsy was performed. Postmortem findings obtained were glossitis, ventriculitis, gizzard erosion, hemorrhagic enteritis, hepatic lipidosis, epicarditis, testicular atrophy, and orchitis. Diagnosis of suspected cause of death is damage and decreased function of various organs of the body.
Pardede, F., Rahardi, N. A. ., Edwar, S., & Mohamad, K. (2022). Postmortem Examination of Emu Bird (Dromaius novaehollandiae) in Ragunan Zoo. Jurnal Medik Veteriner, 5(2), 252–260. https://doi.org/10.20473/jmv.vol5.iss2.2022.252-260
Akester, A. R. (1986). Structure of the glandular layer and koilin membrane in the gizzard of the adult domestic fowl (Gallus gallus domesticus). Journal of Anatomy, 147, 1–25.
Crespo, R., & Shivaprasad, H. L. (2010). Decrease of fertility in a broiler breeder flock due to testicular atrophy. Avian Diseases, 54, 142–145.
Gallo, S. S. M., Teixeira, C. S., Ederli, N. B., & Oliveira, F. C. R. (2020). Gastrointestinal parasites of a population on emus (Dromaius novaehollandiae) in Brazil. Brazilian Journal of Biology, 80(1), 66–72.
Gjevre, A. G., Kaldhusdal, M., & Eriksen, G. S. (2013). Gizzard erosion and ulceration syndrome in chicken and turkeys: a review of causal or predisposing factors. Avian Pathology, 42(4), 297–303.
Hedayati, M., Bashi, M. C., & Peighambari, S. M. (2014). A case report of hepatic lipidosis in common Myna fed by high caloric broiler diet in Iran. Open Access Library Journal, 1(3), 1–5.
Calhim, S., & Birkhead, T. R. (2009). Intraspecific variation in testis asymmetry in birds: evidence for naturally occurring compensation. Proceedings of the Royal Society B: Biological Sciences, 276(1665), 2279–2284.
Kimball, R. T., Oliveros, C. H., Wang, N., White, N. D., Barker, F. K., Field, D. J., Ksepka, D. T., Chesser, R. T., Moyle, R. G., Braun, M. J., Brumfield, R. T., Faircloth, B. C., Smith, B. T., & Braun, E. L. (2019). A phylogenomic super tree of birds. Diversity, 11(7), 1–35.
Malecki, I. A., Martin, G. B., O'Malley, P. J., Meyer, G. T., Talbot, R. T., & Sharp, P. J. (1998). Endocrine and testicular changes in a short-day seasonally breeding bird, the emu (Dromaius novaehollandiae), in southwestern Australia. Animal Reproduction Science, 53(1-4), 143–155.
Miller, R. E., & Fowler, M. E. (2015). Fowler: Zoo and Wild Animal Medicine. Volume 8. Missouri (USA): Elsevier, pp, 75–77.
OIE. (2018). Terrestrial manual: Avian chlamydiosis. https://www.oie.int/fileadmin/Home/eng/Health_standards/tahm/2.03.01_AVIAN_CHLAMYD.pdf.
Ono, M., Okuda, Y., Yazawa, S., Imai, Y., Shibata, I., Sato, S., & Okada, K. (2003). Adenoviral gizzard erosion in commercial broiler chickens. Veterinary Pathology, 40(3), 294–303.
Pocknell, A. M., Miller, B. J., Neufeld, J. L., & Grahn, B. H. (1996). Conjunctival mycobacteriosis in two emus (Dromaius novaehollandiae). Veterinary Pathology, 33, 346–348.
Rajarajan, G., & Kumar, P. S. (2018). Colibacillosis in emu chicks. Journal of Entomology and Zoology Studies, 6(5), 2128–2129.
Reavill, D. R., & Dorrestein, G. M. (2010). Pathology of aging Psittacine. Veterinary Clinical Exotic Animal, 13, 135–150.
Ritchia, B. W., Harrison, G. J., & Harrison, L. R. (1994). Avian Medicine: Principles and Application. Florida (USA): Wingers Publishing, pp, 457–479.
Sales, J. (2006) Digestive physiology and nutrition of ratites. Avian and Poultry Biology Reviews, 17 (2), 2006, 41–55.
Sales, J. (2007). The emu (Dromaius novaehollandiae): a review of its biology and commercial products. Avian and Poultry Biology Reviews, 18(1), 1–20.
Sangwan, V., Mahajan, S. K., Kumar, & A., Anand, A. (2019). Barbed wire as an oesophageal foreign body in an Emu (Dromaius novaehollandiae). International Journal of Avian & Wildlife Biology, 4(3), 87–88.
Svihus, B. (2014). Function of the digestive system. Journal of Applied Poultry Research, 23(2), 306–314.
Swan, R. A., & Lindsey, M. J. (1998). Treatment and control by vaccination of erysipelas in farmed emus (Dromaius novaehollandiae). Australian Veterinary Journal, 76(5), 325–327.
Swarbrick, K. (2009). Husbandry Guidelines for Emus. Strathfield (AU): Western Sydney Institute, pp, 14–36.
Zachary, J. F. (2017). Pathologic Basis of Veterinary Disease: 6th edition. St. Louis (US): Elsevier, pp, 67.
Zaefarian, F., Abdollahi, M. R., Cowieson, A., & Ravindran, V. (2019). Avian liver: the forgotten organ. Animals, 9(2), 63.
Copyright (c) 2022 Friselsa Pardede, Nindya Anandaputri Rahardi, Syafri Edwar, Kusdiantoro Mohamad
This work is licensed under a Creative Commons Attribution-NonCommercial-ShareAlike 4.0 International License.
Authors who publish with this journal agree to the following terms:
1. The journal allows the author to hold the copyright of the article without restrictions;
2. The journal allows the author(s) to retain publishing rights without restrictions;
3. The legal formal aspect of journal publication accessibility refers to Creative Commons Attribution-NonCommercial-ShareAlike 4.0 International License (CC BY-NC-SA).