EGFR Mutated Lung Adenocarcinoma with Secondary Glaucoma as Early Manifestation: A Case Report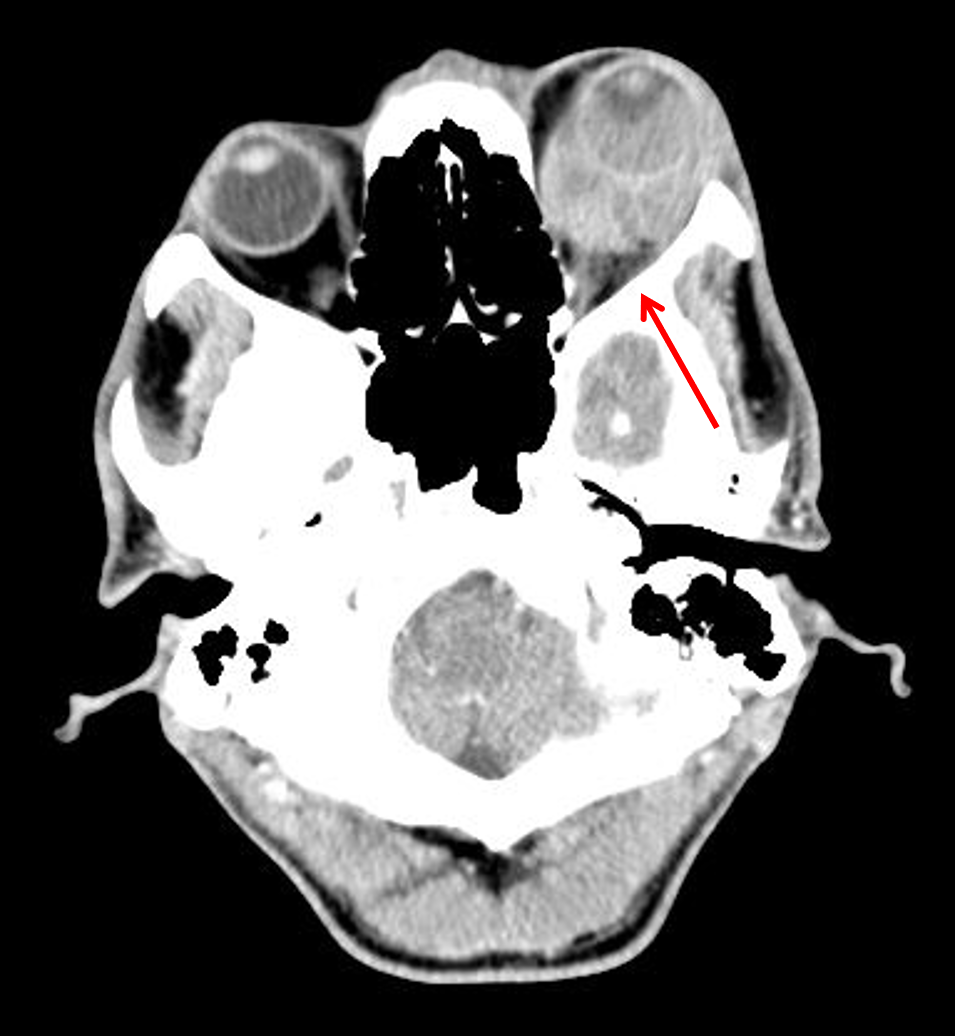 Downloads
Background: Orbital metastases are rare in pulmonary adenocarcinoma and can be manifested as glaucoma.
Case: A 64-year-old male patient complained of swelling, redness, painful and protruded left eye. Physical and radiological examination revealed mass in the right lung, retrobulbar intraconal mass of the left oculi, and metastases in the ribs, liver, brain, and vertebrae. Result of bronchial mucosal biopsy showed adenocarcinoma. Epidermal growth factor receptor (EGFR) mutation examinations detected exon 19 deletions, therefore Gefitinib was given. Left orbital exenteration was performed and obtained a biopsy result of adenocarcinoma metastases.
Conclusion: Orbital metastasis occurs by hematogenous pathway due to direct access of systemic circulation to left orbital blood flow. Glaucoma as a symptom of orbital metastases can appear before primary tumor symptoms, because lung cancer often does not show specific symptoms until advanced stage. Definitive treatment consists of targeted therapy and surgical management for metastases.
1.
Kusumawardani IAJD, Singgih V, Candrawati NW, Yuliawati P, Saputra H, Dwi IGASM. EGFR Mutated Lung Adenocarcinoma with Secondary Glaucoma as Early Manifestation: A Case Report. JR [Internet]. 2021 Jan. 30 [cited 2023 Dec. 1];7(1):14-8. Available from: https://e-journal.unair.ac.id/JR/article/view/23287
Riihimäki M, Hemminki A, Fallah M, et al. Metastatic Sites and Survival in Lung Cancer. Lung Cancer 2014; 86: 78–84.
Ahmad SM, Esmaeli B. Metastatic Tumors of the Orbit and Ocular Adnexa. Curr Opin Ophthalmol 2007; 18: 405–413.
Sun L, Qi Y, Sun X, et al. Orbital Metastasis as the Initial Presentation of Lung Adenocarcinoma: A Case Report. OncoTargets and Therapy 2016; 9: 2743–2748.
Lampaki S, Kioumis I, Pitsiou G, et al. Lung Cancer and Eye Metastases. Med Hypothesis, Discov Innov Ophthalmol J 2014; 3: 40–44.
Inoue M, Watanabe Y, Yamane S, et al. Choroidal Metastasis with Adenocarcinoma of the Lung Treated with Gefitinib. Eur J Ophthalmol 2010; 20: 963–965.
Nair AG, Asnani HT, Mehta VC, et al. Tyrosine Kinase Inhibitors in the Treatment of Choroidal Metastases from Non-Small-Cell Lung Cancer: A Case Report and Review of Literature. Ocular Oncology and Pathology 2017; 3: 28–33.
Popper HH. Progression and Metastasis of Lung Cancer. Cancer Metastasis Rev 2016; 35: 75–91.
Macedo JE, Machado M, Araújo A, et al. Orbital Metastasis as a Rare Form of Clinical Presentation of Non-Small Cell Lung Cancer. J Thorac Oncol Off Publ Int Assoc Study Lung Cancer 2007; 2: 166–167.
Shah SU, Mashayekhi A, Shields CL, et al. Uveal Metastasis from Lung Cancer: Clinical Features, Treatment, and Outcome in 194 Patients. Ophthalmology 2014; 121: 352–357.
Lin JJ, Cardarella S, Lydon CA, et al. Five-Year Survival in EGFR-Mutant Metastatic Lung Adenocarcinoma Treated with EGFR-TKIs. J Thorac Oncol Off Publ Int Assoc Study Lung Cancer 2016; 11: 556–565.
Hoang A, Khine KT, Knight OJ, et al. A Rare Ocular Presentation of Metastatic Lung Cancer: Unilateral Anterior Chamber Angle, Bilateral Choroidal, and Multiple Intracranial Metastases. J Glaucoma 2017; 26: e93–e95.
Copyright (c) 2021 Ida Ayu Jasminarti Dwi Kusumawardani, Venny Singgih, Ni Wayan Candrawati, Putu Yuliawati, Herman Saputra, I Gusti Ayu Sri Mahendra Dwi
This work is licensed under a Creative Commons Attribution-ShareAlike 4.0 International License.
1. The journal allows the author to hold the copyright of the article without restrictions.
2. The journal allows the author(s) to retain publishing rights without restrictions.
3. The legal formal aspect of journal publication accessibility refers to Creative Commons Attribution Share-Alike (CC BY-SA).
4. The Creative Commons Attribution Share-Alike (CC BY-SA) license allows re-distribution and re-use of a licensed work on the conditions that the creator is appropriately credited and that any derivative work is made available under "the same, similar or a compatible license". Other than the conditions mentioned above, the editorial board is not responsible for copyright violation.