Geriatric Patient with Osteoarthritis and Obesity Survived from Critically Ill of COVID-19: A Case Report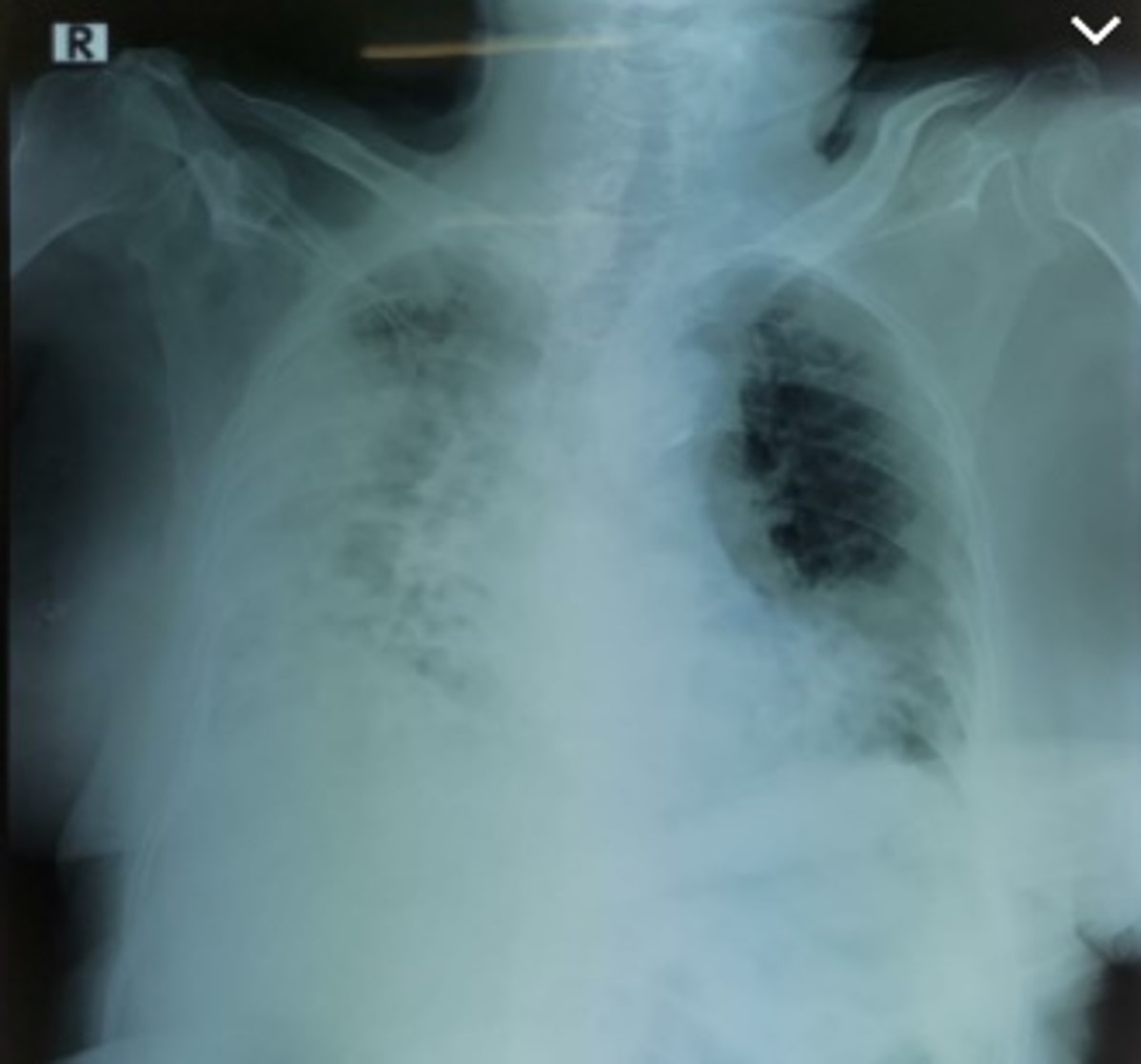 Downloads
Introduction: The Corona Virus Disease (COVID-19) pandemic has become a major problem worldwide. Currently, the group of geriatrics always coincidence with chronic diseases like hypertension, diabetes mellitus, and osteoarthritis discovered with a general level of severity, disability and even death. In addition, obesity is associated with several high risks of disease severity and worse clinical outcome in COVID-19.
Case: a geriatric patient with comorbidities of osteoarthritis and obesity class 1 suffered from critically ill COVID-19. Clinical manifestations that were atypical and without a history of epidemiology made it difficult to screen for COVID. Furthermore, it was found that the respiration rate, heartbeat, and blood pressure increased, oxygen saturation was only 86%, crackles all over the right lung, chest x-ray showed bilaterally infiltrates and reverse transcriptase-polymerase chain reaction (RT-PCR) test showed positive severe acute respiratory syndrome coronavirus-2 (SARS-CoV-2) on admission. Patients managed with high flow nasal canulla (HFNC) flow 40 lpm and FiO2 78% with temperature 370C, selection of appropriate hydrophilic antibiotic such moxifloxacin iv and antiviral therapy. Obesity-related calorie regulation is given according to The Indonesian Association of Clinical Nutritionists (PDGKI), osteoarthritis medicationis still provided during the treatment resulted in a very good clinical progress. Furthermore, the patient finally recovered and was allowed to go home on the 13th day of treatment with maximum improvement.
Conclusion: It is very important for clinicians to know the complex therapy management of patients in the geriatric group. This is because this population generally had atypical clinical symptoms and those that were admitted to the hospital already had severe cases.
1.
Yanti B, Mauliza M, Andayani N. Geriatric Patient with Osteoarthritis and Obesity Survived from Critically Ill of COVID-19: A Case Report. JR [Internet]. 2021 May 31 [cited 2022 Dec. 9];7(2):70-4. Available from: https://e-journal.unair.ac.id/JR/article/view/26205
Giesecke J. The Invisible Pandemic. Lancet 2020; 395: e98.
Garnier-Crussard A, Forestier E, Gilbert T, et al. Novel Coronavirus (COVID-19) Epidemic: What are the Risks for Older Patients? J Am Geriatr Soc 2020; 68: 939–940.
Feske S, Wulff H, Skolnik EY. Ion Channels in Innate and Adaptive Immunity. Annu Rev Immunol 2015; 33: 291–353.
Dhama K, Patel SK, Kumar R, et al. Geriatric Population During the COVID-19 Pandemic: Problems, Considerations, Exigencies, and Beyond. Front Public Heal 2020; 8: 1–8.
Malone ML, Hogan TM, Perry A, et al. COVID-19 in Older Adults: Key Points for Emergency Department Providers. J Geriatr 2020; 1: 1–11.
Serra CG, Turlan VC. Geriatric Patient with Covid-19 Infection. 2020; 27–28.
Mohammad S, Aziz R, Al Mahri S, et al. Obesity and COVID-19: What Makes Obese Host So Vulnerable? Immun Ageing 2021; 18: 1–10.
Philipose Z, Smati N, Wong CSJ, et al. Obesity, Old Age and Frailty are the True Risk Factors for COVID-19 Mortality and Not Chronic Disease or Ethnicity in Croydon. medRxiv; 16. Epub ahead of print 2020. DOI: 10.1101/2020.08.12.20156257.
Ragni E, Mangiavini L, Viganò M, et al. Management of Osteoarthritis During the COVID-19 Pandemic. Clin Pharmacol Ther 2020; 108: 719–729.
Joo Y Bin, Lim YH, Kim KJ, et al. Respiratory Viral Infections and the Risk of Rheumatoid Arthritis. Arthritis Res Ther 2019; 21: 1–8.
Samimagham HR, Arabi M, Hooshyar D, et al. The Association of Non-Steroidal Anti-Inflammatory Drugs with COVID-19 Severity and Mortality. Arch Clin Infect Dis 2020; 15: 1–5.
Isik AT. Covid-19 Infection in Older Adults : A Geriatrician's Perspective. 2020; 1067–1069.
Delay JM, Sebbane M, Jung B, et al. The Effectiveness of Noninvasive Positive Pressure Ventilation to Enhance Preoxygenation in Morbidly Obese Patients: A Randomized Controlled Study. Anesth Analg 2008; 107: 1707–1713.
Made N, Suria A, Sugiarto A, et al. High Flow Nasal Cannula to Prevent Intubation in Obese Patient with COVID-19 Induced ARDS : A Case Report. 2021; 25: 212–216.
Woodall MJ, Neumann S, Campbell K, et al. The Effects of Obesity on Anti-Cancer Immunity and Cancer Immunotherapy. Cancers (Basel) 2020; 12: 1–14.
Simonnet A, Chetboun M, Poissy J, et al. High Prevalence of Obesity in Severe Acute Respiratory Syndrome Coronavirus-2 (SARS-CoV-2) Requiring Invasive Mechanical Ventilation. Obesity 2020; 28: 1195–1199.
Caci G, Albini A, Malerba M, et al. COVID-19 and Obesity: Dangerous Liaisons. J Clin Med 2020; 9: 2511.
Voiriot G, Philippot Q, Elabbadi A, et al. Risks Related to the Use of Non-Steroidal Anti-Inflammatory Drugs in Community-Acquired Pneumonia in Adult and Pediatric Patients. J Clin Med 2019; 8: 786.
Schetz M, De Jong A, Deane AM, et al. Obesity in the Critically Ill: A Narrative Review. Intensive Care Med 2019; 45: 757–769.
Singer P, Blaser AR, Berger MM, et al. ESPEN Guideline on Clinical Nutrition in the Intensive Care Unit. Clin Nutr 2019; 38: 48–79.
McClave SA, Taylor BE, Martindale RG, et al. Guidelines for the Provision and Assessment of Nutrition Support Therapy in the Adult Critically Ill Patient: Society of Critical Care Medicine (SCCM) and American Society for Parenteral and Enteral Nutrition (A.S.P.E.N.). J Parenter Enter Nutr 2016; 40: 159–211.
Perhimpunan DGKI. Panduan Praktis Penatalaksanaan Nutrisi COVID-19. 1st ed. Jakarta: PDGKI, 2020.
Piddock LJV, Jin YF. Antimicrobial Activity and Accumulation of Moxifloxacin in Quinolone-Susceptible Bacteria. J Antimicrob Chemother 1999; 43: 39–42.
Kees MG, Weber S, Kees F, et al. Pharmacokinetics of Moxifloxacin in Plasma and Tissue of Morbidly Obese Patients. J Antimicrob Chemother 2011; 66: 2330–2335.
Copyright (c) 2021 Budi Yanti, Mauliza, Novita Andayani
This work is licensed under a Creative Commons Attribution-ShareAlike 4.0 International License.
1. The journal allows the author to hold the copyright of the article without restrictions.
2. The journal allows the author(s) to retain publishing rights without restrictions.
3. The legal formal aspect of journal publication accessibility refers to Creative Commons Attribution Share-Alike (CC BY-SA).
4. The Creative Commons Attribution Share-Alike (CC BY-SA) license allows re-distribution and re-use of a licensed work on the conditions that the creator is appropriately credited and that any derivative work is made available under "the same, similar or a compatible license". Other than the conditions mentioned above, the editorial board is not responsible for copyright violation.