SERUM AFP (ALPHA FETO PROTEIN) LEVELS PROFILE OF HEPATOCELLULAR CARCINOMA PATIENTS IN DR. SOETOMO GENERAL ACADEMIC HOSPITAL, SURABAYA, INDONESIA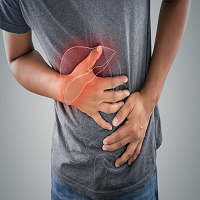 Downloads
Higlight:
1. The USG results of AFP level can be used for early detection and therapy of hepatocellular carcinoma that can prevent metastasis, progressivity, and recurrence.
2. The most common patients with high AFP levels are those with hepatitis B depending on etiology, younger age, male, gender, high SGOT level and BCLC B patients.
Abstract:
Background: Hepatocellular carcinoma (HCC) accounts for more than 90% of liver cancer which is the second most common cause of cancer-related death worldwide. The incidence of HCC was 626.000 cases every year worldwide. Early detection and therapy can prevent metastasis, progressivity, and recurrence. AFP level ≥ 400 ng/ml and USG results can be used as a diagnosis parameter of hepatocellular carcinoma. Objective: To analyze the AFP level's profile in hepatocellular carcinoma. Materials and Methods: Descriptive methods used in this study with data collected from medical records on patients that fulfilled the inclusion criteria in Dr. Soetomo General Academic Hospital, Surabaya, Indonesia during the periods of 1st January 2013- December 31st 2015. This study used various variables such as age, gender, etiology and size of the tumor, number of a nodule, hepatic function with child classification, staging BCLC, and AFP level. Results: This study found that the 98 patients with hepatocellular carcinoma with high AFP level or >400 ng/ml were dominated by younger patients with average age of 49.91 years, the most common etiology was hepatitis B (56.8%), poor results of laboratory tests (SGOT, SGPT), patients with all level of hepatic function based on Child-Pugh classification and staging B of the tumor (70.5%). Patients with normal AFP ≤20 ng/ml were dominated by female patients, with the most common etiology of fatty liver and others, and with BCLC A and C staging. Descriptively, there was no difference in AFP level based on the number of nodules and size of tumor. Conclusion: The most common patients with high AFP level are those who have hepatitis B as etiology, younger age, male gender, high SGOT level and BCLC B staging. Meanwhile, patients with normal AFP level dominated with female and non-hepatitis patients. In this research, we found no differences of AFP level based on number and size of tumor descriptively.
Putri, D. R. I., Maimunah, U., & Retnowati, E. (2022). SERUM AFP (ALPHA FETO PROTEIN) LEVELS PROFILE OF HEPATOCELLULAR CARCINOMA PATIENTS IN DR. SOETOMO GENERAL ACADEMIC HOSPITAL, SURABAYA, INDONESIA. Majalah Biomorfologi, 32(1), 6–12. https://doi.org/10.20473/mbiom.v32i1.2022.6-12
Abbasi A, Bhutto A, Butt N, Munir S.2011. Correlation of Serum Alfa Feto Protein and Tumor Size in Hepatocellular Carcinoma. Journal of Pakistan MA:62:33-36
Andreozzi M, Quintavalle C, Benz D, Quagliata L, Matter M, Calabrese D, Tosti N, Ruiz C, Trapani F, Tomillo L, Fusco A, Heim M.H, Ng KY, Pallante P, Terracciano L, Piscuoglio S.2016. HMGA1 Expression in Human Hepatocellular Carcinoma Correlates with Poor Prognosis and Promotes Tumor Growth and Migration in In Vitro Models. Neoplasia Journal18 (12):724-731
El-Serag, Hashem.2011. Hepatocellular Carcinoma. The New England Journal of MedicineVol.365Hal.1118-1127[online] Accessed from: http://www.nejm.org/doi/full/10.1056/NEJMra1001683
European Association For The Study of the Liver; European
Organisation For Research And Treatment Of Cancer. EASL,EORTC.2012. Clinical Practice Guidelines: Management of Hepatocellular Carcinoma. J Hepatol (56):908–943
Katsuka E, Tanaka S, Mogushi K, Matsumura S, Ban D, Ochiai T, Irie T, Kudo A, Nakamura N, Tanaka H, Tanabe M, Arie S.2014. Age-related Clinicopathologic and Molecular Features of Patients Receiving Curative Hepatectomy for Hepatocellular Carcinoma. The American Journal of Surgery (208): 450-456
Kumar A, Acharya S.K, Singh S.P, Saraswati V.A, Arora A, Duseja A, Goenka M.K, Jain D, Kar P, Kumar M, Kumaran V, Mohandas K.M, Panda D, Paul S.B, Ramachandran J, Ramesh H, Rao P.N, Shah S.R, Sharma H, Thandassery RB.2014. The Indian National Association for Study of The Liver (INASL) Consensus on Prevention, Diagnosis, and Management of Hepatocellular Carcinoma in India: The Puri Recommendation.Journal of Clinical and Experimental Hepatology (4):3-26
Minami T, Tateishi R, Kondo M, Nakagomi R, Fujiwara N, Sato M, et al.2015. Serum alpha-fetoprotein has high specificity for the early detection of hepatocellular carcinoma after hepatitis C virus eradication in patients. Medicine (Baltimore) Journal (94) ed.901. doi: 10.1097/MD.0000000000000901
Mittal S, Sada YH, El-Serag HB, Kanwal F, Duan Z, Temple S, et al.2015.Temporal trends of non-alcoholic fatty liver disease-related hepatocellular carcinoma in the veteran affairs population. Clinical Gastroenterology Hepatology Journal (13):594–601. doi: 10.1016/j.cgh.2014.08.013
Oemanti R, Rahajeng E, Kristanto A.Y.2011. Prevalensi Tumor dan beberapa Faktor yang Mempengaruhinya di Indonesia.Balai Penelitian dan Pengembangan Kesehatan: 190-204
Okajima C, Arii S, Tanaka S, Matsumura S, Ban D, OchiaI T, Irie T, Kudo A, Nakamura N, Tanabe M.2015. Prognostic Role of Child-Pugh Score 5 and 6 in Hepatocellular Carcinoma Patients who Underwent Curative Hepatic Resection. The American Journal of Surgery (209):199-205
Omata M, Cheng AL, Kokudo N, Kudo M, Lee JM et al.2017.Asia-Pacific Clinical Practice Guidelines on The Management of Hepatocellular Carcinoma: A 2017 Update. Hepatology International Journal (11): 317-370. doi: 10.1007/s12072-017-9799-9
Pramudya D, Kholili U, Nusi I.A.2015. Korelasi Kadar Alfa Feto Protein dan Ukuran Tumor pada Karsinoma Hepatoseluler. Surabaya: Fakultas Kedokteran Universitas Airlangga: 1-5
Sareo T, Devi Y, Singh L.2014. Hepatocelluler Carcinoma in Situs Inversus Totalis- A Case Report. Med J Indonesia Vol.23 No.I Februari 2014 hal.48
Shata Y, Mudawi S,Fedail S, Hassan BA, Ismaeil AM, Ahmed MA.2014. Assesment of Lens Culinaris Agglutinin- Reactive Fraction of Alpha Feto Protein as an Early Diagnosis Marker for Hepatocellular Carcinoma among Sudanese Patients with Chronic Liver Disease. Cancer and Oncology Reasearch (2):1 pp.1-6
Tseng TC, Liu CJ, Chen CL, Wang CC, Su TH, Kuo SF, et al.2012.Serum hepatitis B virus-DNA levels correlate with long-term adverse outcomes in spontaneous hepatitis B e antigen seroconverters. Journal Infectious Disease (205):54–63. doi: 10.1093/infdis/jir687.
Wong GL, Chan HL, Tse YK, Chan HY, Tse CH, Lo AO, Wong VW.2014.On-treatment alpha-fetoprotein is a specific tumor marker for hepatocellular carcinoma in patients with chronic hepatitis B receiving entecavir. Hepatology Journal (59):986–995.
Copyright (c) 2022 Majalah Biomorfologi
This work is licensed under a Creative Commons Attribution 4.0 International License.
The copyright to publish the article has been transferred to Majalah Biomorfologi (Biomorphology Journal) by the author(s) as indicated in the CTA & Author's Statement. Majalah Biomorfologi (Biomorphology Journal) adopts the CC-BY license. This license allows reusers to distribute, remix, adapt, and build upon the material in any medium or format, so long as attribution is given to the creator, as can be referred to Creative Commons Attribution 4.0 International License (CC-BY).