THE PREGNANT FACTORS OF ANXIETY IN PREGNANT MOTHERS DURING THE COVID-19 PANDEMIC : A SYSTEMATIC REVIEW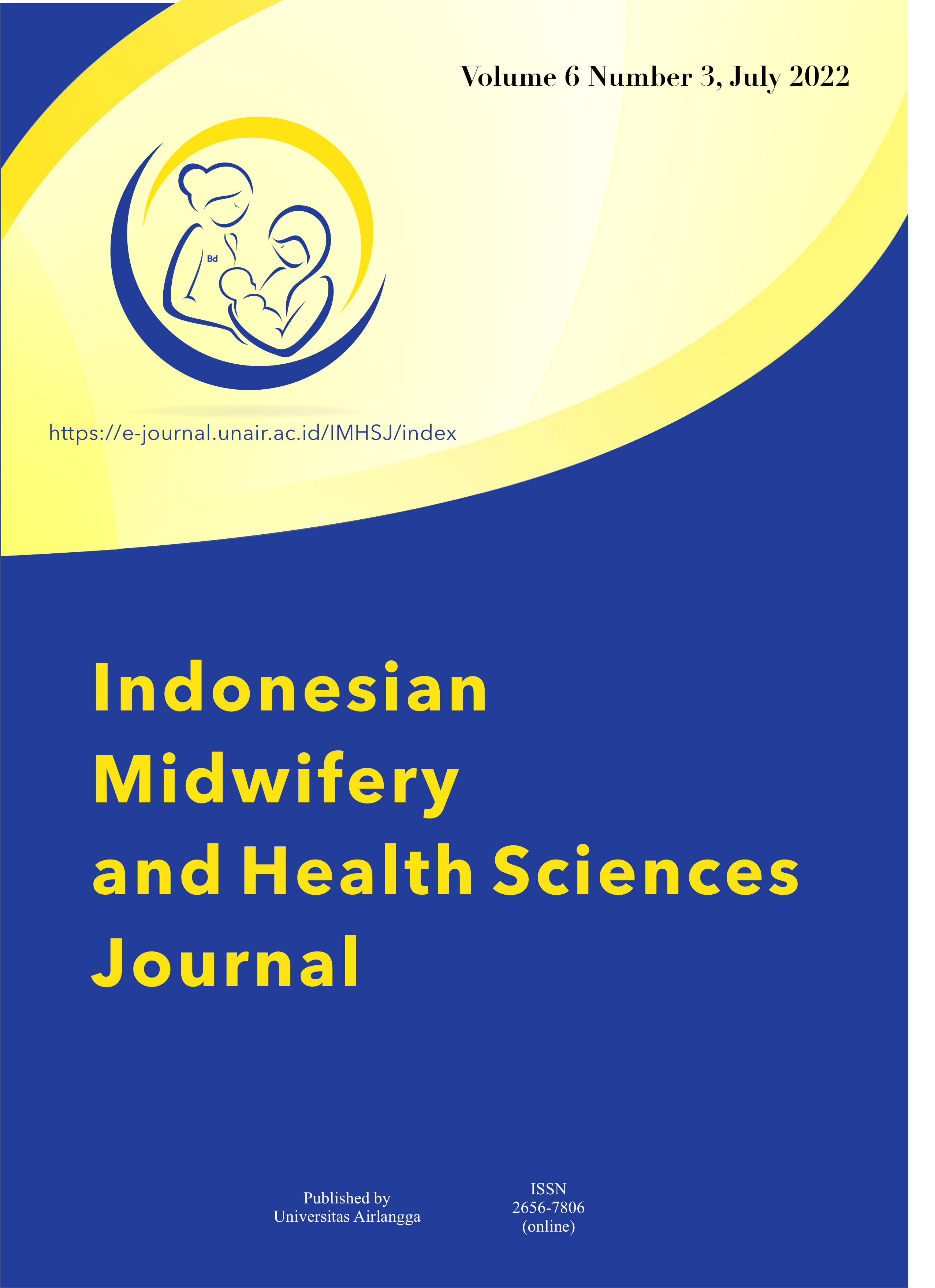 Downloads
Introduction: The COVID-19 pandemic has a negative impact on the mental health of pregnant women. Women are prone to psychological problems such as fatigue, emotional disturbances, mood disorders and anxiety disorders. Anxiety of pregnant women must be prevented so as not to cause negative impacts on pregnant women and their fetuses. Objectives: The purpose of this study is to identify the triggers for anxiety in pregnant women during the COVID-19 pandemic based on a systematic review. Method: The method used to search in PubMed, ProQuest, Google Scholar with the publication year starting 2020-2021. The critical appraisal used is The Joanna Briggs Institute JBI. Results: 20 articles met the inclusion criteria. Research and studies were conducted in China, Iran, Canada, Turkey, Indonesia and the USA. Anxiety trigger factors are identified into 2, namely threats to physical integrity and threats to the integrity of one's own system. Threats to physical integrity consist of age, parity, physical activity, trimester of pregnancy, pregnancy complications, food availability, COVID-19 prevention efforts. Threats to the integrity of the self system consist of education, occupation, history of depression, unplanned pregnancy, family income, location of residence, presence of caregivers, health facility services, COVID-19 information, life partners, social support, counseling, telemedicine and insurance services. Discussion and conclusion: There are many factors that cause anxiety during a pandemic. There is a need for new identification to identify risk factors for anxiety in pregnant women so that more comprehensive prevention efforts can be carried out involving various health professions in the service.
Keywords: Pregnancy, Anxiety Triggers, COVID-19
Yanuarini, T. A., Kristianti, S., Mediawati, M. ., Finta Isti Kundarti, Yunitasari, E. ., Hardyanto, F. ., Yuliana, I. ., & Moh Alimansur. (2022). THE PREGNANT FACTORS OF ANXIETY IN PREGNANT MOTHERS DURING THE COVID-19 PANDEMIC : A SYSTEMATIC REVIEW. Indonesian Midwifery and Health Sciences Journal, 6(3), 232–256. Retrieved from https://e-journal.unair.ac.id/IMHSJ/article/view/36516
Copyright (c) 2022 Andri, sinta, Mika Mediawati, Finta Isti Kundarti, Esty Yunitasari, Fendy Hardyanto, Inneke Yuliana, ali
This work is licensed under a Creative Commons Attribution-ShareAlike 4.0 International License.
1. The journal allows the author to hold the copyright of the article without restrictions.
2. The journal allows the author(s) to retain publishing rights without restrictions
3. The formal legal aspect of journal publication accessibility refers to Creative Commons Atribution-Share Alike 4.0 (CC BY-SA).
 This Journal (e-ISSN 2656-7806) is licensed under a Creative Commons Attribution-ShareAlike 4.0 International License.