Surgery Management Post Ovulatory Egg Stasis in Corn Snake (Pantherophis guttatus)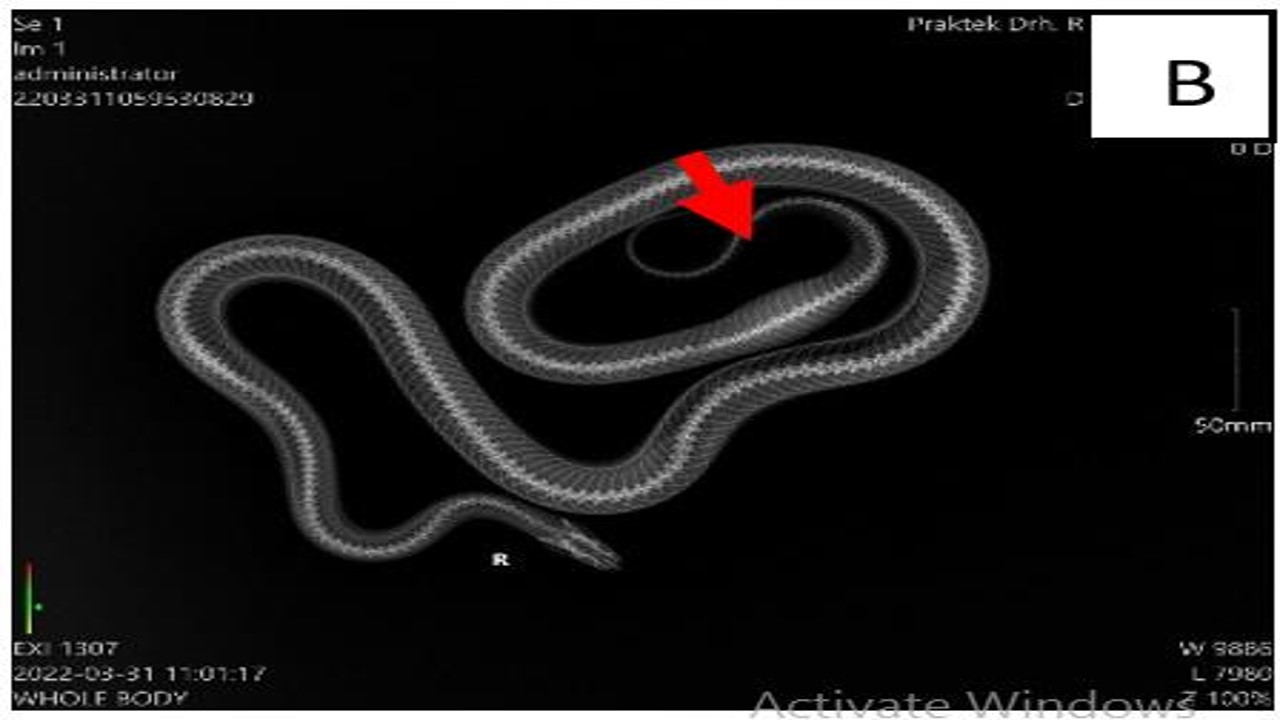 Downloads
Post Ovulatory Egg Stasis or dystocia is difficulty releasing eggs. The incident was experienced by a female snake due to an obstructive tract. A four years old corn snake (Pantherophis guttatus) female with clinical symptoms that appear are anorexia for two weeks. The condition of the coelomic cavity is still large after 7 days of laying eggs. The results of physical examination showed that the snake had a distended coelomic cavity, pale mucous membrane, hard and smooth palpation when palpated. The results of x-ray examination showed that there was an oval radiopaque formation in the coelomic cavity. Coeliotomy surgery is performed to remove the eggs by the salpingotomy method. The general anesthetic used was a combination of zolazepam-tiletamine at a dose of 10 mg/kg body weight and meloxicam 0,1 mg/kg body weight was given. Postoperative therapy was oxytetracycline 10 mg/kg body weight, dexamethasone 5 mg/kg body weight and vigantol E® 0,1 mg/kg body weight. The general condition of the snake after 5 days improved and the wound had dried up. Then 2 weeks after surgery the stitches in the skin were removed when shedding of the skin.
Sari, D. A. K. ., Apritya, D., & Rahman, M. N. . (2022). Surgery Management Post Ovulatory Egg Stasis in Corn Snake (Pantherophis guttatus). Jurnal Medik Veteriner, 5(2), 261–265. https://doi.org/10.20473/jmv.vol5.iss2.2022.261-265
Alworth, L., Divers, S. J., & Hernandez, S. M. (2011). Laboratory Reptile Surgery: Principles and Techniques. Journal of the American Association for Laboratory Animal Sciences, 50(1).
Axelson, R. (2021). Emergency Situation. Available at https://vcahospitals.com/know-your-pet/reptiles---dystocia.
Bel, L., Mihalca, A., Pestean, C., Ober, C., & Oana, L. (2015). Surgical Management of Dystocia in Snakes and Lizards. Bulletin UASVM Veterinary Medicine, 72(1).
Divers, S. J. (2013). Dystocia (Egg-Binding) in Reptiles. British Herpetological Society Bulletin. pp: 45.
Divers, S. J., & Stahl, S. J. (2019). Maders Reptile and Amphibian Medicine and Surgery. Reproductive Tract. MSD Manual Veterinary Manual. Available at https://www.sciencedirect.com/science/article/pii/B9780323482530001057.
Govendan, P. N., Kurniawan, L. K. L., & Raharjo, S. (2019). Non-Invasive Treatment in A Case of Post-Ovulatory Egg Stasis in A Burmese Python (Python bivittatus). Indonesia Medicus Veterinus, 8(3), 283-288.
Holding, M. L., Frazier, J. A., Dorr, S. W., Henningsen, S. N., Moore, I. T., & Taylor, E. N. (2014). Physiological and Behavioral Effects of repeated Handling and Short Distance Translocations on Free-Ranging Northern Pacific Rattlesnakes (Crotalus oreganis oreganis). Journal of Herpetology, 48(2), 233-239.
Huey, R. (1988). Temperature, Physiology, and the Ecology of Reptiles. University of Washington Seattle.
Knotek, Z. (2015). Reproduction Surgery in Female Asian Pythons. WSAVA 2015. Conggress-VIN
Mader, D. R., Bennett, R. A., Funk, R. S., Fitzgerald, K. T., Vera, R., & Hernandez-Divers, S. J. (2006). Surgery. In:Reptile Medicine and Surgery 2nd. WB Saunders Co. Philadelphia.
Melidone, R., Knoll, J. S., & Parry, N. (2008). Preovulatory Stasis and Dystocia in Oviprous Lizards. Veterinary Medicine Clinical Exposures, 2008, 595-598.
Mitchell, M. A., & Tully, T. N. (2016). Current Therapy in Exotic Pet Practice. Elsevier. https://www.elsevier.com/books/current-therapy-in-exotic-pet-practice/mitchell/978-1-4557-4084-0.
Stahl, S. J. (2006). Reptile Obstetrics. In proceedings of the North American Veterinary Conference, 20, 1680-1683.
Sykes, J. M. (2010). Updates and Practical Approaches To Reproductive Disorders in Reptiles. Veterinary Clinical Exotic Animal, 13(2010), 349-73.
Vasaruchapong, T., & Chanhome, L. (2013). Surgical Removal of Foreign Bodies in The Gastrointestinal Tract of Monocellate Cobra, Naja kaothia. Thai Journal Veterinary Medicine, 43(2), 297-300.
Copyright (c) 2022 Dian Ayu Kartika Sari, Desty Apritya, Muhammad Noor Rahman
This work is licensed under a Creative Commons Attribution-NonCommercial-ShareAlike 4.0 International License.
Authors who publish with this journal agree to the following terms:
1. The journal allows the author to hold the copyright of the article without restrictions;
2. The journal allows the author(s) to retain publishing rights without restrictions;
3. The legal formal aspect of journal publication accessibility refers to Creative Commons Attribution-NonCommercial-ShareAlike 4.0 International License (CC BY-NC-SA).