Screening Strongyloides spp. Infection from Wild Rodents Implications for Public Awareness and Attitudes on Zoonotic Diseases in Malang City, Indonesia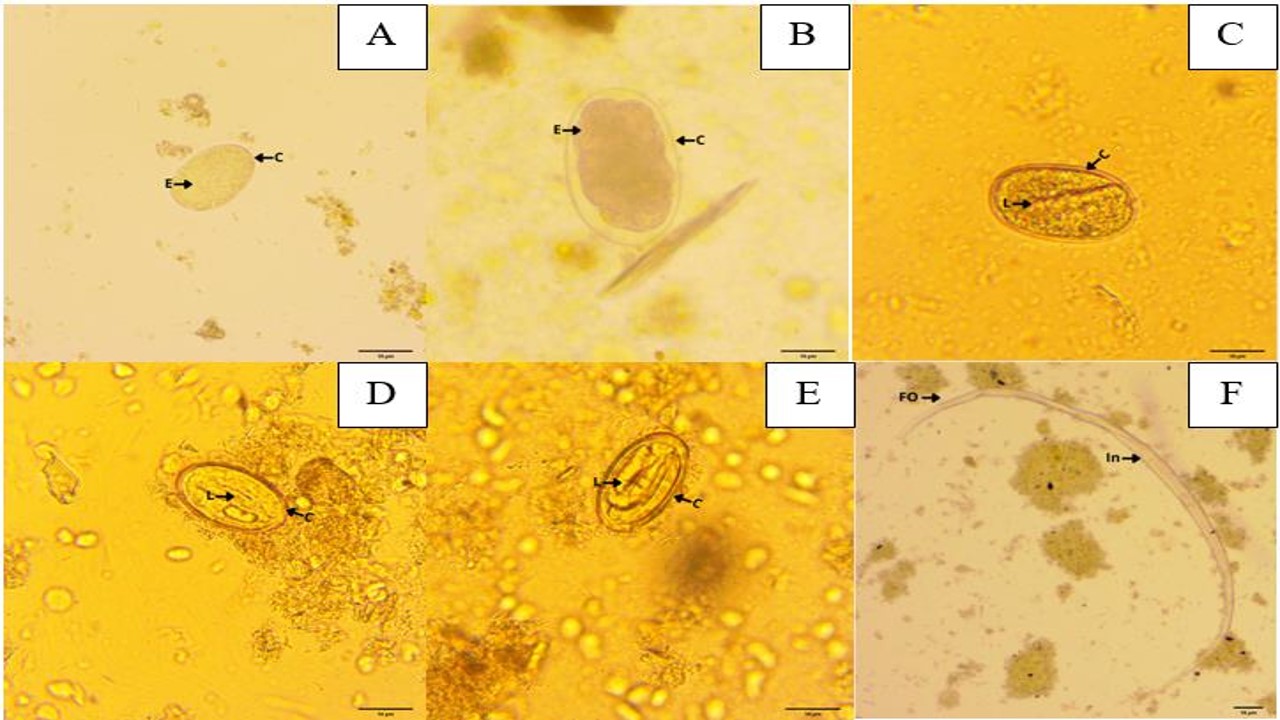 Downloads
Strongyloidiasis is a nematode parasite with broader distribution proved to infect humans and animals. Strongyloides ratti common endoparasites infected rodent as the most adaptive population in various environments. We have currently raised concerning the neglected tropical diseases (NTDs) situations in Indonesia. This study aimed to understand the incidence of Strongyloides spp. infecting wild rodents in Malang City during October to December 2021 by stratified random sampling. A total of 50 rats (Rattus norvegicus, Rattus rattus diardii, Mus musculus), 26 male (52%) and 24 female (48%). Following 12 juveniles (24%) and 38 adults (76%). Coprology examinations use floatation and sedimentation methods immediately after the gastrointestinal tract's stool collection (GITs). We also administered a limited survey to get responses from 80 people (housewives, sellers, employee, and students) to obtain risk transmission, public awareness, and attitudes. We were continually analyzed data using the chi-squared and Fisher Exact Test. The microscopic examination of stools was 28% positively detected S. ratti. Our study found an association presented between the age of rats and Strongyloidiasis infections (p<0.05). However, the gender of rats did not have a significant association (p>0.05) to the S. ratti several infections. In addition, most participants did not understand the zoonotic disease and these infections, indicating a low-level knowledge 71 (88%), because better education supports the increase of awareness. However, almost all participants have good practice of hygiene and sanitation toward COVID-19 situations 72 (90%). The further study recommends investigating Strongyloidiasis infections in another species and increasing the education program for housewives and sellers in a traditional marketplace to have better knowledge.
Kusumarini, S. ., Danuarta, M. F. ., Karami, F. ., Yesica, R. ., Wisesa, I. B. G. R. ., Yudhana, A. ., & Nurhidayah, N. . (2022). Screening Strongyloides spp. Infection from Wild Rodents Implications for Public Awareness and Attitudes on Zoonotic Diseases in Malang City, Indonesia. Jurnal Medik Veteriner, 5(2), 196–206. https://doi.org/10.20473/jmv.vol5.iss2.2022.196-206
Al-Zihiry, K. J. K., Aliyu, M., Atshan, S. S., Unyah, Z., Ibraheem, Z. O., Majid, R. A., Hamat, R. A., & Abdullah, W. O. (2015). Molecular detection of Strongyloides ratti in faecal samples from wild rats in Serdang, Malaysia. Tropical Journal of Pharmaceutical Research, 14(7), 1167–1173.
Alemayehu, G., Mamo, G., Desta, H., Alemu, B., & Wieland, B. (2021). Knowledge, attitude, and practices to zoonotic disease risks from livestock birth products among smallholder communities in Ethiopia. One Health, 12(2021), 100223.
Alho, A. M., Lima, C., Colella, V., Madeira De Carvalho, L., Otranto, D., & Cardoso, L. (2018). Awareness of zoonotic diseases and parasite control practices: A survey of dog and cat owners in Qatar. Parasites and Vectors, 11(1), 1–7.
Anamnart, W., Intapan, P. M., Pattanawongsa, A., Chamavit, P., Kaewsawat, S., & Maleewong, W. (2015). Effect of dilution of stool soluble component on growth and development of Strongyloides stercoralis. Scientific Reports, 5(June), 1–6.
Ardina, N., Elsa, H., & Murhandarwati, E. K. (2017). Detection of Strongyloides stercoralis Using Single Polymerase Chain Reaction Method In Hookworm-Positive Fecal Samples. [TESIS], Hal: 1-2
AVMA. (2020). AVMA Guidelines for the Euthanasia of Animals: 2020 Edition. In American Veterinary Medical Association.
Battersby, S. A. (2002). Urban rat infestations: society's response and the public health implications [PhD thesis]. Guildford, United Kingdom, University of Surrey.
Beugnet, F., Lénaïg, H., & Jacques, G. (2018). Textbook of clinical parasitology in dogs and cats. In Servet editorial - Grupo Asís Biomedia, 1(6), 8-9.
Breloer, M., & Abraham, D. (2017). Strongyloides infection in rodents: Immune response and immune regulation. Parasitology, 144(3), 295–315.
Buonfrate, D., Bisanzio, D., Giorli, G., Odermatt, P., Fürst, T., Greenaway, C., French, M., Reithinger, R., Gobbi, F., Montresor, A., & Bisoffi, Z. (2020). The global prevalence of Strongyloides stercoralis infection. Pathogens, 9(6), 1–9.
Clapperton, B. K. (2019). A review of the current knowledge of rodent behaviour in relation to control devices. Science for Conservation, 253(55), 15-20
Coomansingh-Springer, C., Vishakha, V., Acuna, A. M., Armstrong, E., & Sharma, R. N. (2019). Internal parasitic burdens in brown rats (Rattus norvegicus) from Grenada, West Indies. Heliyon, 5(8), e02382.
Franssen, F., Swart, A., van Knapen, F., & van der Giessen, J. (2016). Helminth parasites in black rats (Rattus rattus) and brown rats (Rattus norvegicus) from different environments in the Netherlands. Infection Ecology & Epidemiology, 6(1), 31413.
Gürler, A. T., Beyhan, Y. E., Açici, M., & Umur, Ş. (2011). Berkenhout 1769 in Samsun, Turkey. 12, 289–290.
Hancke, D., Navone, G. T., & Suarez, O. V. (2011). Endoparasite community of Rattus norvegicus captured in a shantytown of Buenos Aires City, Argentina. Helminthologia, 48(3), 167–173.
Herbreteau, V., Jittapalapong, S., Rerkamnuaychoke, W., Chaval, Y., Cosson, J. F., & Morand, S. (2011). Protocols for field and laboratory rodent studies. 46.
Islam, M. M., Farag, E., Mahmoudi, A., Hassan, M. M., Mostafavi, E., Enan, K. A., Al-Romaihi, H., Atta, M., El Hussein, A. R. M., & Mkhize-Kwitshana, Z. (2021). Rodent-related zoonotic pathogens at the human–animal–environment interface in qatar: A systematic review and meta-analysis. International Journal of Environmental Research and Public Health, 18(11), 5928.
Islam, S., & Ahmed, M. S. (2019). Knowledge, attitude, and practice toward zoonotic diseases among different professionals at selected coastal areas in Barguna district, Bangladesh. Journal of Advanced Veterinary and Animal Research, 6(3), 284–289.
Jittapalapong, S., Herbreteau, V., Hugot, J. P., Areesrisom, P., Karnchanabanthoeng, A., Rerkamnuaychoke, W., & Morand, S. (2009). "Rodent biodiversity human health and pest control in a changing environments "Relationship of parasites and pathogens diversity to rodents in Thailand. Kasetsart Journal - Natural Science, 43(1), 106–117.
Kataranovski, M., Mikrov. L., Belij, S., Popov, A., Petrovic, Z., Gacic, Z., & Kataranovski, D. (2011). Intestinal Helminths Infection of Rats (Ratus Norvegicus) in The Belgrade Area (Serbia): The Effect of Sex, Age and Habitat. Archive Biology Science, 18, 189–196.
Kusuma, S., Yesica, R., Bagus, G. R. W., Hermanto, I., Nurholizah, Y., & Widyaneni, T. M. (2021). Preliminary Study: Detection of Ecto and Endoparasites Among Wild Rats From Urban Area in Blimbing, Malang, East Java. Acta Veterinaria Indonesiana, 5, 95-101.
Kusumarini, S., Al Firdausi, S., Indasari, E. N., Sholekhah, S. S., Vandania, F., & Lazulfa, Z. I. (2020). Determination of elementary school students knowledge of soil-transmitted helminth infection with study of personal hygiene behavior in lamongan district, East Java, Indonesia. Veterinary Practitioner, 21(2), 479–483.
Kusumarini, S., Annadhifa, C. L., Zuhria, F. P., Ayu, F., Billa, S., & Lestari, P. D. (2022). Pengetahuan dan sikap masyarakat terhadap bahaya tikus sebagai agen global penular penyakit zoonosis. Jurnal Inovasi Hasil Pengambdian Masyarakat, 5(36), 234–243.
Mawanda, P., Rwego, I., Kisakye, J. J., & Sheil, D. (2020). Rodents as potential hosts and reservoirs of parasites along the edge of a central african forest: Bwindi impenetrable national park, South Western Uganda. African Health Sciences, 20(3), 1168–1178.
Meerburg, B. G., Singleton, G. R., & Kijlstra, A. (2009). Rodent-borne diseases and their risks for public health Rodent-borne diseases and their risks for public health. In Critical Reviews in Microbiology, 35(3), 221-270.
Mustapha, T., Unyah, N. Z., Majid, R. A., Abdullahi, S. A., & Wana, N. M. (2019). Prevalence of Ectoparasitic Infection of Rodents Captured near Student's Hostels: Zoonotic Implications. Annual Research & Review in Biology, 32(1), 1–10.
Pakdel, N., Naem, S., Rezaei, F., & Chalehchaleh, A. A. (2013). A survey on helminthic infection in mice (Mus musculus) and rats (Rattus norvegicus and Rattus rattus) in Kermanshah, Iran. Veterinary Research Forum : An International Quarterly Journal, 4(2), 105–109.
Shintoku, Y., Kimura, E., Kadosaka, T., Hasegawa, H., Kondo, S., Itoh, M., & Islam, M. Z. (2005). Strongyloides ratti infection in the large intestine of wild rats, Rattus norvegicus. Journal of Parasitology, 91(5), 1116–1121.
Soseco, T. (2011). Penentuan Sektor Unggulan Kota Malang. Jurnal Ekonomi Dan Bisnis, 1(2), 1–16.
Tan, M., Kusriastuti, R., Savioli, L., & Hotez, P. J. (2014). Indonesia: An Emerging Market Economy Beset by Neglected Tropical Diseases (NTDs). PLoS Neglected Tropical Diseases, 8(2), 6–10.
Tangpong, J. B. S. S. W., & Chuchard P. W. A. (2021). High Prevalence and Risk Factors for Hookworm and Strongyloides stercoralis Infections in Rural. Research Square, 01, 1–23.
Taylor, M. A., Coop, R. L., & Wall, R. L. (2007). Parasites of the Integument. In Veterinary parasitology. www.BlackwellVet.com, pp: 890-892.
Tijjani, M., Majid, R. A., Abdullahi, S. A., & Unyah, N. Z. (2020). Detection of rodent-borne parasitic pathogens of wild rats in Serdang, Selangor, Malaysia: A potential threat to human health. International Journal for Parasitology: Parasites and Wildlife, 11(2020), 174–182.
Tobar, J., Ramos-Sarmiento, D., Tayupanta, D., Rodríguez, M., & Aguilar, F. (2021). Microscopic and molecular evaluation of Strongyloides venezuelensis in an experimental life cycle using Wistar rats. Biomedica, 41(Supplement1 1), 1–30.
Viney, M. (2017). Strongyloides. Parasitology, 144(3), 259–262.
Viney, M., & Kikuchi, T. (2017). Strongyloides ratti and S. venezuelensis - Rodent models of Strongyloides infection. Parasitology, 144(3), 285–294.
Vonghachack, Y., Sayasone, S., Bouakhasith, D., Taisayavong, K., Akkavong, K., & Odermatt, P. (2015). Epidemiology of Strongyloides stercoralis on Mekong islands in southern Laos. Acta Tropica, 141(Part B), 289–294.
Wardell, R., Clements, A. C. A., Lal, A., Summers, D., Llewellyn, S., Campbell, S. J., McCarthy, J., Gray, D. J., & Nery, S. (2017). An environmental assessment and risk map of Ascaris lumbricoides and Necator americanus distributions in Manufahi District, Timor-Leste. PLoS Neglected Tropical Diseases, 11(5), 1-19.
World Health Organisation. (2015). Global Health Ethics: Key Issues. Global Network of WHO Collaborating Centres for Bioethics, pp: 32.
World Health Organization. (2021). The Republic of Indonesia Health System Review. In Health Systems in Transition, 7(1):1-291. https://apps.who.int/iris/handle/10665/254716.
Yuliadi, B., Muhidin, & Indriyani, S. (2016). Surveillance technique of Rats in Java Island. Ministry of Health Research Institute. Jakarta-Indonesia. Hal: 51-71.
Copyright (c) 2022 Shelly Kusumarini, Muhammad Fernanda Danuarta, Farhan Karami, Reza Yesica, Ida Bagus Gde Rama Wisesa, Aditya Yudhana, Nanis Nurhidayah
This work is licensed under a Creative Commons Attribution-NonCommercial-ShareAlike 4.0 International License.
Authors who publish with this journal agree to the following terms:
1. The journal allows the author to hold the copyright of the article without restrictions;
2. The journal allows the author(s) to retain publishing rights without restrictions;
3. The legal formal aspect of journal publication accessibility refers to Creative Commons Attribution-NonCommercial-ShareAlike 4.0 International License (CC BY-NC-SA).