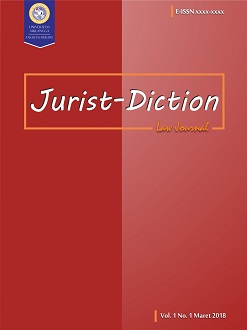 Jurist-Diction adalah terbitan berkala ilmiah yang didedikasikan sebagai media publikasi artikel ilmiah hasil penelitian (skripsi) mahasiswa sarjana di bidang hukum, meskipun demikian jurnal ini dapat pula menerima dan mempublikasikan artikel ilmiah dari akademisi eksternal dan para praktisi hukum. Jurist-Diction terbit dua-bulanan dalam setahun dengan lingkup topik mengenai pembahasan dan analisis kritis pada peraturan perundang-undangan dan prinsip-prinsip hukum di bidang dasar ilmu hukum, hukum tata negara, hukum administrasi, hukum pidana, hukum perdata dan bisnis, serta hukum internasional.
Jurist-Diction is a law journal dedicated to publish articles from legal research of bachelor thesis, while the journal also accepts articles from external academics as well as practicing lawyers. Jurist-Diction published bi-monthly with scope of topics consist of criticism on regulation, jurisprudence, constitutional law, administrative law, criminal law, civil law, business law, and international law.
For submission, please kindly open HERE. 
Announcements
No announcements have been published.
Vol 1, No 2 (2018): Volume 01 No 2, November 2018