About the Journal
Journal History
Global Strategis is a scientific journal published by Cakra Studi Global Strategis (CSGS), since 2007. Global Strategis is one of two journals of International Relations study authorized by Airlangga University that have been nationally accredited. Fundamentally, we have the vision to be an indispensable source of independent analysis, informed debate, and influential ideas to help improve policy and decision-making on global and strategic issues. In addition, we envision becoming an open container that can help facilitate global and strategic issues.
Global Strategis does not speak on certain holistic or limited perspectives only, but we embrace the growth and development of any strategic views toward global issues, even those that are complex, unique, and anti-mainstream. As a leading scientific journal in the study of International Relations in Indonesia, the missions of Global Strategis are (1) promoting a better understanding of contour, content, and context of strategic development; (2) producing independent and rigorous analysis of critical global, regional and country-specific challenges on advanced development; (3) developing new ideas and options to decision-makers and policy specialist in tackling of global strategic challenges.
The area interests of Global Strategis are wide, ranging from regional dynamics & transnational development issues, cosmopolitanism & globalization, nationhood & national interest, to international & foreign affairs. The scope of Global Strategis stems from the programs and activities of CSGS which comprised regular research & mapping; analysis & briefing; simulation and review; consultation and advocacy; negotiation and resolution; articulation & communication; and also dissemination & publication. Meanwhile CSGS, as the founder of Global Strategis, is a research group that originally works on various subjects, such as (1) globalization & non-military defense, (2) local autonomy, (3) maritime development & defense, (3) terrorism & conflict resolution, (4) ethnic conflict & human security, (5) migrant worker & sustainable development, (6) international business & negotiation.
As we strive to be better, Global Strategis welcomes any constructive support and partnership to enhance the analysis, understanding, and policy response of our journal toward global and strategic challenges. Together with our central institution, CSGS, Global Strategis seek to be a home base, workshop space, and an indispensable part of Strategic and Global Studies. Apart from Global Strategis which is a scientific journal, CSGS also has several media of publications, namely: (1) Cakrawala Kebijakan, a policy brief; (2) CSGS Paper, a collection of unpublished papers, and (3) CSGS Publisher, a book publisher.   
Focus and Scope
Global Strategis invite discussions, reviews, and analysis of contemporary international issues with a specialization in four main themes:
○ International peace and security;
○ International political economy;
○ International businesses and organization;
○ Globalization and strategy.
Open Access Policy
This journal provides immediate open access to its content on the principle that making research freely available to the public supports a greater global exchange of knowledge.
Archiving
This journal utilizes the PKP PN and CLOCKSS systems to create a distributed archiving system among participating libraries and permits those libraries to create permanent archives of the journal for purposes of preservation and restoration.

Copyright
1. Copyright of this journal is possession of the Editorial Board and Journal Manager, by the knowledge of the author, whilst the moral right of the publication belongs to the author. In order to technically transfer the copyright to Global Strategis as the publisher, the author must fill out the copyright transfer agreement and send it to the publisher after the manuscript is accepted.
2. Legal formal aspect of journal publication accessibility refers to Creative Commons Atribution-Non Commercial-Share Alike (CC BY-NC-SA), which implies that all articles submitted by the author and published in Global Strategis are fully copyrighted under this license. Under the CC BY-NC-SA license, each publication can be used for non-commercial purposes in its original form.
3. Every publication (printed/electronic) is open access for educational purposes, research, and library. Other than the aims mentioned above, the editorial board is not responsible for copyright violation.

This work is licensed under a Creative Commons Attribution-NonCommercial-ShareAlike 4.0 International License.
Sponsors
Department of International Relations
Faculty of Social and Political Science
Universitas Airlangga
Cover Changes
Since our inception in 2007, Global Strategis has undergone three cover changes. The name of this journal has also changed from Global & Strategis to Global Strategis to adapt the underlying philosophy better.
2007 - 2013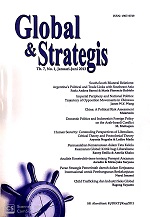 2014 - 2019 (No. 1)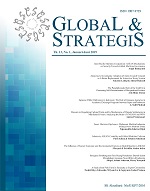 2019 (No.2) - Present