About the Journal
Focus and Scope
Global Strategis is a scientific journal published twice a year. JGS invite discussions, reviews, and analysis of contemporary international issues with specialization in four main themes: international peace and security; international political economy; international businesses and organization; as well as globalization and strategy. JGS published by Cakra Studi Global Strategis (CSGS), center of studies that discussed contemporer issues of international relations. CSGS is managed by International Relations Department Universitas Airlangga
Peer Review Process
Outline the journal's peer review policy and processes for readers and authors, including the number of reviewers typically used in reviewing a submission, the criteria by which reviewers are asked to judge submissions, typical time taken to conduct the reviews, and the principles for recruiting reviewers.
The number of reviewers typically used in reviewing a submission is at least two person.
The criteria by which reviewers are asked to judge submissions are good English, knowledgeable in international relations and global issues related to international relations issues, current active researchers, and have one or more recent publications in peer-reviewed journals.
Recommended reviewers
We may ask authors to recommend suitable reviewers on submission of their manuscript. When recommending reviewers, the following points should be considered:
-        Authors should not recommend reviewers with whom they have a conflict of interest, for example, a close collaborator or colleague.
-        Recommended reviewers should not be at the same institute as any of the authors listed on the manuscript.
-        Institutional email addresses should be provided for recommended reviewers, wherever possible.
Typical time taken to conduct the reviews is between 2 - 4 months.
The principles for recruiting reviewers and the selection of reviewers for a particular manuscript is the responsibility of the Section Editors and is based on many factors, including expertise, reputation, specific recommendations of authors and editors, and the Editor's own knowledge of a reviewer's past performance. As part of our editorial procedure, we confer with potential reviewers before sending them manuscripts to review. Reviewers should bear in mind that even these initial messages or conversations contain confidential information, which should be regarded as such.
Peer Review Process: Every manuscript submitted to Global & Strategis is independently reviewed by at least two reviewers in the form of "double-blind review". Decision for publication, amendment, or rejection is based upon their reports/recommendation. In certain cases, the editor may submit an article for review to another, third reviewer before making a decision, if necessary.
Confidentiality
The review process is strictly confidential and should be treated as such by reviewers. As the author may have chosen to exclude some people from this process, no one who is not directly involved with the manuscript (including colleagues and other experts in the field) should be consulted by the reviewer unless such consultations have first been discussed with the Section Editor. Reviewers must not take any confidential information they have gained in the review process and use it before the paper is published. Even after publication, unless they have the permission of the authors to use other information, reviewers may only use publicly published data (i.e. the contents of the published article) and not information from any earlier drafts.
Open Access Policy
This journal provides immediate open access to its content on the principle that making research freely available to the public supports a greater global exchange of knowledge.

This work is licensed under a Creative Commons Attribution-NonCommercial-ShareAlike 4.0 International License.
Archiving
This journal utilises the LOCKSS system to create a distributed archiving system among participating libraries and permits those libraries to create permanent archives of the journal for purposes of preservation and restoration. 
Criteria for Publication
To be accepted for publication in the Journal, research articles must satisfy the following criteria:
The material must be not only relevant but of utility to related to global and strategical issues such as diplomacy and foreign relations, international peace and security, international political economy, international business and organization, and also globalization and strategy.
Results reported in primary scientific research have not been published elsewhere.
Experiments, statistics, and other analyses are performed to a high technical standard and are described in sufficient detail.
Conclusions are presented in an appropriate fashion and are supported by the data.
The article is presented in an intelligible fashion and is written in standard English or Bahasa.
The research meets all applicable standards for the ethics of experimentation and research integrity.
All articles submitted is going through plagiarism checker (Turnitin) with tolerance of 30% of similarities
The article must be original
The Journal's Peer Reviewer Board, and any invited external peer reviewers, will evaluate submissions against these criteria.
Plagiarism
To avoid plagiarism, all submissions are screened using Turnitin before undergo the review processes. Plagiarism-free  works should match these requirements:
1. Writing that quoting writings of others (by quoting indirectly) that has been well paraphrased, by making one's own words, instead of performing copy and paste or typing the source word-by-word, and write down the reading sources according to the rules of scientific writing.
2.  Writing with the direct quotation, by quoting the same words as the original copies should apply quotation marks (for writing that less than 40 words), or if the quote consists of over than 40 words, the paragraphs should be notched and apply different font size.
3. Mentioning the source other people's ideas that are being used, whether from published or unpublished writing, both oral or written source, in any form of media
Copyright
1. Copyright of this journal is possession of Editorial Board and Journal Manager, by the knowledge of author, whilst the moral right of the publication belongs to the author.
2. Legal formal aspect of journal publication accessibility refers to Creative Commons Atribution-Non Commercial-No Derivative (CC BY-NC-SA),implies that publication can be used for non-commercial purposes in its original form.
3. Every publications (printed/electronic) are open access for educational purposes, research, and library. Other that the aims mentioned above, editorial board is not responsible for copyright violation

This work is licensed under a Creative Commons Attribution-NonCommercial-ShareAlike 4.0 International License.
Publication Ethics
Publication Ethics
Global Strategis is a double-blind reviewed electronic journal that can be widely accessed. Hence, it is committed to upholding the standards of ethical behavior commonly practiced in reputable international journals for all parties involved in the process of publishing articles in the journal. The following ethic rules were composed in regard to COPE.
Ethics for Editorial Team (in accordance with the COPE's Ethical Editing for New Editors)
Editors should be held accountable for everything published in Global Strategis, and this includes the willingness to publish corrections and clarifications required.
Upon carrying out their duties, editors should act based on fair and unbiased judgement. Their duties should be carried out without discrimination on the grounds of gender, ethnicity, sexual orientation, religious neither political beliefs.
Editors should provide clear guidelines for authors and reviewers.
Editors should handle submissions in a fair, unbiased, and timely manner and treat all manuscripts as confidential. Manuscript distributions to others is prohibited and distributions should only be done for peer-review purposes.
Editors should generate systems to ensure that peer reviewer identities are protected.
Editors should make decisions based on quality regarding which articles to get published, and this should be taken after considering evaluation from reviewers as well as without interference from the publisher, department, faculty, and university that Global Strategis associates with and belongs to.
Editors should generate systems to manage their conflicts of interest as well as conflict of interest with authors and reviewers.
Ethics for Authors
Authors should comply with all editorial policies, including issues related to the focus and scope of the journal, guidelines for authors, plagiarism and the publication fee which had been recorded in the journal's website.
The author should declare that all work cited in their submitted article is original and that they have appropriately cited the content from other sources to avoid plagiarism.
Authors should ensure that their contribution does not contain any defamatory matter or infringe upon any copyright or other intellectual property rights or any other rights of any third party.
The listing of authors should accurately reflect who carried out the research and wrote the article, and all the co-authors should jointly determine the order of authorship.
Authors should ensure that their manuscript as submitted is not under consideration (or accepted for publication) elsewhere. Should there any section of the manuscript overlapping with published or submitted content, this should be acknowledged beforehand and cited.
Authors should obtain permission to reproduce any content from third-party sources.
Authors should openly note all funding resource for their research papers as well as other sources of support for the manuscript, typically in an acknowledgment.
Authors should declare any potential conflicts of interest relating to a specific article.
Authors should inform the editorial team if there is a significant error in their published article, and work with the editorial team to publish corrections when necessary.
Ethics for Peer Reviewer (in accordance with the COPE's Ethical Guide for Peer Reviewers) 
Reviewers should provide assistance in improving the quality of a submitted article by reviewing the manuscript with care, consideration, and objectivity promptly.
Reviewers should inform the editorial team of any published or submitted content that is similar to any material under review, or other manners of suspected plagiarism.
Reviewers should declare any potential conflicts of interest relating to a specific article or author.
Reviewers should respect the confidentiality of any information or material attained during the review process.
The editorial team does not explicitly publish reviewers' identities.
Reviewers should be unbiased toward the manuscripts.
Reviewers have their rights to refrain from the editorial team to cite their comments explicitly.
Regards,
Baiq L.S.W Wardhani
Editor in Chief of Global Strategis
Sponsors
Departemen Hubungan Internasional
Fakultas Ilmu Sosial dan Ilmu Politik
Universitas Airlangga
Journal History
Global Strategis published by Cakra Studi Global Strategis (CSGS), since 2007. Global & Strategis are being known as the one of two journal of international relation (authorized by Airlangga University) who has been nationally accredited. Basically, we have a vision to be indispensable source of independent analysis, informed debate, and influential ideas to help improve policy and decision making on global and strategic issues. Indeed, become an open container that can help facilitate on global and strategic issues. Global Strategis does not speaks on holistic even limited perspective indispensable approaches only, but it is involving the growth and development of strategic view towards any complexity, lean on absurdness, and untouchable of global issues. As explained as above, it took based on Global Strategis mission: (1) promoting a better understanding of contour, content, and context of strategic development; (2) producing independent and rigorous analysis of critical global, regional and country specific challenges on advanced development; (3) developing new ideas and options to decision makers and policy specialist in tackling of global strategic challenges.
Our area interests are so wide. Embark on regional dynamics & transnational development issues, cosmopolitanism & globalization, nationhood & national interest, up to international & foreign affairs. Still, JGS have some program and activity in it, such as regular research & mapping; analysis & briefing; simulation and review; consultation and advocacy; negotiation and resolution; articulation & communication; and also dissemination & publication. Research group into inseparable parts in these journal. Our research group properly works on variety subjects like: (1) globalization & non-military defense, (2) local autonomy, (3) maritime development & defense, (3) terrorism & conflict resolution, (4) ethnic conflict & human security, (5) migrant worker & sustainable development, (6) international business & negotiation.
Furthermore, we welcome for any constructive supports and partnership to enhance analysis, understanding and policy response toward our global and strategic challenges. Our central of resource (resource centre) which has become a home base, workshop space, and an indispensable part of centre for Strategic and Global Studies, named Cakra Buana Centre, which is ultimately being our historical departmental resource centre. At the end, Global & Strategis too have media of publications, that is: (1) Global & Strategis, a journal; (2) Cakrawala Kebijakan, a policy brief; (3) CSGS Paper, a collection of unpublished paper, and (4) CSGS Publisher, a book publisher.   
Cover Changes

2007 - 2013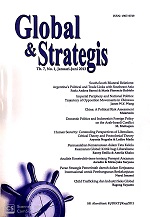 2014 - 2019 (No. 1)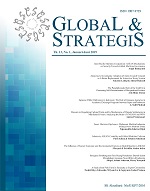 2019 (No.2) - Present