Difference in Lairage Time Before Slaughtering on Malondialdehyde (MDA) Levels in Landrace Pig Blood Serum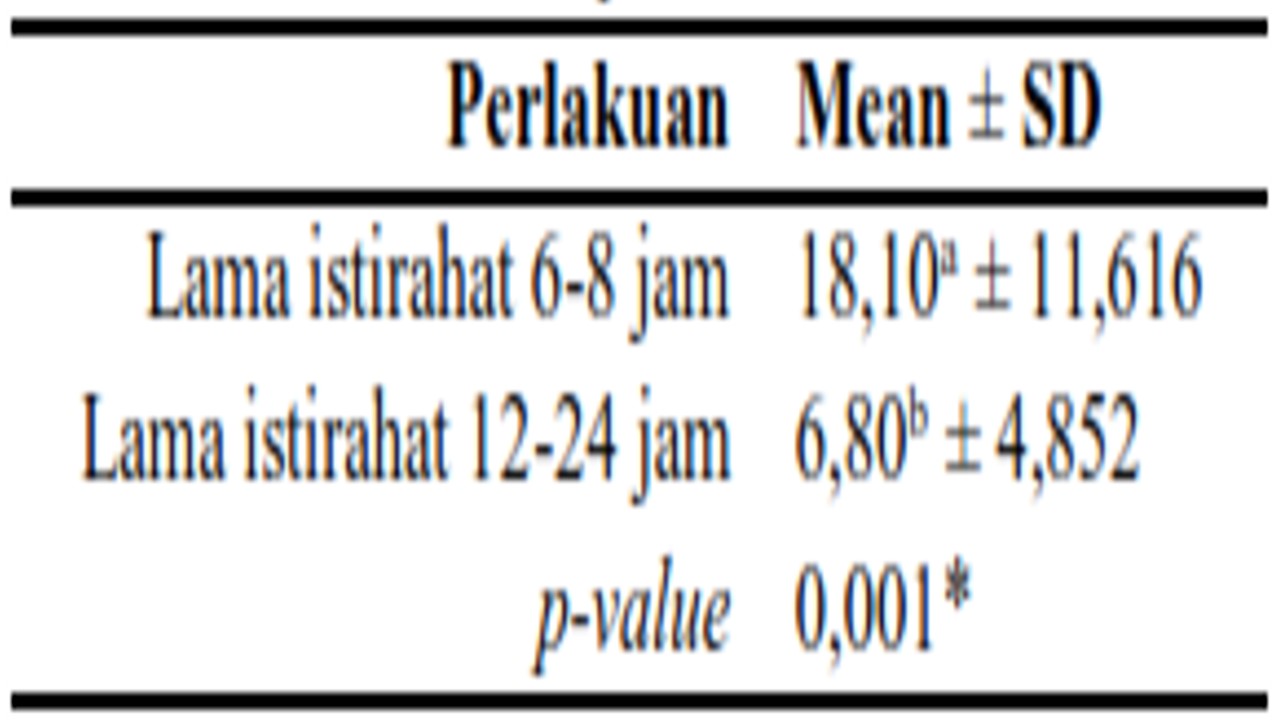 Downloads
Lairage time before slaughtering a pig can recover the stress caused by transportation from the farm to the abattoir. Stress conditions can overcome the imbalance between Reactive Oxygen Species (ROS) and the ability of the system to be easily detoxified. Malondialdehyde (MDA) is a specific product of lipid peroxidation, it is often used as a biomarker in research. A total of 18 pigs were divided into two groups, pigs with a lairage time of 6-8 hours and a rest period of 12-24 hours, MDA levels were tested using the Thiobarbituric Acid Reactive Substance (TBARS) method and then analyzed. There was a significant difference (p<0.05) between the group lairage time length of 6-8 hours (18.10 ± 11.616) with a rest period of 12-24 hours (6,80 ± 4,852), there was a decrease in stress levels and was marked by a decreased in levels of MDA in pigs that were rested for 12-24 hours before being slaughtered.
Muhandis, P. J. A. ., Triakoso, N., & Saputro, A. L. (2022). Difference in Lairage Time Before Slaughtering on Malondialdehyde (MDA) Levels in Landrace Pig Blood Serum. Jurnal Medik Veteriner, 5(1), 16–20. https://doi.org/10.20473/jmv.vol5.iss1.2022.16-20
Ayala, A., Muñoz, M. F., & Argüelles, S. (2014). Lipid peroxidation: production,metabolism, and signaling mechanisms of malondialdehyde and 4-hydroxy-2-nonenal. Oxid. Medical Cell Longevity, 2014, 1-31.
Averos, X., Herranz, A., Sanchez, R., Comella, J. X., & Gosalvez, L. F. (2007). Serum stress parameters in pigs transported to slaughter under commercial conditions in different seasons. Veterinari Medicina Praha, 52(8), p.333.
Cussen, V., & Garces, L. (2008). Long distance transport and welfare of farm animals. CAB International. London. Pp: 122.
Benoit, D., Esa, L., & Ralph, G. (2001). The driving license examination as a stress model effects on blood picture, serum cortisol and the production of interleukins in man. Life Sciences, 68, 1641–1647.
Faucitano, L. (2010). Invited review: Effects of lairage and slaughter conditions on animal welfare and pork quality. Canadian journal of animal science, 90(4), 461-469.
Hidayatik, N., Purnomo, A., Fikri, F., & Purnama, M. T. E. (2021). Amelioration on oxidative stress, testosterone, and cortisol levels after administration of Vitamins C and E in albino rats with chronic variable stress. Veterinary World, 14(1), 137.
Janero, D. R. (1990). Malondialdehyde and thiobarbituric acid-reactivity as diagnostic indices of lipid peroxidation and peroxidative tissue injury. Free Radical Biology and Medicine, 9(6), 515-540.
Kuntoro, B., Maheswari, R. R. A., & Nuraini, H. (2013). Mutu fisik dan mikrobiologi daging sapi asal rumah potong hewan (RPH) Kota Pekanbaru. Jurnal Peternakan, 10(1),1-8.
Lardone, P. J., Álvarez-García, O., Carrillo-Vico, A., Vega-Naredo, I., Caballero, B., Guerrero, J. M., & Coto-Montes, A. (2006). Inverse correlation between endogenous melatonin levels and oxidative damage in some tissues of SAM P8 mice. Journal of Pineal Research, 40, 153–157.
Lemrhamed, A., Tabite, R., Abbadi, N., El Khasmi, M., & Faye, B. (2019). Evaluation of slaughter stress responses in the dromedary camel. Agriculture Tropical, 13(1).
Mareko, M. H. D. (2005). Effects of pre-slaughter stress on carcass/meat quality: implication for Botswana. Journal of Animal Veterinary Advance, 4(9), 761-767.
Purnama, M. T. E., Dewi, W. K., Prayoga, S. F., Triana, N. M., Aji, B. S. P., Fikri, F., & Hamid, I. S. (2019). Preslaughter stress in banyuwangi cattle during transport. Indian Veterinary Journal, 96(12), 50-52.
Purnama, M. T. E., Prayoga, S. F., Triana, N. M., Dewi, W. K., Purnomoaji, B. S., Wardhana, D. K., & Fikri, F. (2020). Oxidative stress parameters in landrace pigs slaughtered by the stunning method. In IOP Conference Series: Earth and Environmental Science, 441(1), 012140.
Saco, Y., Docampo, M. J., Febrera, E., Manteca, X., Diestre, A., & Lampreave, F. (2003). Effects of transport stress on serum haptoglobin and Pig-MAP in pigs. Animal Welfare, 12, 403–409.
Singh, R., Dev Lawania, R., Mishra, A., & Gupta, R. (2010). Role of cordia dichotoma Seeds Ad Leave Extract In Degenerative Disorders. Department Of Pharmaconogsy. Faculty Of Pharmacy And Babu Banarasi Das National Instituteof Technology And Management. India. Pp: 45.
Soeparno. (2005). Ilmu dan Teknologi Daging. Gadjah Mada University Press. Yogyakarta. Hal: 47.
Sudiana, I.K. (2008). Patobiologi molekuler kanker. Penerbit Salemba Medika. Jakarta. Hal: 41.
Zaetun, S., Dewi, L. B. K., Wiadnya, I. B. R., & Gede, L. S. (2019). Profil Kadar Mda (Malondialdehide) Sebagai Penanda Kerusakan Seluler Akibat Radikal Bebas Pada Tikus Yang Diberikan Air Beroksigen. Jurnal Analis Medika Biosains (JAMBS), 4(2), 63-68.
Zhu, Z., Chen, Y., Huang, Z., Zhang, Y., Xu, Q., Tong, Y., Zhai, F., Chang, G., & Chen, G. (2014). Effects of transport stress and rest before slaughter on blood parameters and meat quality of ducks. Canadian Journal of Animal Science, 94(4), 595-600.
Copyright (c) 2022 Putri Jauza Aulia Muhandis, Nusdianto Triakoso, Amung Logam Saputro
This work is licensed under a Creative Commons Attribution-NonCommercial-ShareAlike 4.0 International License.
Authors who publish in this journal agree to the following terms:
1. The journal allows the author to hold the copyright of the article without restrictions;
2. The journal allows the author(s) to retain publishing rights without restrictions;
3. The legal formal aspect of journal publication accessibility refers to Creative Commons Attribution-NonCommercial-ShareAlike 4.0 International License (CC BY-NC-SA).