Medical Treatment for Pyometra in Cat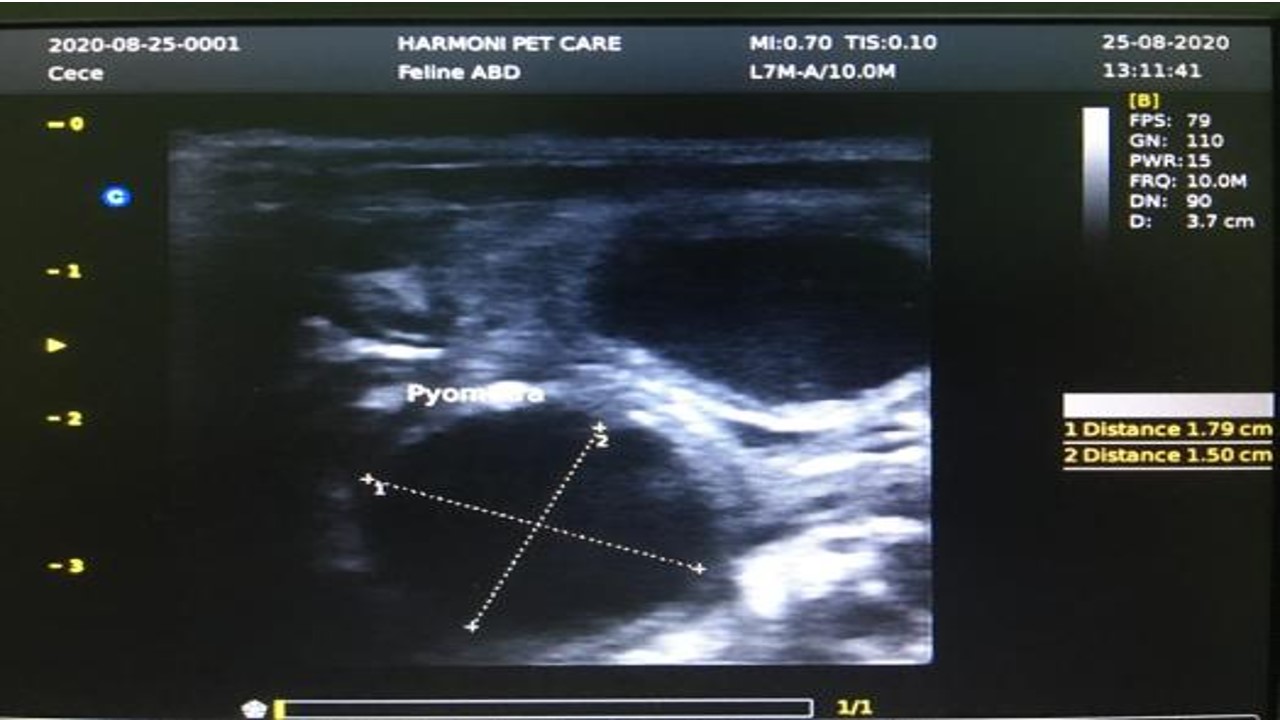 Downloads
The Pyometra case is a case that is often found in Female Cat. This case report will discuss the handling of a case of pyometra in a 7-year-old mixed breed cat who is being treated at Harmoni Pet Care, Menanggal, Gayungan, Surabaya, Indonesia. Reports from the owner that these cats are still in good appetite but sanguino-purulent discharge from the vagina was found. In clinically diagnosed with a pyometra, the treatment used to treat pyometra case was ovariohysterectomy. Postoperative care was carried out by administering antibiotics (Clanexi; Amoxicillin-Clavulanic Acid, 1 cc/kg, IM) given twice a day for 14 days, with the first 3 days being treated in the Harmoni Pet Care inpatient room and the 4th day to the 14th day of care is done at the owner's house, local antiseptic dressing at the incision site is continued for up to 14 days until the sutures in the skin sutures were absorbed by the cat's body.
Palupi, T. D. W., Suprayogi, T. W. ., & Ismudiono, I. (2022). Medical Treatment for Pyometra in Cat. Jurnal Medik Veteriner, 5(1), 124–130. https://doi.org/10.20473/jmv.vol5.iss1.2022.124-130
American College Of Veterinary Surgeons. (2021). Small-Animal Topic. Pyometra. American College Of Veterinari surgeons. [Online]. Accesed April 21th 2021. (www.acvs.org/small-animal/pyometra).
Benninger, M. S. (2003). Amoxicillin/clavulanate potassium extended release tablets: a new antimicrobial for the treatment of acute bacterial sinusitis and community-acquired pneumonia. Expert Opinion Pharmacotherapy, 4 (10), 1839-46.
Bigliardi, E., Parmigiani, E., Cavirani, S., Luppi, A., Bonati, L., & Corradi, A. (2004). Ultrasonography and cystic hyperplasia-pyometra complex in the bitch, Reproduction Domestic Animal, 39, 136.
Crane, M. B. (2015). Pyometra. Small Animal Critical Care Medicine, 667–671.
De Faria, V. P., & Norsworthy, G. D. (2008). Pyometra in a 13-year-old neutered queen. Journal of Feline Medicine and Surgery, 10 (2), 185–187.
Evans, J., Hannoodee, M., & Wittler, M. (2019). Amoxicillin Clavulanate. Pp: 56.
Faldyna, M., Laznicka, A., & Toman, M. (2001). Immunosuppression in bitches with pyometra. Journal of Small Animal Practice, 42, 5-10.
Fransson, B. A., Karlstam, E., Bergstrom, A., Langerstedt, A., Park, J. S., Evans, M. A., & Ragle, C. A. (2004). C-reactive protein in the differentiation of pyometra from cystic endometrial hyperplasia/ mucometra in dogs, Journal of the American Animal Hospital Association, 40, 391
Hagman, R., & Kuhn, I. (2002). E. coli strains isolated from the uterus and urinary bladder of bitches suffering from pyometra: comparison by restriction enzyme digestion and pulsed filed gel electrophoresis, Veterinary Microbiology, 84, 143-153
Hagman, R., Lagerstedt, A. S., Hedhammar, Å., & Egenvall, A. (2011). A breed-matched case-control study of potential risk-factors for canine pyometra. Theriogenology, 75(7), 1251–1257.
Hagman, R. (2018). Pyometra in Small Animals. Veterinary Clinics of North America: Small Animal Practice, 48 (4), 639–661.
Hollinshead, F., & Krekeler, N. (2016). Pyometra in the queen: to spay or not to spay?, Journal Feline Medicine Surgeon, 18, 21–33.
Jutkowitz, L. A. (2005). Reproductive emergencies. Veterinary Clinic North American Small Animal Practice, 35, 397.
Mateus, L., Henriques, S., Merino, C., Pomba, C., Lopes da Costa, L., & Silva, E. (2013). Virulence genotypes of Escherichia coli canine isolates from pyometra, cystitis and fecal origin. Veterinary Microbiology, 166(3-4), 590–594.
Pereira, M. A. A., Gonçalves, L. A., Evangelista, M. C., Thurler, R. S., Campos, K. D., Formenton, M. R., Patricio, G.C.F, Matera, J.M., Ambrósio, A.M., & Fantoni, D. T. (2018). Postoperative pain and short-term complications after two elective sterilization techniques: ovariohysterectomy or ovariectomy in cats. BMC Veterinary Research, 14(1).
Rebordão, M. R., Alexandre-Pires, G., Carreira, M., Adriano, L., Carneiro, C., Nunes, T., Mateus, L., & Ferreira-Dias, G. (2017). Bacteria causing pyometra in bitch and queen induce neutrophil extracellular traps. Veterinary Immunology and Immunopathology, 192, 8–12.
Von Berky, A., & Townsend, W.L. (1993). The relationship between the prevalence of uterine lesions and the use of medroxyprogesterone acetate for canine population control. Australia Veterinary Journal, 70, 249.
Copyright (c) 2022 Tantri Dyah Whidi Palupi, Tri Wahyu Suprayogi, Ismudiono
This work is licensed under a Creative Commons Attribution-NonCommercial-ShareAlike 4.0 International License.
Authors who publish with this journal agree to the following terms:
1. The journal allows the author to hold the copyright of the article without restrictions;
2. The journal allows the author(s) to retain publishing rights without restrictions;
3. The legal formal aspect of journal publication accessibility refers to Creative Commons Attribution-NonCommercial-ShareAlike 4.0 International License (CC BY-NC-SA).