The Steroid Hormone Profile in Etawah Crossbreed Goat While Ovulation Induced using The Selectsynch Method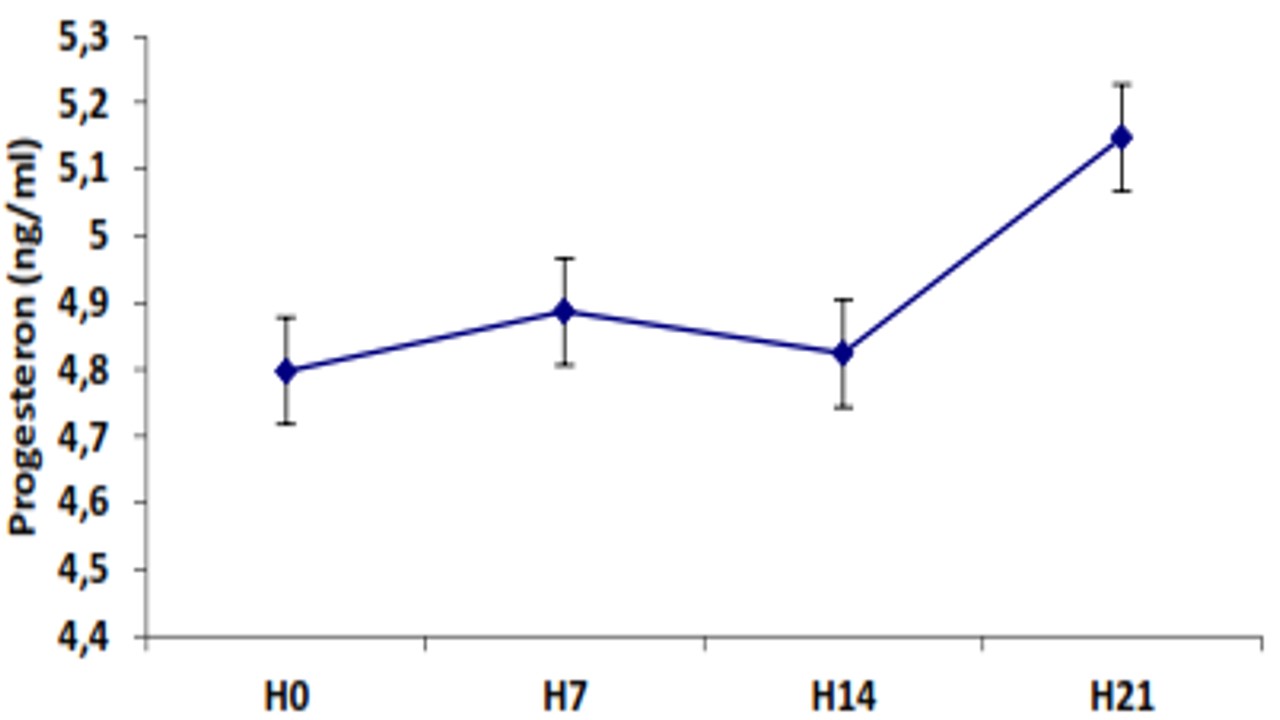 Downloads
This study aimed to provide alternative information and solutions in an effort to increase reproductive productivity in etawah crossbreed goats (PE). The sample used in this study was 10 female PE with an average age of 2.5 - 3 years and primiparous at least . Ovulation induction was performed using 0.1 mg intra-muscular Gonadotropin-Releasing Hormone (GnRH), after seven days injection of Prostaglandin F2α (PGF2α) was given as much as 2.5 mg submucosa of the vulva, followed by a second injection of GnRH as much as 0,2 mg intramuscular in samples that have really experienced heat and selected selectively according to the signs of natural heat shown by the sample and followed by insemination as much as 2 doses or 0.50 ml of frozen semen. Blood sampling was performed at H0, H7th, H14th and H21th after insemination. All blood samples were collected and progesterone and estrogen hormone profiles were examined using the ELISA method. From the results of the ELISA test, the mean progesterone hormone profile H0 = 4.798 ng / ml, H7th = 4.887 ng / ml, H14th = 4.824 ng / ml, H21th = 5.148 ng / ml. The profile of the hormone estrogen at H0 = 19,461 pg / ml, H7th = 17,457 pg / ml, H14th = 18,248 pg / ml, H21th = 17,515 pg / ml. This study showed an increase in the levels of the progesterone hormone at H0 to H7th, then slightly decreased in H14th and a significant increase in H21th. For the estrogen hormone, there is a decrease from H0 to H7th then there is a slight increase in H14th and decreases again in H21th.
Aftabuddin Rz, M. ., Srianto, P., Nidom, C. A., Madyawati, S. P., Sardjito, T., & Ismudiono, I. (2022). The Steroid Hormone Profile in Etawah Crossbreed Goat While Ovulation Induced using The Selectsynch Method. Jurnal Medik Veteriner, 5(1), 62–68. https://doi.org/10.20473/jmv.vol5.iss1.2022.62-68
Akusu, M. O., Nduka, F., & Egbunike, G. N. (2006). Peripheral plasma levels of progesteron and oestradiol-17, during the reproductive cycle of West African Dwarft Goat. Journal of Veterinary Science, 12(1).
Artiningsih, N. M., Purwantara, B., Achyadi, R. K., & Sutama, I. K. (2006). Pengaruh Penyuntikan Pregnant Mare Serum Gonadotrophin terhadap Kelahiran Kembar pada Kambing Peranakan Etawah. Penelitian dan Pengembangan Peternakan. Kementerian Pertanian RI.
Djarnette, M. (2004). Estrus Syncronization; a Reproductive Management Tool. Select Sires, Inc. Publication, North Plain City, Ohio, USA. Pp: 19.
Geary, T. W., Whitier, J. C., Halford, D. M., & Macneil. (2000). Calf Removel Improves Conception Rates to The ovsynch or cosynch protocols, Journal Animal Science,79, 1-4.
Hafez, B., & Hafez, E. S. E. (2000). Reproduction in Farm Animals. 7th. Ed. Lea and Febiger Cc. Philadelphia, USA. Pp: 43.
Hariadi, M., Hardjopranjoto, S., Wurlina, Hermadi, H. A., Utomo, B., Rimayanti, Triana, I. N., & Ratnani, H. (2011). Buku Ajar Ilmu Kemajiran. Airlangga University Press. Surabaya. Hal: 22.
Hartantyo, S. (1995). Calculation of percent progesteron in skim milk fraction when centrifugation temperature and butterfat of whole milk are known. Buletin FKH UGM, 14(2), 1-6.
Ismudiono, Srianto, P., Madyawati, S. P., Samik, A., & Safitri, E. (2010). Buku Ajar Fisiologi Reproduksi Pada Ternak. Airlangga University Press. Surabaya. Hal: 16.
Katangole, C. B., & Gombe, S. (2006). A Study of Reproductive Hormones of Indigenous Goats In Uganda. Veterinary Research, 11(2).
Medan, M. S., Akagi, S., Kaneko, H., Watanabe, G., Tsonis, C. G., & Taya, K. (2004). Effect of re-immunization of heifers againts inhibin on hormonal profiles and ovulation rate. Reproduction, 128, 475-482.
Noakes, D. E. (1979). The Normal Breeding In Fertility and Infertility In Domistic Animals. J.A. Laing Ed. Balliere Tindall. London. Pp: 61.
Obst, J. M., & Napitupulu, Z. (1984). Milk Yields of Indonesian Goats. Proceeding Austria Social Animal Production, 15, 501-504.
Siregar, T. N. (2002). Pengukuran Profil Progesteron sSbagai Suatu Metode Diagnosis Kebuntingan Dini dan Kelahiran Kembar Pada Domba Lokal. Media Kedokteran Hewan, 18(2), 73-77.
Siregar, T. N. (1998). Induksi Ovulasi Kambing Kacang Prapuber Dengan PMSG dan HCG. Tesis Program Pasca Sarjana UGM. Yogyakarta. Hal: 11.
Siregar, T. N. (2006). Fisiologi Reproduksi Hewan Betina. Buku Ajar. Percetakan Syiah Kuala. Banda Aceh. Hal: 26.
Toelihere, M. R. (1981). Fisiologi Reproduksi Pada Ternak. Penerbit Angkasa. Bandung. Hal: 22.
Wildeus, S. (2006). Reproductive Management of The Meat Goat. Animal Science, 8(2).
Wubishet, B., Kesler, D. J., Graves, C. N., Sphar, S. L., & Favero, R. J. (1991). Preovulatory LH Profil of Super Ovulated Cows and Progesterone Concentration at Embryo Recovery. Theriogenology, 35, 451-457.
Wodzicka-Tomaszewska, M., Sutama, I. K., Putu, I. G., & Chaniago, T. D. (1991). Reproduksi, Tingkah Laku dan Produksi Ternak Indonesia. Penerbit Gramedia Pustaka Utama. Jakarta. Hal: 17.
Copyright (c) 2022 Muhammad Aftabuddin Rz, Pudji Srianto, Chairul Anwar Nidom, Sri Pantja Madyawati, Trilas Sardjito, Ismudiono
This work is licensed under a Creative Commons Attribution-NonCommercial-ShareAlike 4.0 International License.
Authors who publish with this journal agree to the following terms:
1. The journal allows the author to hold the copyright of the article without restrictions;
2. The journal allows the author(s) to retain publishing rights without restrictions;
3. The legal formal aspect of journal publication accessibility refers to Creative Commons Attribution-NonCommercial-ShareAlike 4.0 International License (CC BY-NC-SA).