Characterization of Gene Coding Fusion Protein of Newcastle Disease Virus Infected in Native Chicken in Surabaya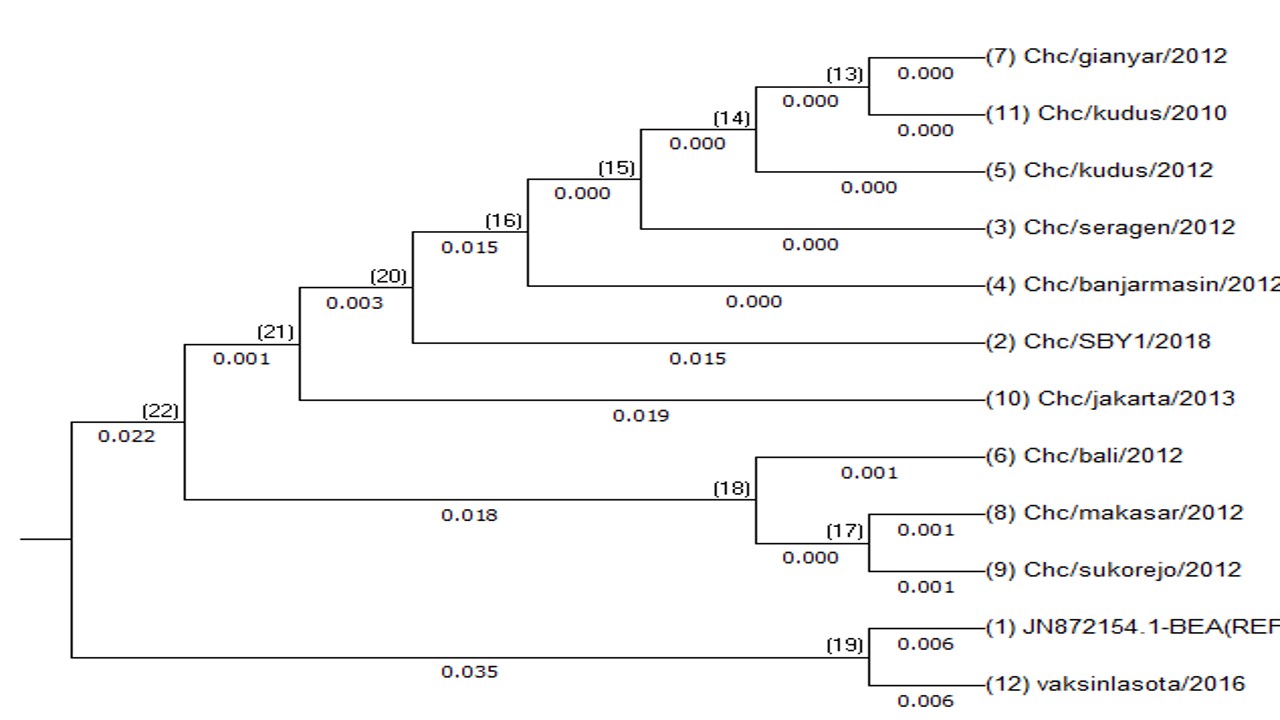 Downloads
This study aimed to discover the homology of nucleotide sequence, homology percentage, and those relations phylogenetic of protein Fusion (F) gene coding of Newcastle disease in domestic chicken (Gallus gallus domesticus) in Surabaya using some comparison isolate from GenBank. Samples were scoured of digestive organs from native chicken, that was collected from a traditional market in Wonokromo, Surabaya. Samples were tested using RT-PCR with primer forward and reverse with target 976bp, a positive sample which is continued with sequencing then homology and nucleotide analysis which is done and which is translated into amino acid. The result of homology chc/SBY/2018 sample has a similarity of 88% with references sequence, while with Lasota vaccine has a similarity of 87%, and the highest result of homology showed by the comparison with various isolates in Indonesia 90-95%. Translation results from nucleotide alignment into amino acid showed shifts in amino acid structure, which is amino acid shifts could be affected by many things like nutrition, wheater, environment, etc. The conclusion was chc/SBY/2018 sample has a quite high similarity with Indonesian isolates and undergoes mutation on nucleotide structure on amino acid and phylogenetic analysis. This study related to some isolates of vaccine and some isolates in Indonesia.
Kirana, M., Ernawati, R., Rahmahani, J., & Rantam, F. A. (2022). Characterization of Gene Coding Fusion Protein of Newcastle Disease Virus Infected in Native Chicken in Surabaya. Jurnal Medik Veteriner, 5(1), 103–108. https://doi.org/10.20473/jmv.vol5.iss1.2022.103-108
Alexander, D. J. (2000). Newcastle disease and other avian paramyxoviruses. Review Science Technology, 19, 443–462.
Bahri, S., & Kusumaningsih, A. (2005). Potensi, Peluang, dan Strategi Pengembangan Vaksin Hewan di Indonesia. Jurnal Litbang Pertanian, 24, 113.
Bijlenga, G., Cook, J. K., Gelb, Jr, J., & Wit, J. D. (2004). Development and use of the H strain of avian infectious bronchitis virus from the Netherlands as a vaccine: a review. Avian Pathology, 33(6), 550-557.
Feng, K., Xue, Y., Wang, J., Chen, W., Chen, F., Bi, Y., & Xie, Q. (2015). Development and efficacy of a novel live-attenuated QX-like nephropathogenic infectious bronchitis virus vaccine in China. Vaccine, 33(9), 1113-1120.
Jackwood, M. W. (2012). Review of infectious bronchitis virus around the world. Avian Diseases, 56(4), 634-641.
Kementrian Pertanian. (2014). Manual PenyakitHewan. Cetakankedua. Direktorat Jendral peternakan dan Kesehatan Hewan. 84-92.
Li, L., Xue, C., Chen, F., Qin, J., Xie, Q., Bi, Y., & Cao, Y. (2010). Isolation and genetic analysis revealed no predominant new strains of avian infectious bronchitis virus circulating in South China during 2004–2008. Veterinary Microbiology, 143(2-4), 145-154.
Luo, H., Qin, J., Chen, F., Xie, Q., Bi, Y., Cao, Y., & Xue, C. (2012). Phylogenetic analysis of the S1 glycoprotein gene of infectious bronchitis viruses isolated in China during 2009–2010. Virus Genes, 44(1), 19-23.
Miller, P. J., Afonso, C. L., Attrache, J. E., Dorsey, K. M., Courtney, S. C., Guo, Z., & Kapczynski, D. R. (2013). Effects of Newcastle Disease Virus Vaccine Antibodies on the Shedding and Transmission of Challenge Viruses. Developmental and Comparative Immunology, 41, 505–513.
OIE (Office International des Epizooties). (2012). "Newcastle Disease. Manual of Diagnostic Test and Vaccines for Terrestrial Animals," Chapter 2.3.14.
Perozo, F., Marcano, R., & Afonso, C. L. (2012). Biological and Phylogenetic Characterization of a Genotype VII Newcastle Disease Virus from Venezuela: Efficacy of Field Vaccination. Journal Clinical Microbiology, 50, 1204-1208.
Qin, Z., Sun, L., Ma, B., Cui, Z., Zhu, Y., Kitamura, Y., & Liu, W. F. (2008). gene recombination between genotype II and VII Newcastle disease virus. Virus Research, 131, 299-303.
Rehmani, S. F., Wajid, A., Bibi, T., Nazir, B., Mukhtar, N., Hussain, A., Lone, N. A., Yaqub, T., & Afonso, C. L. (2015). Presence of Virulent Newcastle Disease Virus in Vaccinated Chickens in Farm in Pakistan. Journal of Clinical Microbiology, 53, 1715-1718.
Suarez, D. L. (2020). Newcastle Disease, other Avian Paramyxoviruses, and Avian Metapneumovirus Infections. In Diseases of Poultry, 14th ed, USA. Pp. 111–166.
Viljoen, G. J., Nel, L. H., & Crowther, J. R. (2005). Molecular diagnostic PCR handbook. Springer science & business media. Pp: 145.
Xiang, B., Han, L., Gao, P., You, R., Wang, F., Xiao, J., & Ren, T. (2017). Spillover of Newcastle disease viruses from poultry to wild birds in Guangdong province, southern China. Infection, Genetics and Evolution, 55, 199-204.
Copyright (c) 2022 Maha Kirana, Fedik Abdul Rantam, Rahaju Ernawati, Jola Rahmahani
This work is licensed under a Creative Commons Attribution-NonCommercial-ShareAlike 4.0 International License.
Authors who publish in this journal agree to the following terms:
1. The journal allows the author to hold the copyright of the article without restrictions;
2. The journal allows the author(s) to retain publishing rights without restrictions;
3. The legal formal aspect of journal publication accessibility refers to Creative Commons Attribution-NonCommercial-ShareAlike 4.0 International License (CC BY-NC-SA).