Serological Study of Newcastle Disease in Ducks (Anas javanicus) Slaughtered in East Surabaya Traditional Market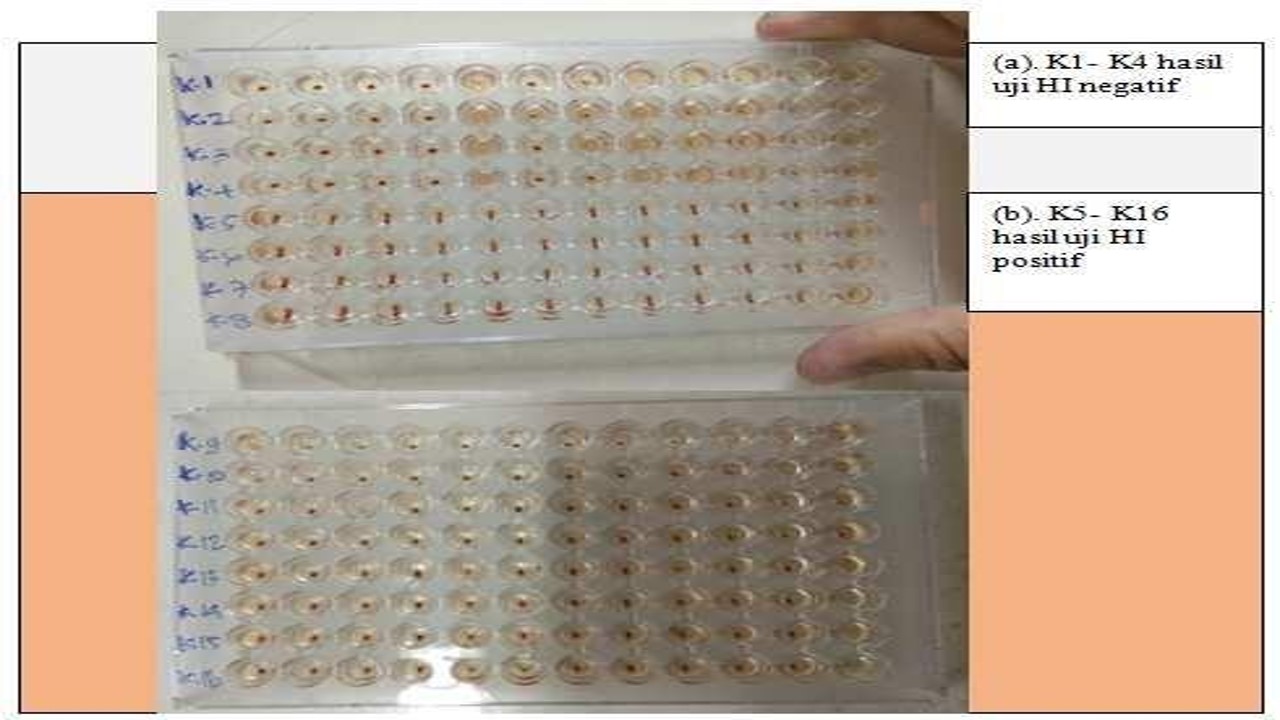 Downloads
The purpose of this study was to determine the serological study of Newcastle Disease that infects slaughtered ducks (Anas javanicus) at the East Surabaya Traditional Market. This study was conducted from December 2018 to January 2019. A total of 122 samples were collected from four traditional markets in East Surabaya. The Haemagglutination Inhibition (HI) test was used to determine a positive result with an antibody titer of 4 or more. Samples for the HI test were collected from duck serum that had been treated with chicken red blood cells. The results showed 13 (10.65%) of the 122 samples were positive for ND.
Ardhanella, S. ., Damayanti, R. ., Suwarno, S., Rantam, F. A., Rachmawati, K. ., Khairullah, A. R., & Rahmahani, J. (2022). Serological Study of Newcastle Disease in Ducks (Anas javanicus) Slaughtered in East Surabaya Traditional Market. Jurnal Medik Veteriner, 5(2), 131–137. https://doi.org/10.20473/jmv.vol5.iss2.2022.131-137
Abraham-Oyiguh, J., Sulaiman, L. K., Meseko, C. A., Ismail, S., Suleiman, I., Ahmed, S. J., & Onate, E. C. (2014). Prevalence of Newcastle Disease Antibodies in Local Chicken in Federal Capital Territory, Abuja, Nigeria. International Scholarly Research Notices, 2014: 796148.
Adi, A. A. A. M., Astawa, N. M., Putra, K. S. A., Hayashi, Y., & Matsumoto, Y. (2009). Isolation and Characterization of a Pathogenic Newcastle Disease Virus from a Natural Case in Indonesia. Journal of Veterinary Medical Science, 72(3), 313–319.
Amanu, S., & Rohi, O. K. (2005). Studi Serologis Dengan Uji Hambatan Hemaglutinasi Terhadap Angsa Yang Dapat Bertindak Sebagai Pembawa Newcastle Disease di D. I. Yogyakarta. Jurnal Kedokteran Hewan, 1, 8–12.
Babington, S., & Campbell, D. L. M. (2022). Water for Domestic Ducks: The Benefits and Challenges in Commercial Production. Frontiers in Animal Science, 3, 782507.
Brown, V. R., & Bevins, S. N. (2017). A review of virulent Newcastle disease viruses in the United States and the role of wild birds in viral persistence and spread. Veterinary Research, 48(1), 68.
Budiharta, S., & Suardana, I. W. (2007). Buku Ajar Epidemiologi dan Ekonomi Veteriner. Penerbit Universitas Udayana. Denpasar, pp: 54–55.
Curseu, D., Popa, M., Sirbu, D., & Stoian, I. (2010). Potential Impact of Climate Change on Pandemic Influenza Risk. Global Warming, 30, 643–657.
Dimitrov, K. M., Afonso, C. L., Yu, Q., & Miller, P. J. (2017). Newcastle disease vaccines-A solved problem or a continuous challenge? Veterinary Microbiology, 206, 126–136.
Dortmans, J. C., Koch, G., Rottier, P. J., & Peeters, B. P. (2011). Virulence of Newcastle disease virus: what is known so far? Veterinary Research, 42(1), 122.
Elfil, M., & Negida, A. (2017). Sampling methods in Clinical Research; an Educational Review. Emergency (Tehran), 5(1), e52.
Ganar, K., Das, M., Sinha, S., & Kumar, S. (2014). Newcastle disease virus: current status and our understanding. Virus Research, 184, 71–81.
Getabalew, M., Alemneh, T., Akeberegn, D., Getahun, D., & Zewdie, D. (2019). Epidemiology, Diagnosis & Prevention of Newcastle Disease in Poultry. American Journal of Biomedical Science and Research, 3(1), 50–59.
Haile, B., Fentie, T., & Kassa, T. (2020). The role of live chicken markets as a source of replication and dissemination of Newcastle disease virus in chickens, northwest Ethiopia. Poultry Science, 99(11), 5415–5421.
Jones, J. C., Sonnberg, S., Webby, R. J., & Webster, R. G. (2015). Influenza A(H7N9) virus transmission between finches and poultry. Emerging Infectious Diseases, 21(4), 619–628.
Karamendin, K., & Kydyrmanov, A. (2021). Cormorants as a Potentially Important Reservoir and Carrier of Newcastle Disease Virus on the Asian Continent. Frontiers in Veterinary Science, 8, 648091.
Kaufmann, L., Syedbasha, M., Vogt, D., Hollenstein, Y., Hartmann, J., Linnik, J. E., & Egli, A. (2017). An Optimized Hemagglutination Inhibition (HI) Assay to Quantify Influenza-specific Antibody Titers. Journal of Visualized Experiments, (130), 55833.
McCluskey, B. J., Burgess, B., Glover, J., Kinde, H., & Hietala, S. (2006). Use of sentinel chickens to evaluate the effectiveness of cleaning and disinfection procedures in noncommercial poultry operations infected with exotic Newcastle disease virus. Journal of Veterinary Diagnostic Investigation, 18(3), 296–299.
Miller, P. J., Afonso, C. L., El Attrache, J., Dorsey, K. M., Courtney, S. C., Guo, Z., & Kapczynski, D. R. (2013). Effects of Newcastle disease virus vaccine antibodies on the shedding and transmission of challenge viruses. Developmental and Comparative Immunology, 41(4), 505–513.
Padhi, M. K. (2016). Importance of Indigenous Breeds of Chicken for Rural Economy and Their Improvements for Higher Production Performance. Scientifica (Cairo), 2016, 2604685.
Panus, A., Setiyaningsih, S., & Mayasari, N. L. P. I. (2015). Newcastle Disease Virus Infection Study on Duck and Chicken in Subang District. Jurnal Ilmu Ternak dan Veteriner, 20(2), 134–147.
Rehman, Z. U., Ren, S., Yang, B., Yang, X., Butt, S. L., Afzal, A., Malik, M. I., Sun, Y., Yu, S., Meng, C., & Ding, C. (2020). Newcastle disease virus induces testicular damage and disrupts steroidogenesis in specific pathogen free roosters. Veterinary Research, 51(1), 84.
Sahoo, N., Bhuyan, K., Panda, B., Behura, N. C., Biswal, S., Samal, L., Chaudhary, D., Bansal, N., Singh, R., Joshi, V. G., Jindal, N., Mahajan, N. K., Maan, S., Ravishankar, C., Rajasekhar, R., Radzio-Basu, J., Herzog, C. M., Kapur, V., Mor, S. K., & Goyal, S. M. (2022). Prevalence of Newcastle disease and associated risk factors in domestic chickens in the Indian state of Odisha. PLoS One, 17(2), e0264028.
Wasti, S., Sah, N., & Mishra, B. (2020). Impact of Heat Stress on Poultry Health and Performances, and Potential Mitigation Strategies. Animals, 10, 1266.
Wibawa, H., Henning, J., Waluyati, D. E., Usman, T. B., Lowther, S., Bingham, J., Junaidi, A., & Meers, J. (2012). Comparison of serological assays for detecting antibodies in ducks exposed to H5 subtype avian influenza virus. BMC Veterinary Research, 8, 117.
Copyright (c) 2022 Sellianova Ardhanella, Ratna Damayanti, Suwarno Suwarno, Fedik Abdul Rantam, Kadek Rachmawati, Aswin Rafif Khairullah, Jola Rahmahani
This work is licensed under a Creative Commons Attribution-NonCommercial-ShareAlike 4.0 International License.
Authors who publish in this journal agree to the following terms:
1. The journal allows the author to hold the copyright of the article without restrictions;
2. The journal allows the author(s) to retain publishing rights without restrictions;
3. The legal formal aspect of journal publication accessibility refers to Creative Commons Attribution-NonCommercial-ShareAlike 4.0 International License (CC BY-NC-SA).