Clinical Signs and Haematology Profiles of Beagle Dogs with Tick Infestation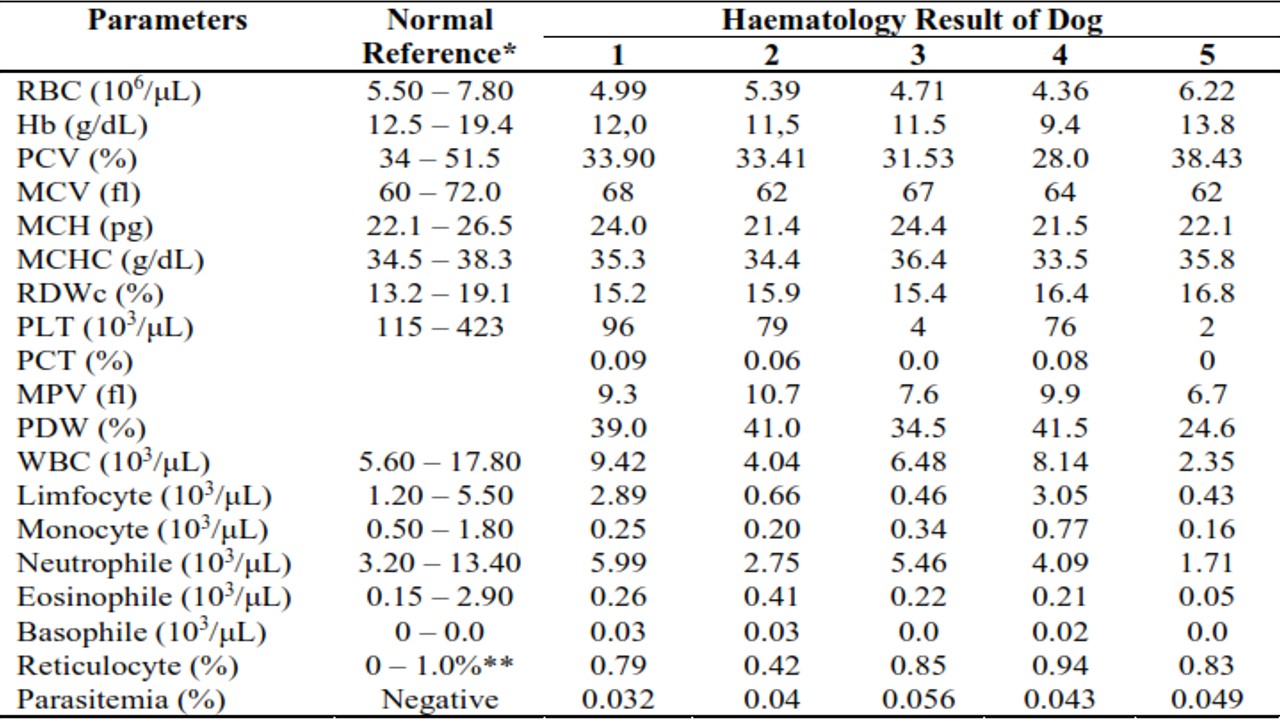 Downloads
Rhipicephalus sanguineus is one of the vectors that could induce diseases in dogs. A physical examination and haematology test could examine the dog's condition with tick infestation. Five dogs, beagle breeds from Veterinary Teaching Hospital, School of Veterinary Medicine and Biosciences, IPB University, have been examined for physical examination and CBC test. A haematology test was performed using a haematology analyzer and made the blood smear. Physical examination showed that 60% of dogs have a tick infestation, 80% have pallor, 60% have pruritus, 40% have crusted skin, and 100% have wounds in extremities. However, the body temperature and heart rate were relatively normal. Complete blood count test showed that red blood cells (RBC), peak cells volume, and haemoglobin (Hb) decreased (80%), MCHC increased (40%), thrombocytopenia (100%), leukopenia (40%), lymphocytopenia (60%), neutropenia (10%) and monositopenia (80%). The blood smear result showed all dogs have positive blood parasites, with the highest percentage being the third dog (0.056%). From the physical examination, CBC, and blood smear, it can be concluded that dogs with tick infestation would experience anaemia that showed by RBC, PCV, decreasing number of platelet and positive blood parasite.
Mihardi, A. P., Joesoef, J. A., Wolo, K. B. R. ., Esfandiari, A. ., Widhyari, S. D. ., Wulansari, R. ., Wijaya, A. ., & Maylina, L. . (2022). Clinical Signs and Haematology Profiles of Beagle Dogs with Tick Infestation. Jurnal Medik Veteriner, 5(2), 266–269. https://doi.org/10.20473/jmv.vol5.iss2.2022.266-269
Adhikari, S., Mohanty, B., Panda, M. R., Sardar, K. K., & Dehuri, M. (2013). Prevalence of tick infestation in dogs in and around Bhubaneswar. Veterinary World, 6(12), 982-985.
Ayodhya, S. (2014). Management of tick infestation in dogs. Journal of Advanced Veterinary and Animal Research, 1(3), 145-147.
Hadi, U. K., & Rusli, V. L. (2006). Infestasi caplak anjing Rhipichepalus sanguineus (parasitiformes: ixodidae) di daerah Kota Bogor. Journal Medicine Veterinary Indonesia, 10(2), 55-60.
Manggung, R. D. P. (2008). Pengaruh ekstrak daun mindi (Melia azedarach) dengan pelarut air terhadap mortalitas larva caplak anjing (Rhipicephalus sanguineus). [Skripsi]. Fakultas Kedokteran Hewan. IPB.
Miglio, A., Gavazza, A., Siepi, D., Bagaglia, F., Misia, A., & Antognoni, M. T. (2020). Hematological and biochemical reference intervals for 5 adult hunting dog using a blood donor database. Animals, 10(7), 1212.
Ndungu, S. G., Brown, C. G. D., & Dolan, T. T. (2005). In vivo comparison of susceptibility between Bos indicus and Bos Taurus cattle types to Theileria Parva infection. Onderstepoort Journal of Veterinary Research, 72(1), 13-22.
Otranto, D., Dantas-Torres, F., Giannelli, A., Latrofa, M. S., Cascio, A., Cazzin, S., Ravagnan, S., Montarsi, F., Zanzani, S. A., Manfredi, M. T., & Capelli, G. (2014). Ticks infesting human in Italy and associated pathogens. Parasites & Vectors, 7, 328.
Papazahariadou, M. G., Saridomichelakis, M. N., Koutinas, A. F., Papadopoulos, E. G., & Leontides, L. (2003). Tick infestation of dogs in Thessaloniki, Nothern Greece. Medical and Veterinary Entomology, 17(1), 110-113.
Ribeiro, J. M. (1987). Role of saliva in blood-feeding by arthropods. Annual Review of Entomology, 32, 463–478.
Schnittger, L., Rodriguez, A. E., Florin-Christensen, M., & Morrison, D. A. (2012). Babesia: a world emerging. Infection Genetics and Evolution, 12(8), 1788-1809.
Sinaga, B. V., & Hariani, N. (2019). Prevalensi dan intensitas ektoparasit pada anjing peliharaan (Canis familiaris) di Kalimantan Timur, Indonesia. Jurnal Bioterdidik, 7(5), 43-52.
Thompson, M. S. (2018). Laboratory values and interpretation of resuts. In Thompson MS. The Small Animal Medical Differential Diagnosis 3rd Edition. St. Louis: Elsevier. pp: 308-353.
Thongsahuan, S., Chethanond, U., Wasiksiri, S., Saechan, V., Thongtako, W., & Musikacharoen, T. (2020). Haematological profile of blood parasitic infected dogs in Southern Thailand. Veterinary World, 13(11), 2388-2394.
Qiu, Y., Kaneko, C., Kajihara, M., Ngonda, S., Simulundu, E., Muleya, W., Thu, M. J., Hang'ombe, M. B., Katakura, K., Takada, A., Sawa, H., Simuunza, M., & Nakao, R. (2018). Tick-borne haemoparasites and Anaplasmatacea in domestic dogs in Zambia. Tick and Tick-Borne Disease, 9(4), 988-995.
Copyright (c) 2022 Arief Purwo Mihardi
This work is licensed under a Creative Commons Attribution-NonCommercial-ShareAlike 4.0 International License.
Authors who publish with this journal agree to the following terms:
1. The journal allows the author to hold the copyright of the article without restrictions;
2. The journal allows the author(s) to retain publishing rights without restrictions;
3. The legal formal aspect of journal publication accessibility refers to Creative Commons Attribution-NonCommercial-ShareAlike 4.0 International License (CC BY-NC-SA).