Masokhisme dalam Perspektif Fenomenologi Tubuh-Subjek Merleau-Ponty
=
http://dx.doi.org/10.20473/mozaik.v19i1.11894
Abstract views = 711 times |
downloads = 673 times
Abstract
Masokhisme, dalam kajian psikoanalisis, umumnya dipandang sebagai sindrom patologi berupa gangguan mental. Menganggap masokhisme sebagai gejala mental semata berarti memisahkan pikiran dan tubuh. Padahal, masokhisme selalu terjadi dari dan melalui tubuh. Karena itu, penelitian ini bermaksud menggambarkan peran dan posisi tubuh dalam masokhisme dalam perspektif fenomenologi tubuh-subjek Merleau-Ponty. Metode yang dipakai adalah hermeneutika, dengan unsur-unsur metodis berupa interpretasi, kesinambungan historis, heuristika, dan refleksi. Penelitian ini menghasilkan beberapa kesimpulan. Pertama, tubuh masokhis adalah tubuh-subjek. Saat berlangsung praktik masokhisme, seorang masokhis tidak berpikir mengenai tubuh, tetapi sebagai tubuh. Tubuh masokhis lebih banyak "tahu" dari yang dapat dipikirkan. Kedua, tubuh masokhis adalah being in the world. Seorang masokhis memaknai keberadaan dirinya dan orang lain di dalam dunia dengan tubuhnya. Karena itu, tubuh masokhis dan dunia tidak dapat dipisahkan. Ketiga, tubuh masokhis adalah kesadaran eksistensi. Kesadaran eksistensi muncul karena adanya pengalaman perseptual yang berulang-ulang pada tubuh masokhis. Pengalaman perseptual ini berasal dari relasi pikiran dan tubuh secara keseluruhan. Keempat, tubuh masokhis adalah tindak bahasa. Melalui tubuhnya, seorang masokhis melakukan gerakan tertentu sebagai bentuk komunikasi dengan pasangannya. Dengan begitu, bahasa tidak berada di luar tubuh masokhis, namun mendiami tubuh itu.
Keywords
masokhisme, fenomenologi, Merleau-Ponty
Full Text:
PDF
References
Bakker, Anton, dan Achmad Charris Zubair. 1990. Metodologi Penelitian Filsafat. Yogyakarta: Kanisius.
Baumeister, Roy F. 1988. "Masochism as Escape from Self." Dalam The Journal of Sex Research 25 (1):28-59, http://jstor.org/stable/3812869.
________. 2014. Masochism and the Self. New York: Psychology Press.
Carman, Taylor. 2008. Merleau-Ponty. Oxon: Routledge.
Deleuze, Gilles. 1991. Coldness and Cruelty. New York: Zoon Books.
Descartes, Rene. 2015. Diskursus & Metode: Mencari Kebenaran dalam Ilmu-Ilmu Pengetahuan, diterjemahkan oleh Ahmad Farid Makruf. Yogyakarta: Ircisod.
Hardiman, F. Budi. 2007. Filsafat Fragmentaris. Yogyakarta: Kanisius.
Heraty, Toeti. 1984. Aku dalam Budaya: Suatu Telaah Filsafat mengenai Hubungan Subyek-Obyek. Jakarta: Pustaka Jaya.
Hoffman, Piotr. 2001. "How Todes Rescue Phenomenology from the Threat of Idealism." Dalam Body and The World, disunting oleh Samuel Todes. London: MIT Press.
Kaelan. 2005. Metode Penelitian Kualitatif Bidang Filsafat. Yogyakarta: Paradigma.
Kahija, YF La. 2017. Penelitian Fenomenologis: Jalan Memahami Pengalaman Hidup. Yogyakarta: Kanisius.
Kamus Bahasa Inggris Merriam-Webster. 2018. "Masochism," https://merriam-webster.com/dictionary/masochism.
Kulick, Don. 2006. "Theory in Furs Masochist Anthropology." Dalam Current Anthropology 47 (6):933-952, http://jstor.org/stable/10.1086/507198.
Maleson, Franklin G. 1984. "The Multiple Meanings of Masochism in Psychoanalytic Discourse." Journal of the Americans Psychoanalytic Association 32 (2):325-356, doi: 10.1177/0003065/8403200205.
Marshall, George J. 2008. A Guide to Merleau-Ponty's Phenomenology of Perception. Milwaukee: Marquette University Press.
Merleau-Ponty, Maurice. 1962. Phenomenology of Perception, English translation by Collin Smith. London: Routledge and Kegan Paul.
________. 1964. Signs. Evanston: Northwestern University Press.
Rathbone, June. 2001. Anatomy of Masochism. New York: Spinger Science+Business Media.
Reik, Theodore. 1941. Masochism in Modern Man. New York: Farrar & Rinehart.
Sacher-Masoch, Leopold von. 1991. Venus in Furs. New York: Zone Books.
Syamsuddin, M. Mukhtasar. 2006. "Pergeseran Paradigmatik Problem Pikiran-Tubuh dalam Perdebatan Filosofis." Jurnal Filsafat Wisdom 16 (3): 296-308.
van Peursen, C.A. 1983. Tubuh Jiwa Roh: Sebuah Pengantar dalam Filsafat Manusia. Jakarta: PT BPK Gunung Mulia.
Refbacks
There are currently no refbacks.
Copyright (c) 2019 Kurniawan Kurniawan
This work is licensed under a
Creative Commons Attribution-NonCommercial-ShareAlike 4.0 International License
.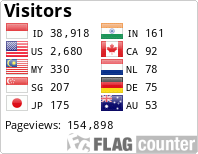 This work is licensed under a Creative Commons Attribution-NonCommercial-ShareAlike 4.0 International License.