EMPOWERMENT OF YOUTH COMMUNITY IN POSO REGENCY, THROUGH PRODUCE TOMATO AND MELON BY HYDROPONIC SYSTEM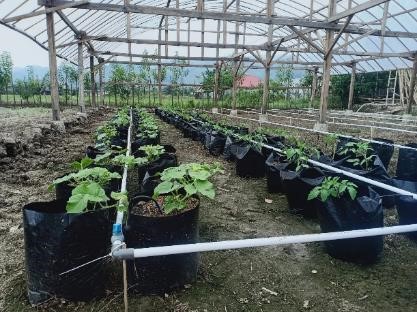 Downloads
Background: Tentena City is one of the tourist centers with rapid economic growth located in Poso Regency because Poso Lake is very famous and able to change the economic level of the community. But there are still 20% of people who live very poor and 60% of the lower middle class and the remaining 20% of the middle to upper middle. Through the youth community Pukat Tentena is expected to foster and encourage millennials to develop vegetable and fruit entrepreneurs using more modern cultivation techniques. Objectives: empowering the youth community in Tentena city, Pamona Puselemba Subdistrict, Poso Regency, Central Sulawesi with entrepreneurial tomato fruit products and melons produced by hyrdoponik drip irrigation system. Methods: This community service activity was carried out in Tentena village, Pamona Puselemba Subdistrict, Poso Regency, Central Sulawesi Province with TENTENA PUKAT Youth Community partners starting from May to September 2021. Results: Mitra has successfully cultivated tomato and melon plants with hydroponic drip irrigation system techniques in green houses until they are obtained salesable results. The average number of tomatoes per stalk is 4.05 and the average fruit diameter is 5.1 cm; While the average weight of melons is 1.2 -1.8 kg. Conclusion: The results of this community service activity provide benefits for partners, namely providing additional knowledge about how to cultivate tomatoes and melons with hydroponic drip irrigation system techniques and increase partner income by selling tomatoes and melons from hydroponic cultivation. 
Manuhara, Y. S. W., Novi Kristanti, A. ., Sugiharto, S., Sugiarso, R. D. ., Kartjito Putro, Y. ., & Wal Yudha, A. . (2022). EMPOWERMENT OF YOUTH COMMUNITY IN POSO REGENCY, THROUGH PRODUCE TOMATO AND MELON BY HYDROPONIC SYSTEM. Darmabakti Cendekia: Journal of Community Service and Engagements, 4(1), 8–15. https://doi.org/10.20473/dc.V4.I1.2022.8-15
Isnan, M., 2019. Tanya Jawab Hidroponik. Panebar Swadaya, Jakarta
Johnstone, P.R., Hartz, T.K., LeStrange, M., Nunez, J.J., Miyao, E.M. 2005. Managing fruit soluble solid with late-season deficit irrigation in drip-irrigated processing tomato production. HortScience 40 (6): 1857-1861.
Majdi, Y., Ahmandizadeh, M. and Ebrahimi, R. 2012. Effect of different substrate on growth indices and yield of green pepper at hydroponic cultivate. Current Research Journal of Biological Science 4(4): 496-499.
Nora, S., Yahya, M., Mariana, M., Herawaty, Ramadhani, E. 2020. Teknik budidaya melon hidroponik dengan sistem irigasi tetes (drip irrigation). Agrium 23(1): 21-26.
Roberto, K. 2003. How-to Hydroponics. Fourth edition. The Fituregarden Press, New York
Schmautz, Z., Loeu, F., Liebisch, F., Graber, A., Mathis, A., Bulc, G.T. and Junge R. 2016. Tomato productivity and quality in aquaponics: comparison of three hydroponic methods. Water 8: 1-21.
Sharma, N. Kumar, K., Acharya, S., Chaurasia, O.P. 2019. Hydroponics as an advanced technique for vegetable production: An overview. Journal of Soil and Water Conservation 17(4): 364-371.
Suryani, R., 2019. Hidroponik Budidaya Tanaman Tanpa Tanah. Citra, Solo.
Untung, O. 2000. Hidroponik Sayuran Sistem NFT (Nutrient Film Technique). Penerbit Penebar Swadaya. Jakarta.
Zekki, H., Gauthier, L. and Gosselin, A. 1996. Growth, productivity, and mineral composition of hydroponically cultivated greenhouse tomatoes, with or without nutrient solution recycling. Journal of American Society of Horticulture Science. 121(6): 1082-1088.
Copyright (c) 2022 Yosephine Sri Wulan Manuhara
This work is licensed under a Creative Commons Attribution-NonCommercial-ShareAlike 4.0 International License.
The Author(s) hold the copyright of the article without restrictions 
Darmabakti Cendekia allows the author(s) to retain publishing rights without restrictions.
Author(s) of published articles have the right to distribute the article in any medium and formats provided that a link to Darmabakti Cendekia website. No written permissions are necessary.
The legal formal aspect of journal publication accessibility refers to Creative Commons Atribution-Non Commercial-Share Alike 4.0 (CC BY-NC-SA), implies that publication can be used for non-commercial purposes in its original form.