DIGITAL ENTREPRENEURSHIP TRAINING FOR MICRO, SMALL AND MEDIUM ENTERPRISES (MSMES) FOR TYPICAL CULINARY OF TUBAN REGENCY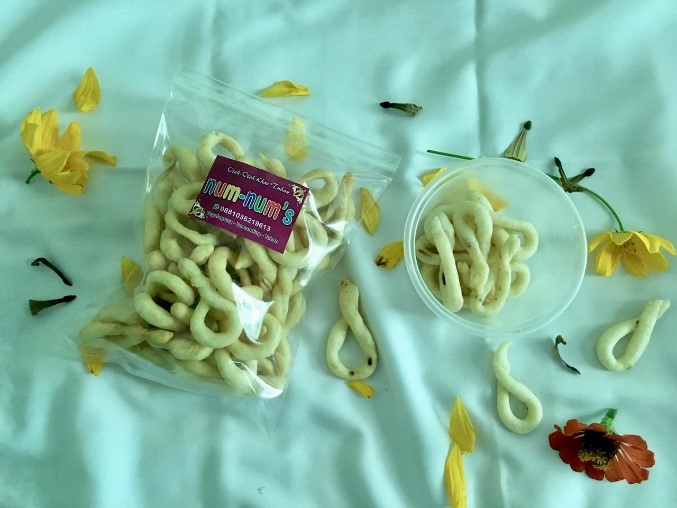 Downloads
Background: With the presence of Micro, Small and Medium Enterprises (MSMEs), it can increase economic growth, absorption of labor and reduce poverty in Indonesia, especially in Tuban Regency. MSME's in Tuban Regency continues to increase from year to year. The problems they face are in the form of narrow marketing and a lack of distribution channels for goods. In addition, MSME's players are also faced with the problem of being unable to take good photos of their products so that the product photos are not attractive to customers. MSME's players are also faced with the problem of not properly recording business financial reports because they are still mixed with personal matters. Objective: This activity aims to increase the capacity of MSME entrepreneurs through training in the fields of digital finance, digital marketing and digital photography. Methods: The method applied is in the form of interactive training, discussion, and practice, by: 1) implementing digital finance training using the BukuWarung application, 2) Participants practicing strategies in developing digital marketing by utilizing technological advances such as social media and marketplace platforms. And 3) Participants practice taking photos of their MSME's products by paying attention to the aesthetics of the right photos. Results: MSME's entrepreneurs have increased abilities and insights in applying financial bookkeeping, marketing and drawing product images by utilizing the latest technology. Conclusion: Community service partners are able to increase their business competitiveness through
insight and expertise in financial accounting, marketing and digital photography.
Bahtera, N. T., Sinatriya Marjianto, R. ., & Salam, M. D. . (2022). DIGITAL ENTREPRENEURSHIP TRAINING FOR MICRO, SMALL AND MEDIUM ENTERPRISES (MSMES) FOR TYPICAL CULINARY OF TUBAN REGENCY. Darmabakti Cendekia: Journal of Community Service and Engagements, 4(1), 31–36. https://doi.org/10.20473/dc.V4.I1.2022.31-36
Mansour, T. G., Eleshmawiy, k. H., Abdelazez, M. A., & Abd El-Ghani, S. S. (2018, October). The Role of Small and Medium Enterprises in Economic Development, Case of Egypt. The International Journal of Business Management and Technology, Volume 2 (Issue 5), 165-173.
Aliriani, K. (2012). Role of Small and Medium Enterprises in the Economy: The Case of Yemen. Challenges for the Future, International Conference, (pp. 1-28). London.
BPS, B. P. (2019). Analisis Hasil SE2016 Lanjutan Potensi Peningkatan Kinerja Usaha Mikro Kecil. Jakarta: Badan Pusat Statistik.
Dinkoperindag, D. (2017). Keputusan Kepala Dinas Koperasi, Perindustrian, dan Perdagangan Kabupaten Tuban. Tuban.
Hariyoko, Y. (2018). Pengembangan UMKM di Kabupaten Tuban. Jurnal Penelitian Administrasi Publik, Vol. 4(No. 1), 1011-1015.
Jain, P., Jain, K., & Jain, P. K. (2016). Electronic-Commerce and Its Global Impact. Innovare Journal of Engineering amd Technology, Vol 4(Issue 3,), 1-6.
Muthohar, M. (2018). http://m.beritajatim.com/. Retrieved Maret 28, 2020, from http://m.beritajatim.com/ekonomi/345577/umkm_sumbang_2,5_persen_pertumbuhan_ekonomi_di_tuban.html
Suci, Y. R. (2017). Perkembangan UMKM (Usaha Mikro Kecil dan Menengah di Indonesia. Jurnal Ilmiah Cano Ekonomos, Vol. 6 (No. 1), 51-58.
Tambunan, T. T. (2011). Development of Micro, Small and Medium Enterprises and Their Constraints: A Story from Indonesia. Gadjah Mada International Journal of Business, Vol. 13,(No. 1), 21-43.
Copyright (c) 2022 Novyandri Taufik Bahtera
This work is licensed under a Creative Commons Attribution-NonCommercial-ShareAlike 4.0 International License.
The Author(s) hold the copyright of the article without restrictions 
Darmabakti Cendekia allows the author(s) to retain publishing rights without restrictions.
Author(s) of published articles have the right to distribute the article in any medium and formats provided that a link to Darmabakti Cendekia website. No written permissions are necessary.
The legal formal aspect of journal publication accessibility refers to Creative Commons Atribution-Non Commercial-Share Alike 4.0 (CC BY-NC-SA), implies that publication can be used for non-commercial purposes in its original form.
Every publications (printed/electronic) are open access for educational purposes, research, and library. Other than the aims mentioned above, the editorial board is not responsible for copyright violation.