DIGITALIZATION IN FINANCIAL REPORTING AND MARKETING ON MICRO, SMALL AND MEDIUM ENTERPRISES AS A STRATEGY FOR ECONOMIC RECOVERY IN THE PANDEMIC PERIOD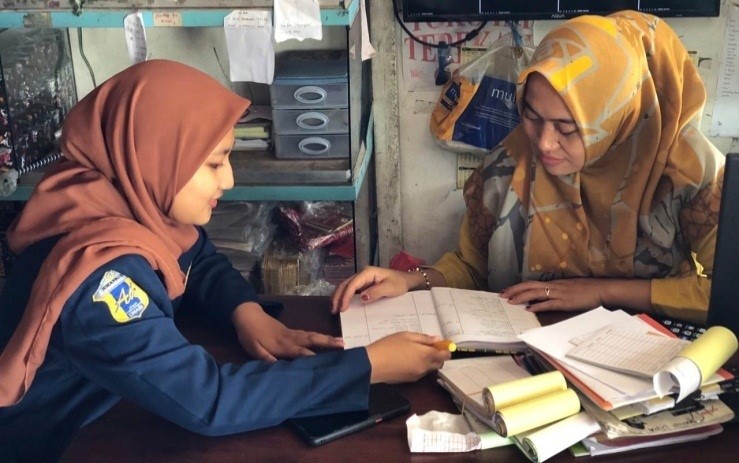 Downloads
Background: Covid-19 pandemic has been attacking for more than a year. And since then, the pandemic not only attacked public health, but also attacked the economic sector. Micro, Small and Medium Enterprises (MSMEs) as the backbone of the economy are the most affected parties. One of the reasons is that the offline sales and marketing channels. The members of the East Java IKM Forum (FIJ) Bojonegoro Branch also face this problem. MSMEs as a 60% contributor of Indonesia's Gross Domestic Product (GDP), have a very important role in economic recovery. Support for this industry is not only the obligation of the government, but also the obligation of various parties such as the higher education institution. Objective: This community service aims to help the members of FIJ Bojonegoro Branch to transform into a digital ecosystem. Digitalization is not only in marketing, but also in financial reporting. Methods: Implementation of activities in 3 (three) stages, planning stage, implementation stage in the form of training and mentoring and evaluation stage. Results: This activity has encouraged 100% training participants to transform into a digital ecosystem and also helps MSME owners in optimizing the use of financial transactions applications and the use of marketing applications. Conclusion: MSME digitalization training and assistance is very useful in helping business owners evaluate business financial performance and carry out effective promotions, attracting attention and helping to bring products closer to customers.
Rosyidiana, R. N., Ervianty, R. M., Nurul, M., Linduwati, P. M. ., Arda Rini, I. N., & Rahmawati, L. A. (2022). DIGITALIZATION IN FINANCIAL REPORTING AND MARKETING ON MICRO, SMALL AND MEDIUM ENTERPRISES AS A STRATEGY FOR ECONOMIC RECOVERY IN THE PANDEMIC PERIOD. Darmabakti Cendekia: Journal of Community Service and Engagements, 4(1), 16–22. https://doi.org/10.20473/dc.V4.I1.2022.16-22
Copyright (c) 2022 Riska Nur Rosyidiana
This work is licensed under a Creative Commons Attribution-NonCommercial-ShareAlike 4.0 International License.
The Author(s) hold the copyright of the article without restrictions 
Darmabakti Cendekia allows the author(s) to retain publishing rights without restrictions.
Author(s) of published articles have the right to distribute the article in any medium and formats provided that a link to Darmabakti Cendekia website. No written permissions are necessary.
The legal formal aspect of journal publication accessibility refers to Creative Commons Atribution-Non Commercial-Share Alike 4.0 (CC BY-NC-SA), implies that publication can be used for non-commercial purposes in its original form.