Unusual Choanal Atresia in Children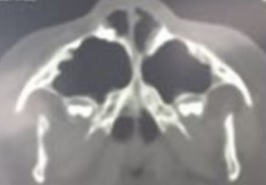 Downloads
Highlights:
Unusual CA in a 5-year-old boy with paranasal sinuses malformation in the ORL-HNS.
Transnasal endoscopy posterior septectomy was successfully done.

Abstract:
Choanal atresia is a developmental failure of the nasal cavity to connect with the nasopharynx. The cause is either unilateral or bilateral nasal obstruction. Bilateral choanal atresia is a very rare condition and diagnosed soon after birth because neonates are obligate nasal breathers. Delayed diagnosis can cause death due to respiratory distress. The objective of this study was to report bilateral choanal atresia in 5-year-old boy who survived by breathing through his mouth using a simple tool made by his parent. It was a very rare condition because the posterior nasal cavity was covered by medial wall malformations of both maxillary sinuses which fused with the posterior nasal septum. The surgery method for this patient was posterior septectomy with transnasal endoscopic to create a neochoanae. The post-operative patient could breathe normally through his nose. Six weeks later, the nasal endoscopic evaluation indicated the patient's patent neochoana.
Ibnu, Y. S., & Kristyono, I. (2022). Unusual Choanal Atresia in Children. Folia Medica Indonesiana, 58(3), 261–266. https://doi.org/10.20473/fmi.v58i3.11744
Asma A, Roslenda A, Suraya A, et al (2013). Management of congenital choanal atresia (CCA) after multiple failures: A case report. Med. J. Malaysia 68, 76–78.
Ayhan Kars, F. Bingöl, F. Atalay.(2020).A rare case report: bilateral choanal atresia in an adult patient. Eur. J. Rhinol. Allergy, 3 (1) , pp. 26-28
Balasubramanian T (2015). Congenital malformations of nose and paranasal sinuses. Available from http://otolaryngology.wdfiles.com/local--files/rhinology/60225605-Congenital-malformations-of-nose-and-sinuses.pdf. Accessed March 3, 2021.
Bovo R, Trevisi P, Zanoletti E, et al (2017). New trends in rehabilitation of children with ENT disorders. Acta Otorhinolaryngol. Ital. 37, 355–367.
Dharmaputri S, Lasminingrum L, Sofiatin Y (2017). Nasal eEndoscopy findings in acute and chronic rhinosinusitis patients. Althea Med. J. 4, 420–425.
Durmaz A, Tosun F, Yldrm N, et al (2008). Transnasal endoscopic repair of choanal atresia: Results of 13 cases and meta-analysis. J. Craniofac. Surg. 19, 1270–1274.
E.Tatar,A.Ozdek,F.Akcan,H.Korkmaz.(2012).Bilateral congenital choanal atresia encountered in late adulthood.J. Laryngol. Otol.,126 (9), pp. 949-951.
Elumalai G, Jeyapaul S (2016). Choanal atresia embryological basis and its clinical significance. Elixir Embryol. 100, 43719–43722.
Flake C, Ferguson C (1964). Congenital choanal atresia in infants and children. Ann. Otol. Rhinol. Laryngol. 73, 458–473.
Gupta M, Kour C (2017). Congenital bilateral choanal atresia: A rare case. J. Rare Disord. Diagnosis Ther. 3, 1–4.
Hengerer A, Brickman T, Jeyakumar A, et al (2008). Choanal atresia: Embryologic analysis and evolution of treatment, a 30-year experience. Laryngoscope 118, 862–866.
Ibrahim A, Magdy E, Hassab M (2010). Endoscopic choanoplasty without stenting for congenital choanal atresia repair. Int. J. Pediatr. Otorhinolaryngol. 74, 144–150.
Jašić M, Ražem M, Štrk I, et al (2016). Bilateral choanal atresia in a newborn infant. Med. Flum. 52, 241–243.
Kastrati A, Schömig A, Elezi S, et al (1997). Predictive factors of restenosis after coronary stent placement. J. Am. Coll. Cardiol. 30, 1428–1436.
Kim H, Park J, Chung H, et al (2012). Clinical features and surgical outcomes of congenital choanal atresia: Factors influencing success from 20-year review in an institute. Am. J. Otolaryngol. 33, 308–312.
Kwong K (2015). Current updates on choanal atresia. Front. Pediatr. 3, 1–7.
Leung R, Walsh W, Kern R (2014). Sinonasal anatomy and physiology. In: Bailey's Head and Neck Surgery Otolaryngology: 5th Edition. Lippincot Williams and Wilkins, Philadelhia.
Maruvala S, Mohiyuddin S, Chaudhary S, et al (2017). Choanal atresia with other uncommon abnormality: A rare case report. Ann. Clin. Otolaryngol. 2, 1–3.
Moreddu E, Rossi M, Nicollas R, et al (2018). Prognostic factors and management of patients with choanal atresia. J. Pediatr. 204, 234–239.
Patel V, Carr M (2018). Transnasal repair of congenital choanal atresia. Oper. Tech. Otolaryngol. 29, 77–82.
Perkasa M (2013). Penanganan meningosil dan atresia koana bilateral. Oto Rhino Laryngol. Indones. 43, 54–59.
Pokharel M, Karki S, Shrestha B, et al (2013). Correlations between symptoms, nasal endoscopy computed tomography and surgical findings in patients with chronic rhinosinusitis. Kathmandu Univ. Med. J. 11, 201–205.
R.K.Verma, P. Lokesh, N.K. Panda.(2016). Congenital bilateral adult choanal atresia undiagnosed until the second decade: how we did it Allergy Rhinol., 7 (2) , pp. 82-84.
Rodriguez H, Cuestas G, Passali D (2014). A 20-year experience in microsurgical treatment of choanal atresia. Acta Otorrinolaringológica Española 65, 85–92.
S. Anajar, J. Hassnaoui, S. Rouadi, R. Abada, M. Roubal, M. Mahtar. (2017).A rare case report of bilateral choanal atresia in an adult.Int. J. Surg. Case Rep., 37 , pp. 127-129.
Saitabau Z, Elimath M, Moshi N, et al (2018). Bilateral congenital choanal atresia in a 16-year-old girl at Muhimbili National hospital, Tanzania. Tanzan. J. Health Res. 20, 1–6.
Stankiewicz J (1990). The endoscopic repair of choanal atresia. Otolaryngol. Neck Surg. 103, 931–937.
Sutikno, B., & Thaufiqurrakhman, M. (2021). Transnasal
endoscopic neochoanal technique: An effective procedure for bilateral choanal atresia in adult female. International Journal of Surgery Case Reports, 86, 106338.
Wormald P, Zhao Y, Valdes C, et al (2016). The endoscopic transseptal approach for choanal atresia repair. Int. Forum Allergy Rhinol. 6, 654–660.
Copyright (c) 2022 yunis sucipta ibnu, irwan kristyono
This work is licensed under a Creative Commons Attribution-NonCommercial-ShareAlike 4.0 International License.
Folia Medica Indonesiana is a scientific peer-reviewed article which freely available to be accessed, downloaded, and used for research purposes. Folia Medica Indonesiana (p-ISSN: 2541-1012; e-ISSN: 2528-2018) is licensed under a Creative Commons Attribution 4.0 International License. Manuscripts submitted to Folia Medica Indonesiana are published under the terms of the Creative Commons License. The terms of the license are:

Attribution — You must give appropriate credit, provide a link to the license, and indicate if changes were made. You may do so in any reasonable manner, but not in any way that suggests the licensor endorses you or your use.

NonCommercial — You may not use the material for commercial purposes.

ShareAlike — If you remix, transform, or build upon the material, you must distribute your contributions under the same license as the original.

No additional restrictions — You may not apply legal terms or technological measures that legally restrict others from doing anything the license permits.

You  are free to :

Share — copy and redistribute the material in any medium or format.

Adapt — remix, transform, and build upon the material.