Hookworm in Stray Cats (Felis silvestris catus) as Cutaneous Larva Migrant Agent (CLM) in Humans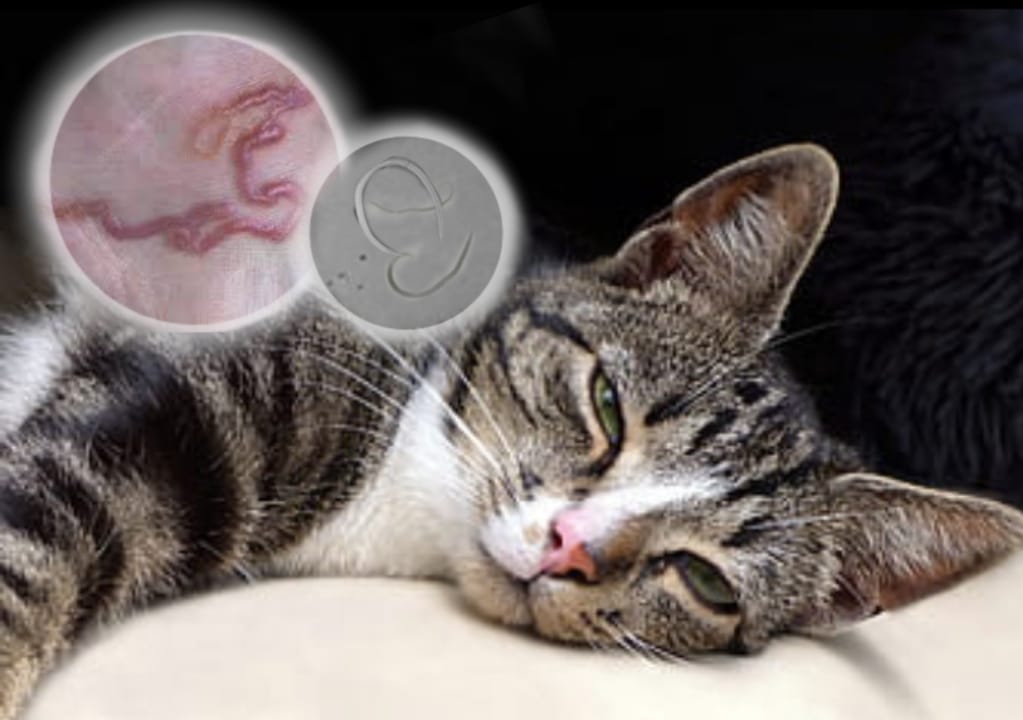 Downloads
Highlights :
Risk factors that can increase the incidence of CLM in humans include male sex, children aged <15 years, low-income people, and daily behaviour of walking outdoors without using footwear, especially on the sand.
Risk factors that play the most role in increasing the incidence of CLM in humans are walking outdoors without using footwear, especially on the sand.
Abstract :
Cats arethe host of a wide variety of microorganisms including ectoparasites and endoparasites.One of theendoparasites that infect cats is hookworm. The hookworms consists of two groups, the animal hookworms, and the human hookworms. The manifestation that can be caused by animal hookworms to humans is Cutaneous Larva Migrant (CLM). This study aimed to discover whether hookworm in stray cats (Felis silvestris catus) can cause CLM in humans. We performed a systematic search in Pubmed/Medline and Cochrane published between 2016 and 2021 with no restrictions by language, research country, or type of research design . The results of the analysis showed that the high level of hookworms infection in stray cats could increase the risk of CLM in humans. Based on the study, we could conclude that the high prevalence of hookworm infection in cats plays an important role in the increased risk of zoonoses in humans which in turn could also increase the prevalence of CLM in humans.
Mahendra, F. I., Soebaktiningsih, S., & Prabawati, R. K. (2022). Hookworm in Stray Cats (Felis silvestris catus) as Cutaneous Larva Migrant Agent (CLM) in Humans. Folia Medica Indonesiana, 58(3), 285–292. https://doi.org/10.20473/fmi.v58i3.28645
Abu-Madi MA, Al-Ahbabi DA, Al-Mashadani MM, Al-Ibrahim R, Pal P, Lewis JW. 2008. Patterns of parasitic infections in faecal samples from stray cat populations in Qatar. J Helminth 81: 281-286.
Baple K, Clayton J (2015). Hookworm-related cutaneous larva migrans acquired in the UK. BMJ Case Rep. 2015, 1–3.
da Silva G, Ferreira F, Romera D, et al (2020). Larva migrans in Votuporanga, São Paulo, Brazil: Where does the danger hide? Rev. Bras. Parasitol. Veterinária 29, 1–7.
Farantika R, Susanti R (2019). The prevalence of alimentary tract worms in domestic cats and stray cats at campus area of Semarang State University, Central Java. J. Vet. Indones. Vet. J. 20, 316–323.
Fu Y, Huang Y, Abuzeid A, et al (2019). Prevalence and potential zoonotic risk of hookworms from stray dogs and cats in Guangdong, China. Vet. Parasitol. Reg. Stud. Reports 17, 1–6.
Guidice D, Hakimi S, Vandenbos F, et al (2019). Autochthonous cutaneous larva migrans in France and Europe. Acta Derm. Venereol. 99, 805–808.
Heryantoro L (2011). Epidemiologi dan faktor risiko hepatitis A di wilayah kerja Puskesmas Kalibawang Kabupaten Kulon Progo. Universitas Gadjah Mada.
Jia-Chi C, Abdullah N, Shukor N, et al (2016). Soil transmitted helminths in animals – how is it possible for human transmission? Asian Pacific J. Trop. Dis. 6, 859–863.
Kladkempetch D, Tangtrongsup S, Tiwanathagorn S (2020). Ancylostoma ceylanicum: The neglected zoonotic parasite of community dogs in Thailand and its genetic diversity among Asian countries. Animals 10, 1–15.
Korkmaz U, Gökpınar S, Yildiz K (2016). Prevalence of intestinal parasites in cats and their importance in terms of public health. Türkiye Parazitoloji Derneği 40, 194–198.
Leung A, Barankin B, Hon K (2017). Cutaneous larva migrans. Recent Pat. Inflamm. Allergy Drug Discov. 11, 2–11.
Oktaviana PA, Dwinata M, Oka IBM. 2014. The Prevalence of Ancylostoma spp. Infection in Local Cat (Felis catus) at Denpasar. Buletin Veteriner Udayana 6(2): 161-167.
Pumidonming W, Salman D, Gronsang D, et al (2017). Prevalence of gastrointestinal helminth parasites of zoonotic significance in dogs and cats in lower Northern Thailand. J. Vet. Med. Scince 78, 1779–1784.
Rabbani I, Mareta F, Kusnoto K, et al (2020). Zoonotic and other gastrointestinal parasites in cats in Lumajang, East Java, Indonesia. Infect. Dis. Rep. 12, 105–108.
Reichert F, Pilger D, Schunster A, et al (2016). Prevalence and risk factors of hookworm-related cutaneous larva migrans (HrCLM) in a resource poor community in Manaus, Brazil. PLoS Neglected Trop. Dis. 10, 1–13.
Sow D, Soro F, Javelle E, et al (2017). Epidemiological profile of cutaneous larva migrans in travelers returning to France between 2003 and 2015. Travel Med. Infect. Dis. 20, 61–64.
Szwabe K, Blaszkowska J (2017). Stray dogs and cats as potential sources of soil contamination with zoonotic parasites. Ann. Agric. Environ. Med. 24, 39–43.
Taetzsch S, Bertke A, Gruszynski K (2018). Zoonotic disease transmission associated with feral cats in a metropolitan area: A geospatial analysis. Zoonoses Public Heal. 65, 412–419.
Wahyudi N, Suwanti L, Kusnoto K, et al (2017). Prevalence of helminth eggs in cat feces contaminating public areas in Surabaya. Indonesian. J. Trop. Infect. Dis. 6, 154–159.
Wang M, Hang J, Abuzeid A, et al (2019). Development of multi-ARMS-qPCR method for detection of hookworms from cats and dogs. Parasitol. Int. 73, 1–6.
Copyright (c) 2022 Folia Medica Indonesiana
This work is licensed under a Creative Commons Attribution-NonCommercial-ShareAlike 4.0 International License.
Folia Medica Indonesiana is a scientific peer-reviewed article which freely available to be accessed, downloaded, and used for research purposes. Folia Medica Indonesiana (p-ISSN: 2541-1012; e-ISSN: 2528-2018) is licensed under a Creative Commons Attribution 4.0 International License. Manuscripts submitted to Folia Medica Indonesiana are published under the terms of the Creative Commons License. The terms of the license are:

Attribution — You must give appropriate credit, provide a link to the license, and indicate if changes were made. You may do so in any reasonable manner, but not in any way that suggests the licensor endorses you or your use.

NonCommercial — You may not use the material for commercial purposes.

ShareAlike — If you remix, transform, or build upon the material, you must distribute your contributions under the same license as the original.

No additional restrictions — You may not apply legal terms or technological measures that legally restrict others from doing anything the license permits.

You  are free to :

Share — copy and redistribute the material in any medium or format.

Adapt — remix, transform, and build upon the material.