Dilatated Cardiomyopathy In Two Month Old Puppy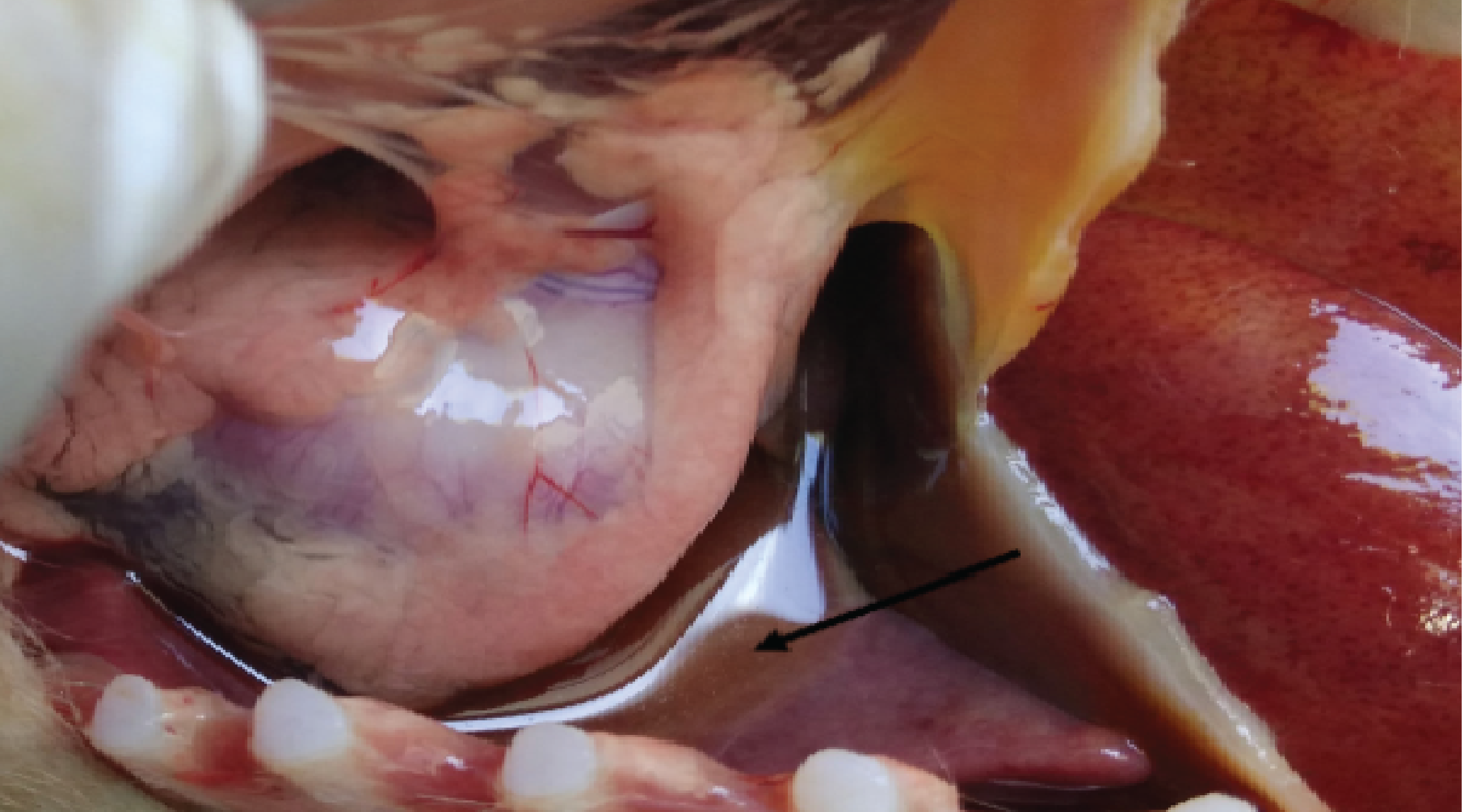 Downloads
Background: Canine dilated cardiomyopathy (DCM) is a disease that results in a decreased ability of the cardiac contraction to generate pressure to pump blood through the vascular system. DCM is characterized by dilation of the ventricles with ventricular wall thinning. Purpose: The DCM case in Indonesia is rarely reported; therefore, this paper contains information about dilatated cardiomyopathy in a 2-month-old puppy. Case Analyze: A two-month-old local dog arrived with a complaint about coughing, loss of appetite, fatigue, and swelling on extremities, also having a history of seizures and bloody diarrhea. Physical examination shows that the patient breathes using abdominal type and polypnea, tachycardia pulse, pale mucose, and dehydration. Electrocardiogram result shows tachycardia sinus and abnormality in the depression of ST-segment. Radiography examination shows heart dilation and liquid accumulation in the thoracic cavity and abdomen. Hematology routine examination shows microcytic hyperchromic anemia, leucocytosis, and eosinophilia.  Feces examination resulted in negative. Pathology anatomy examination show dilatated cardio, pulmonum hepatization, fluid accumulation in the thoracic cavity and abdomen cavity. Result: According to anamnesis, clinical examination, laboratory examination, and anatomy pathology examination can be concluded that the dog, in this case, is diagnosed with dilatated cardiomyopathy.
Ikhsan, H. M., & Putriningsih, P. A. S. (2021). Dilatated Cardiomyopathy In Two Month Old Puppy. Journal of Applied Veterinary Science And Technology, 2(2), 43–49. https://doi.org/10.20473/javest.V2.I2.2021.43-49
Atlas, S.A., 2007. The renin-angiotensin aldosterone system: pathophysiological role and pharmacologic inhibition. J. Manag. Care Pharm. Vol. 13(8), Pp. 9-20.
Battler, A., Froelicher, V.F., Gallagher, K.P., Kemper, W.S., Ross, J., 1980. Dissociation Between Regional Myocardial Dysfunction and ECG Changes During Ischemia in The Conscious Dog. Am. Hear. Assoc. Vol. 62(4).
Clercx, C., Peeters, D., Snaps, F., Hansen, P., Kathleen, M., 2000. Eosinophilic Brochopneumopathy in Dogs. J. Vet. Int. Med. Vol. 14, Pp. 282-291.
Devi, S., Jani, R., Singh, R.D., Fernandes, K.A., 2009. Study on Clinical Symtoms in Canine Cardiac Disease. Vet. World Vol. 2(8), Pp. 307-308.
Dharmawan, N.S., 2002. Pengantar Patologi Klinik Veteriner. Universitas Udayana, Denpasar.
Domanjko-Petric, A., Tomsic, K., 2008. Diagnostic Methods of Cardimyopathy in Dogs old and New Perspectives and Methods. Slov. Vet. Res. Vol. 45(1), Pp. 5-14.
Dukes-McEwan, J., 2000. Canine Dilatated Cardiomyopathy 1. Breed Manifestations and Diagnosis. In Pract. Vol. 22(9), Pp. 520-530.
Dukes-McEwan, J., Borgarelli, M., Tidholm, A., Vollmar, A.C., Häggström, J., 2003. Proposed Guidelines fot the Diagnosis of Canine Idiopathic Dilatated Cardiomyopathy. J. Vet. Cardiol. Vol. 5(2), Pp. 7-19.
Ettinger, S., Bolton, G., dan Lord, P. 1970. Idiopathic cardiomyopathy in the dog. Journal of the American Veterinary Medical Association Vol. 156, Pp 1225.
Higgins, R.J., Krakowka, S., Metzler, A.E., Koestner, A., 1981. Canine Distemper Virus Associated Cardiac Necrosis in The Dog. Vet. Pathol Vol. 18(4), Pp. 472-486.
Kumar, K.S., Nagaraj, P., Kumar, V.V.A., Rao, D.S.T., 2010. Hypertrophic Cardiomyopathy in 12 Dogs (2004-2008): First Report in India. Vet. Arh. Vol. 80(4), Pp. 491-498.
Kumar, K.S., Srikala, D., 2014. Ascites with Right Heart Failure in a Dog: Diagnosis and Management. J. Adv. Vet. Anim. Res. Vol. 1(3), Pp. 140-144.
Martin, M.W.S., Johnson, M.J.S., Celona, B., 2009. Canine Dilatated Cardiomyopathy: A Restrospective Study of Signalment, Presentation and Clinical Findings in 369 Cases. J. Small Anim. Pract. Vol. 50(1), Pp. 23-29.
Meurs, K.M., 2005. Inherited Heart Disease : Diagnosis and Screening. In: The North American Veterinary Conference. Orlando, Florida.
Nakano, A., Lee, J.D., Shimizu, H., Tsuchida, T., Yonekura, Y., Ishii, Y., Ueda, T., 1999. Reciprocal ST-Segment Depresion Associated With Exercise-Induced ST-Segment Elevation Indicates Residual Viability After Myocardial Infarction. J. Am. Coll. Cardiol. Vol. 33(3), Pp. 620-626.
Rhodes, S., 2001. Idiopathic Dilatated Cardiomyopathy in Dogs. Vet. Tech. Vol. 6, Pp. 1-5.
Scislowicz, O.D., 2015. Status Epilepticus in Canine Patients. Today's Vet. Pract. J. Vol. 5(6), Pp. 77-82.
Singh, V., Gomez, V. V, Swamy, S.G., Vikas, B., 2009. Approach to a case of Eosinophilia. IJASM Vol. 53(2), Pp. 58-64.
Sleeper, M.M., Buchanan, J.W., 2001. Vertebral scale system to measure heart size in growing puppies. J. Am. Vet. Med. Assoc. Vol. 219(1, Pp. 57-59.
Tidholm, A., Häggström, J., Borgarelli, M., Tarducci, A., 2001. Canine Idiopathic Dilatated Cardiomyopathy. Part I: Aetiology, Clinical Characteristics, Epidemiology, and Pathology. Vet. J. Vol. 162(2, Pp. 92-107.
Copyright (c) 2021 Haris Muhamad Ikhsan, Putu Ayu Sisyawati Putriningsih
This work is licensed under a Creative Commons Attribution-ShareAlike 4.0 International License.
The journal allows 

the author to hold the copyright of the article without restrictions.

T

he journal allows the author(s) to retain publishing rights without restrictions.

The legal formal aspect of journal publication accessibility refers to Creative Commons 

Attribution 

Share-Alike

 (CC BY-SA).

 

Journal of Applied Veterinary Science and Technology is licensed under a Creative Commons Attribution-ShareAlike 4.0 International License