Comparison of Broiler Performance in Closed House and Open House Systems in Trenggalek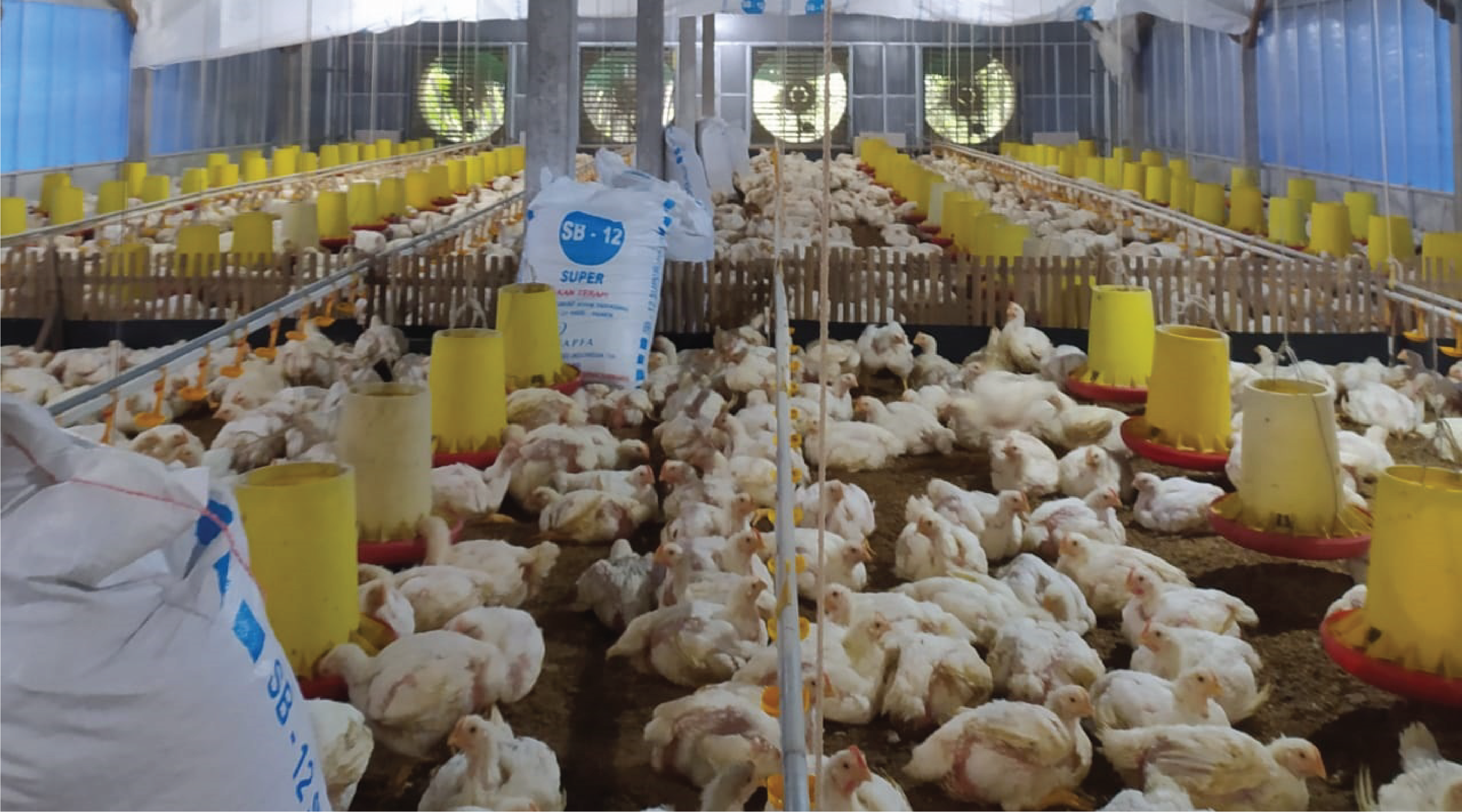 Downloads
Background: According to the Indonesian Central Bureau of Statistics, broiler meat production in 2020 decreased by 6.3% from the previous year. Several factors can influence chicken productivity, one of which is cage management. The cage has a vital role in success because the comfort of the cage will result in maximum chicken productivity. Aim: To compare the productivity of broiler chickens reared using Closed House and Open House cage systems in the same partnership based on the value of Feed Conversion Ratio, Mortality, and Index Performance. Methods: Data collection was carried out using the literature and observative methods, namely direct observation on two farms using a Closed House and an Open House cage system in Trenggalek Regency in April 2021. Results: A FCR value of Closed House system cages has an FCR value of 1.416, whereas the Open House system was 1.605. The mortality of broiler chickens reared in the Open House system was 842, and in the closed house system was 572. The index performance of broiler chickens raised in the Closed House system was 366.5, whereas in an Open House system, the index performance was 319.4. Conclusion: The Feed Conversion Ratio (FCR), Mortality, and Index Performance Index (IP) value of broiler chickens reared in the Closed House system cage was higher than those in the Open House system cage.
Laili, A. R., Damayanti, R., Setiawan, B. ., & Hidanah, S. . (2022). Comparison of Broiler Performance in Closed House and Open House Systems in Trenggalek. Journal of Applied Veterinary Science And Technology, 3(1), 6–11. https://doi.org/10.20473/javest.V3.I1.2022.6-11
Alam, S.. 2016. Terampil Mengoperasikan "Broiler Closed House." Infovet Ed. 02 April.
Budiarta, D.H., Sudjarwo, E., Cholis, N.. 2014. Pengaruh Kepadatan Kandang Terhadap Konsumsi Pakan, Pertambahan Bobot Badan Dan Konversi Pakan Pada Ayam Pedaging. J. Ternak Trop. Vol 15 (2), Pp 31-35.
Fitria, N.. 2011. Pengaruh Penggunaan Ampas Kecap dalam Ransum sebagai Substitusi Bungkil Kedelai terhadap Konsumsi Pakan, Pertambahan Bobot Badan dan Konversi Pakan Ayam Pedaging Periode Grower. Thesis. Malang : UIN Maulana Malik Ibrahim.
Fitrini, Wazir, Erpomen. 2017. Ipteks Bagi Masyarakat Peternak Pemula Puyuh Dan Ayam Broiler Di Kelurahan Gunung Sarik Kecamatan Kuranji Kota Padang. J. War. Pengabdi. Andalas Vol 24 (3), Pp 129-149.
Kristanto, V.H.. 2018. Metodologi Penelitian : Pedoman Penulisan Karya Tulis Ilmiah (KTI), Deepublish. Yogyakarta.
Marom, A.T., Kalsum, U., Ali, U.. 2017. Evaluasi Performans Broiler pada Sistem Kandang Close House dan Open House dengan Altitude Berbeda. Din. Rekasatwa Vol 2 (2), Pp 1-10.
Medion. 2015. Pembuatan Kandang Ayam [WWW Document]. URL http://www.medion.co.id/konsultasi-teknis-pembuatan-kandang-ayam/ (accessed 6.15.21).
Mulyantini, N.G.A.. 2010. Ilmu Manajemen Ternak Unggas. Gadjah Mada University Press, Yogyakarta.
Nuryati, T.. 2019. Analisis Performans Ayam Broiler Pada Kandang Tertutup Dan Kandang Terbuka. J. Peternak. Nusant. Vol 5 (2), Pp 77-86.
Pakage, S., Hartono, B., Fanani, Z., Nugroho, B.A., Iyai, D.A., Palulungan, J.A., Ollong, A.R., Nurhayati, D.. 2020. Pengukuran Performa Produksi Ayam Pedaging pada Closed House System dan Open House System di Kabupaten Malang Jawa Timur Indonesia. J. Sain Peternak. Indones. Vol 15 (4), Pp 383-389.
Prawira, I.G.I.K., Mahardika, I.G., Sukanata, I.W.. 2017. Analisa Performa Produksi Dan Pendapatan Petrnak Ayam Broiler Dengan Sistem Pemeliharaan Closed House Pola Kemitraan. Fakultas Peternakan, Universitas Udayana.
Risnajati, D.. 2012. Perbandingan Bobot Akhir, Bobot Karkas Dan Persentase Karkas Berbagai Strain Broiler. Sains Peternak. Vol 10 (1), Pp 11-14.
Ryla, C., Riki, A.S., Nurchalidah, S., Virda, K.W., Arico, Z.. 2017. Pengaruh Fortifikasi Minyak Ikan Dan Tepung Daun Pepaya Terhadap Nilai FCR Dan Laju Kematian Ayam Broiler. J. Jeumpa Vol 4 (1), Pp 1-10.
Scribd. 2018. Info Medion - Berhasil atau Tidakkah Pemeliharaan Broiler Anda [WWW Document]. URL https://www.scribd.com/document/384394958/Info-Medion-Berhasil-Atau-Tidakkah-Pemeliharaan-Broiler-Anda (accessed 6.15.21).
Suasta, I., Mahardika, I.G., Sudiastra, I.W.. 2019. Evaluasi Produksi Ayam Broiler Yang Dipelihara Dengan Sistem Closed House. Maj. Ilm. Peternak. Vol 22 (1), Pp 21-24.
Subkhie, H., Suryahadi, Saleh, A.. 2012. Analisis Kelayakan Usaha Peternakan Ayam Pedaging dengan Pola Kemitraan Di Kecamatan Ciampea Kabupaten Bogor. Manaj. Pengemb. Ind. Kecil Menengah Vol 7 (1), Pp 54-63.
Susanti, E.D., Dahlan, M., Wahyuning, D.. 2016. Perbandingan Produktivitas Ayam Broiler Terhadap Sistem Kandang Terbuka (Open House) Dan Kandang Tertutup (Closed House) Di UD Sumber Makmur Kecamatan Sumberrejo Kabupaten Bojonegoro. J. Ternak Vol 7 (1).
Suwarta. 2014. Feed Conversion Ratio ( FCR ) Usaha Ternak Ayam Broiler Di Kabupaten Sleman. J. Agrika Vol 8 (2), Pp 1-10.
Yani, A.H., Suhardiyanto, Erizal, Purwanto, B.P.. 2014. Analysis of Air Temperature Distribution in a Close House for Broiler in Wet Tropical Climate. J. Anim. Sci. Technol. Vol 37 (2), Pp 87-100.
Yulianti, F.. 2012. Kajian Analisis Pola Usaha Pengembangan Ayam Broiler Di Kota Banjarbaru. Kemendikbud Ilmu Sos. Vol 4 (1), Pp 65-72.
Copyright (c) 2022 Ana Rohmatul Laili
This work is licensed under a Creative Commons Attribution-ShareAlike 4.0 International License.
The journal allows 

the author to hold the copyright of the article without restrictions.

T

he journal allows the author(s) to retain publishing rights without restrictions.

The legal formal aspect of journal publication accessibility refers to Creative Commons 

Attribution 

Share-Alike

 (CC BY-SA).

 

Journal of Applied Veterinary Science and Technology is licensed under a Creative Commons Attribution-ShareAlike 4.0 International License