Feline Infectious Peritonitis in British Short Hair Cat at Petvet Animal Clinic Jakarta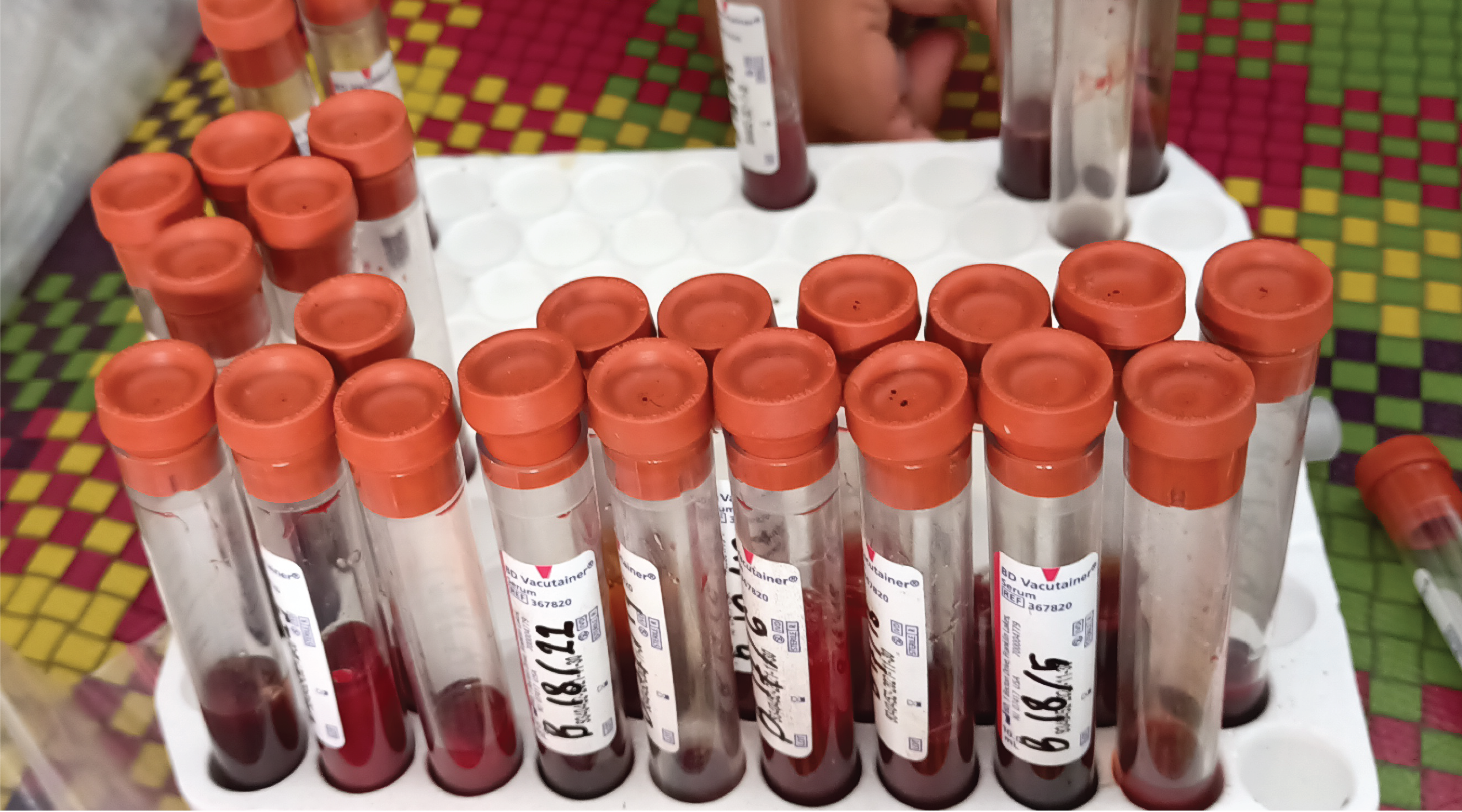 Downloads
Background: Feline Infectious Peritonitis (FIP) is a disease caused by Feline Corona Virus (FCoV) which can cause acute respiratory disorders or enteritis in cats. Purpose: studying FIP and the treatment that must be given to patients who are positive for FIP. Case Analysis: This case was found at the Petvet Animal Clinic Jakarta in a British Short Hair Cat. Examination and treatment will be carried out on May 22, 2021 – June 3, 2021. The examination method is carried out by clinical examination and laboratory examination. Clinical examination was carried out by inspection and palpation methods. Laboratory examinations were carried out by examining the FCoV Rapid test, blood examination, abdominocentesis, abdominal fluid examination and polymerase chain reaction. Based on the results of the clinical examination, FCoV rapid test, hematology and Rivalta testing, it can be concluded that the FIP case in  cat at the Petvet Animal Clinic belongs to the wet type (effusive) FIP. Conclusion: It is necessary to carry out other supporting diagnoses such as ELISA (Enzyme-Linked Immunosorbent Assay) and PCR (Polymerase Chain Reaction) testing. There is no cure for this FIP case, but symptomatic and supportive therapy is very helpful to reduce clinical symptoms and increase body endurance.
Hartono, M. I., Endrakasih, E. ., & Harry, H. (2022). Feline Infectious Peritonitis in British Short Hair Cat at Petvet Animal Clinic Jakarta. Journal of Applied Veterinary Science And Technology, 3(1), 1–5. https://doi.org/10.20473/javest.V3.I1.2022.1-5
Arimbi. 2010. Suspect Feline Infectious Peritonitis (FIP) Pada Kucing Ras Di Surabaya. Veterinaria Medika. 3(2):109-114.
Aswar, 2009. Kasus Patologi Feline Infectious Peritonitis pada Anak Kucing (Felis catus). Institut Pertanian Bogor.
Barbara, K., 2006. Thrombocytopenia in Cats.University of Berlin, Berlin.
Darren, W.R., 2018. White Blood Cells Disorders of Cats. University of Guelph, Kanada.
Felten S, Hartmann K., 2019. Diagnosis of feline infectious peritonitis: a review of the current literature. Viruses Journal. 11 (11): 1068.
Hartmann, K., Ritz, S., 2008. Treatment Of Cats With Feline Infectious Peritonitis. Vet Immunol Immunopathol Vol. 123(1), Pp. 172-175.
Kohn, B., 2006. Thorombocytopenia in Cats. In: Proceeding World Small Animal Veterinary Association World Congress. Free University of Berlin, Berlin.
Levy, J.K., Hutsell, S., 2014. Overview of Feline Infectious Peritonitis [WWW Document]. MSD Vet. Man. URL https://www.msdvetmanual.com/generalized-conditions/feline-infectious-peritonitis/overview-of-feline-infectious-peritonitis (accessed 9.20.21).
Murphy, B.G., Perron, M., Murakami, E., Bauer, K., Park, Y., Eckstrand, C., Liepnieks, M., 2018. Nucleoside Analogue gs-441524 Strongly Dislodged The Feline Infectious Peritonitis (FIP) Virus In Tissue Cultures And A Study Of Experimental Cat Infectant. Vet Microbiol Vol. 219, Pp. 226-233. Arimbi, 2010. Suspec Feline Infectious Peritonitis (FIP) Pada Kucing Ras di Surabaya. Vet. Med. Vol. 3(2), Pp. 109-114.
Pedersen, N.C., 2014. An Update On Feline Infectious Peritonitis: Virology And Immunopathogenesis. J. Vet Vol. 201(2).
Pedersen, N.C., 2019. Fifty Years' Fascination With FIP Culminates In A Promising New Antiviral. J Feline Med Surg Vol. 21(4), Pp. 269-270.
Supartika, I.K.E., Uliantara, G.A.J., 2014. Feline Infectious Peritonitis Pada Kucing Lokal. Wolfe and Griesemen in Supartika and Uliantara, 2014. Bul. Vet. Vol. 26(85).
Tasker, S., 2018. Diagnosis Of Feline Infectious Peritonitis: Update On Evidence Supporting Available Tests. J. Feline Med. Surg. Vol. 20(3), Pp. 228-243.
Tilley, L.P., Smith Jr, F.W.K., 2011. Blackwell's Five Minute Veterinary Consults Canine and Feline, 6th ed. Philadephia: Willey Blackwell.
Wood, R.D., 2018. White Blood Cell Disorders of Cats [WWW Document]. MSD Vet. Man. URL https://www.msdvetmanual.com/cat-owners/blood-disorders-of-cats/white-blood-cell-disorders-of-cats (accessed 9.20.21).
Copyright (c) 2022 Muhamad Irfan Hartono
This work is licensed under a Creative Commons Attribution-ShareAlike 4.0 International License.
The journal allows 

the author to hold the copyright of the article without restrictions.

T

he journal allows the author(s) to retain publishing rights without restrictions.

The legal formal aspect of journal publication accessibility refers to Creative Commons 

Attribution 

Share-Alike

 (CC BY-SA).

 

Journal of Applied Veterinary Science and Technology is licensed under a Creative Commons Attribution-ShareAlike 4.0 International License