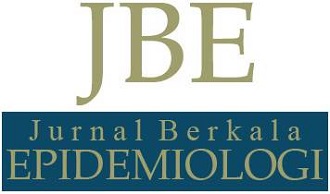 p-ISSN: 2301-7171 ; e-ISSN: 2541-092X
Jurnal Berkala Epidemiologi or Periodic Epidemiology Journal (JBE) is published by Universitas Airlangga. It aims to publish original research or literature review that related to the field of Epidemiology. It also publishes commentary articles written by epidemiologists who discuss the latest issues that occur in the world.  
Start at 7th Volume, 2nd Issue, May 2019, JBE is published in English language, three times (January-April; May-August; September-December) with each 80-120 page per issue containing between ten to thirteen scientific articles on original article, literature review, or article commentary. The scope of JBE is Epidemiology of Communicable Disease, Epidemiology of Non-communicable Disease, Tropical Disease, Epidemiology Surveillance, Management Outbreak, Epidemiology of Immunization Preventable Disease, and Epidemiology of Cancer. Contributors to the JBE included: researchers, lecturers, and students drawn from Indonesia and a wide range of other countries. 
Jurnal Berkala Epidemiologi or Periodic Epidemiology Journal (JBE) has been accredited as a 2nd Grade Scientific Journal (Sinta 2, Peringkat 2) by the Ministry of Science, Research, Technology and Higher Education of Indonesia (RISTEKDIKTI RI) since January 2019. Accreditation Number: 3/E/KPT/2019 valid until January 13th, 2024. (View certificate here) 
Announcements
Diversity of Authors of Jurnal Berkala Epidemiologi (JBE) at 2020

Universitas Airlangga, Indonesia

Source: Microsoft Academia

Posted: 2020-07-03

ABOUT US

Posted: 2020-06-15

EID MUBARAK 2020

Posted: 2020-05-24
Vol 8, No 2 (2020): Jurnal Berkala Epidemiologi