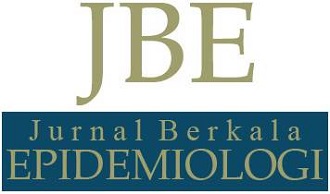 p-ISSN: 2301-7171 ; e-ISSN: 2541-092X
Jurnal Berkala Epidemiologi is published by the Public Health Faculty, Universitas Airlangga. It aims to publish research or review of literature that related to the field of Epidemiology. To submit an article in this journal, the author can visit this page http://e-journal.unair.ac.id/index.php/JBE/index. Jurnal Berkala Epidemiologi is published in Indonesian on three times (January-April; May-August; September-December with each 80-120 page per issues containing between ten and twelve scientific articles on research, study literature and case studies. The scope of JBE are Epidemiology of Communicable Disease, Epidemiology of Non-communicable Disease, Tropical Disease, Epidemiology Surveillance, Management Outbreak, Epidemiology of Immunization Preventable Disease, and Epidemiology of Cancer. Contributors to the Jurnal Berkala Epidemiologi included: researchers, lecturers, and students drawn from Indonesia and a wide range of other countries.
Jurnal Berkala Epidemiologi (JBE) merupakan jurnal yang diterbitkan oleh Fakultas Kesehatan Masyarakat, Universitas Airlangga. Jurnal ini bertujuan untuk menerbitkan penelitian atau review literatur yang terkait dengan bidang Epidemiologi. Untuk mengajukan artikel di jurnal ini penulis dapat mengunjungi halaman ini http://e-journal.unair.ac.id/index.php/JBE/index . Informasi dan instruksi untuk mengajukan artikel tersedia di setiap edisi. Artikel yang masuk akan dilakukan proses seleksi dan review oleh mitra bestari dan editor. Jurnal ini diterbitkan secara berkala sebanyak tiga kali dalam  setahun. Setiap terbitan terdiri dari 80-120 halaman berisikan 10-12 artikel dari penelitian, studi literatur, studi kasus dalam bahasa indonesia. Bidang keilmuan yang dimuat dalam Jurnal Berkala Epidemiologi adalah  Epidemiologi Penyakit Menular, Epidemiologi Penyakit Tidak Menular, Penyakit Tropik, Epidemiologi Surveilans, Pengendalian Wabah, Epidemiologi Penyakit yang Dapat Dicegah dengan Imunisasi (PD3I), dan Epidemiologi Kanker. Kontributor dalam Jurnal Berkala Epidemiologi adalah peneliti, dosen pengajar, mahasiswa, dan praktisi baik dari Indoenesia maupun dari luar negeri.
Announcements
NEW ARTICLE PROCESSING CHARGE

Start at July 2019, Every article submitted to Jurnal Berkala Epidemiologi will

 charge

 (IDR 500,000/article). This includes peer-reviewing, editing, publishing, maintaining and archiving, and allows immediate access to the full-text versions of the articles

Posted: 2019-07-03

JBE ANNOUNCEMENT

The next edition will be full text english edition. So, If you have been submit your paper in Bahasa, you can translate it in the end of review session. 

At 2019, we still receive the Manuscript in Bahasa language, but you must translate it in the end of review session. 

Thank you

Best Regard

Editor

Posted: 2019-05-08

STATCOUNTER 7-13 OCTOBER 2019

Posted: 2019-10-14
Vol 7, No 3 (2019): Jurnal Berkala Epidemiologi