Integration of Health Sector in Efforts to Improve The Health of Older People in RW VII Jagir Surabaya
=
http://dx.doi.org/10.20473/dc.V1.I2.2019.56-59
Abstract views = 331 times |
downloads = 84 times
Abstract
Background: The older people get, the more elderly people who experience health complaints. The elderly morbidity rate in 2014 was 25.05 percent, meaning that around one in four elderly people had experienced pain in the past month. Purpose: Providing guidance and knowledge to improve the health of the elderly community in RW VII Jagir. Methods: Coaching is carried out by using a tutorial and visualization method using LCD. The material provided includes the processing of healthy foods, the introduction of traditional medicine, independent acupressure, healthy work attitudes in the household, dental and oral health, and medical check up. Results: The people who attended this activity were 65 people, according to the expected target. The community welcomed with enthusiasm, as evidenced by a large number of people present and the high level of community participation until the end of the event. In addition, there was also an increase in the mean value of the questionnaire before and after the activity, from 15.62 to 36.14. The results of 55 participants who did blood pressure checks, 28 people had normal blood pressure and 27 people experienced blood pressure that was more than normal. Likewise, the results of blood sugar tests when, of the 55 people who took blood sugar at their time, 43 had normal blood sugar levels or less than 200 mg / dL; and 12 people have blood sugar levels that are above normal or > 200 mg / dL. Conclusion: Community service activities are very useful for the elderly and also able to increase the knowledge of the elderly.
Keywords
Health; Quality of life; Elderly
Full Text:
PDF
References
Imandiri, A. 2018. Pelayanan Kesehatan Secara Rutin Bagi Penduduk Lanjut Usia di Surabaya, Jawa Timur. Laporan Pengabdian Masyarakat PKM. Surabaya: Universitas Airlangga.
Henderson, A.J., Buchwald, D., Manson, S.M. 2006. Relationship of Medication Use to Health-Related Quality of Life Among a Group of Older American. J Appl Gerontol Vol. 20(10). Pp 1-15.
Megari, K. 2013. Quality Of Life In Chronic Disease Patients. Health Psychol Vol. 1(27). Pp 141-148.
Refbacks
There are currently no refbacks.
Copyright (c) 2019 Darmabakti Cendekia: Journal of Community Service and Engagements
This work is licensed under a
Creative Commons Attribution-NonCommercial-ShareAlike 4.0 International License
.
This Journal is Indexing by: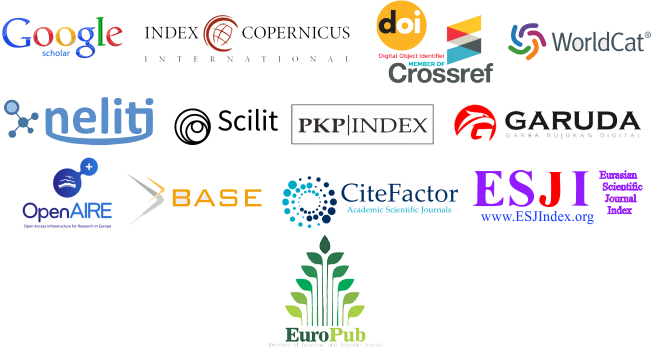 This work is licensed under a Creative Commons Attribution-NonCommercial-ShareAlike 4.0 International License.