Dental Journal (Majalah Kedokteran Gigi) (e-ISSN:2442-9740; p-ISSN:1978-3728) is published by Faculty of Dental Medicine, Universitas Airlangga. Their study areas are dental science and dental hygiene. Dental Journal (Majalah Kedokteran Gigi) is published 4 times every year. Every publication consists of 50-60 pages and 9-11 scientific articles in the form of research, study literature, and case study in English. The contributors of Dental Journal (Majalah Kedokteran Gigi) are dental researchers, lecturers, students, practitioners that that came from Indonesian and abroad.
Dental Journal (Majalah Kedokteran Gigi) has been certificated as a Scientific Journal by Indonesian Ministry of Research, Technology and Higher Education (RISTEKDIKTI) since April 26th, 2017. Update Accreditation Number: 32a/E/KPT/2017 Valid thru: April 25th, 2022.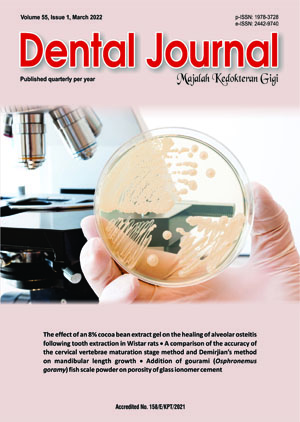 Announcements
Call for Papers

Dental Journal (Majalah Kedokteran Gigi) is a National Accredited Journal in Indonesia, scientific, peer-reviewed, and open access.

The topics of interest are:

General dentistry
Endodontics
Periodontics
Pediatric dentistry
Oral medicine
Dental public health
Orthodontics
Dental material
Oral biology
Forensic dentistry
Oral and maxillofacial surgery
Oral pathology.

We invite paper submissions in three forms: research reports, case reports, and literature reviews. Submitted papers must be original work (will be screened for plagiarism) and have not been published elsewhere. Confidentiality of submissions is maintained during the review process. All submitted papers should be written in English.

All submissions will be peer-reviewed by expert reviewers. Once accepted for publication, all manuscripts will undergo editing, setting and reference validation. Kindly visit the call for papers page for online submission system or email us at dental_journal@fkg.unair.ac.id for more information.

Thank you for your attention, we are looking forward to receiving your manuscripts.
Posted: 2016-02-11
More...
Vol 50, No 1 (2017): (March 2017)
Table of Contents
Articles
| | | |
| --- | --- | --- |
| | Fitria Avriliyanti, Sri Suparwitri, Ananto Ali Alhasyimi | 1-5 |
| | | |
| --- | --- | --- |
| | Rini Devijanti Ridwan, Wisnu Setyari Juliastuti, R. Darmawan Setijanto | 10-13 |
| | | |
| --- | --- | --- |
| | Eresha Melati Kusuma Wurdani, Adioro Soetojo, Devi Eka Juniarti | 14-18 |
| | | |
| --- | --- | --- |
| | Puspa Dila Rohmaniar, Titiek Berniyanti, Retno Pudji Rahayu | 19-22 |
| | | |
| --- | --- | --- |
| | Wahyu Aji Wibowo, Retno Indrawati Roestamadji, Retno Pudji Rahayu | 23-27 |
| | | |
| --- | --- | --- |
| | Ira Widjiastuti, Adioro Soetojo, Febriastuti Cahyani | 28-31 |
| | | |
| --- | --- | --- |
| | Hari Wibowo, Titiek Berniyanti, Jenny Sunariani | 32-35 |
| | | |
| --- | --- | --- |
| | Bayu Indra Sukmana, Theresia Indah Budhy, I Gusti Aju Wahju Ardani | 36-42 |
| | | |
| --- | --- | --- |
| | Rina Prabajati, Iwan Hernawan, Hening Tuti Hendarti | 43-48 |
| | | |
| --- | --- | --- |
| | Yayah Sopianah, Muhammad Fiqih Sabilillah, Ayyu Fadilah | 49-53 |
Editorial