Capillaria spp. in a Reticulated Python (Python reticulatus) in Banyuwangi Reptile Community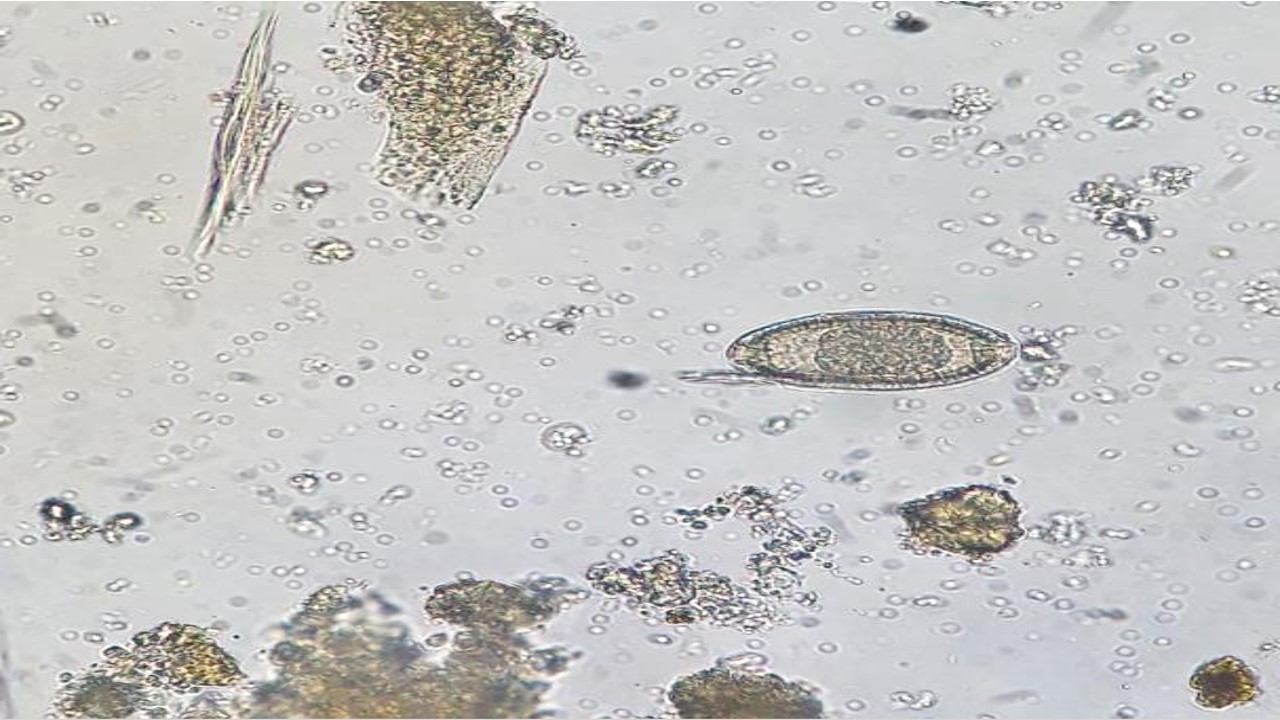 Downloads
Reptiles as exotic pets become more commonly desired by society, one of which is the reticulated python. Pythons kept as pets also have a risk of disease infection including helminthiasis. Worm parasite infects snake by the oral route. Some snake feed including frogs and mice can act as an intermediate host for worm parasites. A male reticulated python was kept by a member of the Banyuwangi reptile community and was presented with healthy and normal eating habits. This case study was to determine the worm parasite in the wild-caught reticulated python kept as an exotic pet. Fresh fecal samples were stored in a container with 70% alcohol added as a preservative. The sample was then evaluated in the laboratory and examined using the native method, floatation method, and simple sedimentation method. As result, under the microscope to be the Capillaria spp. the egg was observed.
Dini, S. K., Triakoso, N., Saputro, A. L., & Yudhana, A. (2022). Capillaria spp. in a Reticulated Python (Python reticulatus) in Banyuwangi Reptile Community. Jurnal Medik Veteriner, 5(1), 119–123. https://doi.org/10.20473/jmv.vol5.iss1.2022.119-123
Akhila, S., Sukanya, V. S., Anto, A., & Karunakaran, S. (2018). Prevalence of endoparasites in captive snakes of Kerala, India. Annals of Parasitology, 64(2).
Divers, S. J., & Mader, D. R. (2005). Reptile Medicine and Surgery-E-Book. Elsevier Health Sciences. Pp: 101.
Fuehrer, H. P., Igel, P., & Auer, H. (2011). Capillaria hepatica in man—an overview of hepatic capillariosis and spurious infections. Parasitology Research, 109(4), 969-979.
Ingole, D. K., Senthilkumar, K., Palanivelrajan, M., Gomathinayagam, S., & Jayathangaraj, M. G. (2015). Successful therapeutic management of helminthiasis in captive reticulated python. Indian Veterinary Journal, 92(8), 67-68.
Juncker-Voss, M., Prosl, H., Lussy, H., Enzenberg, U., Auer, H., & Nowotny, N., (2000). Serological detection of Capillaria hepatica by indirect immunofluorescence assay. Journal of Clinical Microbiology, 38(1), 431-433.
Klingenberg, R. (2007). Understanding Reptile Parasites. I5 Publishing. Pp: 87.
O'Shea, M. (2018). The Book of Snakes: A Life-Size Guide to Six Hundred Species from Around The World. University of Chicago Press. Pp: 68.
Pantchev, N., & Tappe, D. (2011). Pentastomiasis and other parasitic zoonoses from reptiles and amphibians. Berliner und Munchener tierarztliche Wochenschrift, 124(11), 528–535.
Radhakrishnan, S., Kurup, S. P., & Banerjee, P. S. (2009). Endoparasitism in captive wild‐caught snakes indigenous to Kerala, India. Zoo Biology: Published in affiliation with the American Zoo and Aquarium Association, 28(3), 253-258.
Rajesh, N. V., Rajesh, K. D., Jayathangaraj, M. G., Raman, M., & Sridhar, R. (2015). Parasitic fauna of captive snakes in Tamilnadu, India. Asian Pacific Journal of Tropical Disease, 5(7), 547-551.
Raś-Noryńska, M., & Sokół, R. (2015). Internal parasites of reptiles. Annals of Parasitology, 61(2), 115-117.
Rataj, A. V., Lindtner-Knific, R., Vlahović, K., Mavri, U., & Dovč, A. (2011). Parasites in Pet Reptiles. Acta Veterinaria Scandinavica, 53(1), .33.
Rossi, J., & Rossi, R. (2012). What's Wrong With My Snake. I5 Publishing. Pp: 115.
Schmidt, S. (2001). Investigation on the occurrence of Capillaria hepatica and metacestodes of Cyclophillida in wild mice in Germany (Doctoral dissertation, PhD Thesis, University of Leipzig). Pp: 167.
Sosiawati, S. M., Koesdarto, S., Bendryman, S. S., & Kusnoto. (2017). Penuntun Praktikum Ilmu Penyakit Helminth Veteriner. Fakultas Kedokteran Hewan Universitas Airlangga. Surabaya. Hal: 37.
Wolf, D., Vrhovec, M. G., Failing, K., Rossier, C., Hermosilla, C., & Pantchev, N. (2014). Diagnosis of gastrointestinal parasites in reptiles: comparison of two coprological methods. Acta Veterinaria Scandinavica, 56(1), 44.
Copyright (c) 2022 Sayyida Kamila Dini, Nusdianto Triakoso, Amung Logam Saputro, Aditya Yudhana
This work is licensed under a Creative Commons Attribution-NonCommercial-ShareAlike 4.0 International License.
Authors who publish in this journal agree to the following terms:
1. The journal allows the author to hold the copyright of the article without restrictions;
2. The journal allows the author(s) to retain publishing rights without restrictions;
3. The legal formal aspect of journal publication accessibility refers to Creative Commons Attribution-NonCommercial-ShareAlike 4.0 International License (CC BY-NC-SA).