pH and ferning score of cervical mucus related to gestation and calf gender of Holstein Friesian crossbreed cows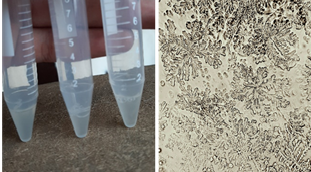 Downloads
This study aimed to compare the ferning score based on the pH of the cervical mucus and its relation with gestation and the calf gender of cows. Ten Holstein Friesian crossbreed cows which were detected in estrus and about to be artificially inseminated, were used for this study. Sample of cervical mucus was collected using Metricheck for pH and ferning observations. Pregnancy diagnosis was conducted two months after insemination, and the gender of the calves was recorded at parturition. This study indicated that cervical mucus pH did not affect the ferning characteristics, ferning score, and pregnancy of cows. However, higher ferning scores tended to result in the pregnancy of cows. Also, alkaline pH tended to result in male calves and vice versa. Further study is needed with a more significant number of samples related to the application of ferning display as an indicator of estrus to obtain a higher pregnancy rate.
Ferdiansyah, M. B., Hamid, I. S., Hermadi, H. A., Samik, A., & Hernawati, T. (2022). pH and ferning score of cervical mucus related to gestation and calf gender of Holstein Friesian crossbreed cows. Ovozoa: Journal of Animal Reproduction, 11(1), 22–26. https://doi.org/10.20473/ovz.v11i1.2022.22-26
Adnane M, Meade KG, O'Farrelly C. 2018. Cervico-vaginal mucus (CVM) - an accessible source of immunologically informative biomolecules. Vet Res Commun. 42: 255-63.
Abebe E, Anumba DOC. 2018. The Vaginal Microenvironment: The Physiologic Role of Lactobacilli. Front Med (Lausanne) 5: 181.
Atrio J, Stek A, Vora H, Sanchez-Keeland L, Zannat F, Natavio MT. 2015. The effect of protease inhibitors on the cervical mucus of HIV-positive women taking norethindrone contraception. Eur J Contracept Reprod Health Care 20: 149-53.
Ayele B, Leta S. 2021. Knowledge and preventive practices of livestock farmers on infectious causes of reproductive disorders in dairy cows in the Kembata Tambaro zone southern Ethiopia. Anim Dis. 1: 1-8.
Bernardi S, Rinaudo A, Marini P. 2016. Cervical mucus characteristics and hormonal status at insemination of Holstein cows. Iran J Vet Res. 17: 45-9.
Cortés ME, González F, Vigil P. 2014. Crystallization of Bovine Cervical Mucus at Oestrus: An Update. Rev Med Vet. 28: 103-8.
Crowe MA. 2016. Reproduction, Events and Management: Estrous Cycles: Characteristics, Reference Module in Food Science, Elsevier. 428-33.
LeRoy CNS, Walton JS, LeBlanc SJ. 2018. Estrous detection intensity and accuracy and optimal timing of insemination with automated activity monitors for dairy cows. J Dairy Sci. 101: 1638-47.
Najmabadi S, Schliep KC, Simonsen SE, Porucznik CA, Egger MJ, Stanford JB. 2021. Cervical mucus patterns and the fertile window in women without known subfertility: a pooled analysis of three cohorts. Hum Reprod. 36: 1784-95.
Nakano FY, Leão RBF, Esteves SC. 2015. Insights into the role of cervical mucus and vaginal pH in unexplained infertility. Med Express (São Paulo, online) 2: M150207.
Oyeyipo IP, van der Linde M, du Plessis SS. 2017. Environmental exposure of sperm sex‑chromosomes: A gender selection technique. Toxicol Res. 33: 315‑23.
Parkinson TJ, Morrell JM. 2019. Artificial insemination. In: Noakes DE, Parkinson TJ, England GCW (Eds.) Veterinary Reproduction and Obstetrics. 10th Ed. Elsevier Publishing, USA. 746-59.
Prasdini WA, Rahayu S, Djati MS. 2015. Level of estrogen and cervical mucus pH as indicator of estrus after calving towards the provision of selenium vitamin ETM on dairy cow Frisian Holstein. Int J Chem Tech Res. 7: 190-5.
Purwantini TB, Saliem HP, Ariningsih E, Erwidodo E, Anugrah IS, Suryani E,Irawan AR, Hetherington JB. 2021. The performance of smallholder dairy farms in West Java. IOP Conf. Ser.: Earth Environ. Sci. 892: 012098.
Savia CL, Osorio JS, Rodríguez JV, Guibert EE, Rinaudo A. 2021. A simple and reliable refractometric method to determine the total solids concentration of the cervico-vaginal bovine mucus samples. Heliyon 7: e07010.
Siregar TN, Agustina I, Masyitah D, Azhar A, Dasrul D, Thasmi CN, Sulaiman R, Daud R. 2017. Physical Properties of Cervical Mucus of Repeat Breeder Aceh Cattle. J Vet.18: 378-82.
Siregar TN, Armansyah T, Panjaitan B, Gholib G, Herrialfian H, Sutriana A, Abidin Z, Reynaldi MA, Razak F, Artaliani Y, Yuswar Y. 2019. Changes in cervical mucus as an indicator of fertility in Aceh cattle. Adv Anim Vet Sci. 7: 306-14.
Sutarno S, Setyawan AD. 2016. The diversity of local cattle in Indonesia and the efforts to develop superior indigenous cattle breeds. Biodiversitas 17: 275-95.
Verma KK, Prasad S, Kumaresan A, Mohanty TK, Layek SS, Patbandha TK, Chand S. 2014. Characterization of Physico-chemical properties of cervical mucus in relation to parity and conception rate in Murrah buffaloes. Vet World 7: 467-71.
World Health Organization. 2010. WHO laboratory manual for the examination and processing of human semen. 5th Ed. WHO Press.
Yıldız A. 2021. The validity of the scores of cervical mucus during artificial insemination for estimating the probability of conceiving in clinically healthy cows. Vet Sci Res Rev. 7: 58-65.
Copyright (c) 2022 Muhammad Billy Ferdiansyah, Iwan Sahrial, Herry Agus Hermadi, Abdul Samik, Tatik Hernawati
This work is licensed under a Creative Commons Attribution-ShareAlike 4.0 International License.
Ovozoa  by Unair is licensed under a Creative Commons Attribution-ShareAlike 4.0 International License.
1. The journal allows the author to hold the copyright of the article without restrictions.
2. The journal allows the author(s) to retain publishing rights without restrictions
3. The legal formal aspect of journal publication accessibility refers to Creative Commons Attribution Share-Alike (CC BY-SA). 
4. The Creative Commons Attribution Share-Alike (CC BY-SA) license allows re-distribution and re-use of a licensed work on the conditions that the creator is appropriately credited and that any derivative work is made available under "the same, similar or a compatible license". Other than the conditions mentioned above, the editorial board is not responsible for copyright violation.