Virgin coconut oil protected the diameter and the epithelium thickness of seminiferous tubules of mice (Mus musculus) from oral ethanol induction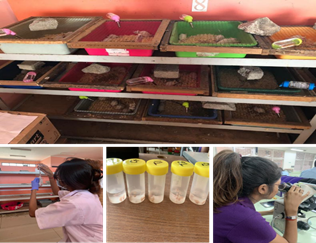 Downloads
This study investigated the preventive effect of virgin coconut oil (VCO) on the epithelium thickness and the diameter of the seminiferous tubules induced by ethanol in mice (Mus musculus). This study used 20 male mice as the experimental animal which were divided into five groups with four mice in each group. Negative control (C-) was given 2% Tween and aquadest, while positive control (C+) was given 2% Tween and 33% ethanol. T1, T2, and T3 were respectively given 0.09, 0.19, and 0.37 mL/kg bw VCO and 33% ethanol (0.2 mL/kg bw). VCO was given orally for 39 days, and ethanol was given orally seven days later for 32 days. Ethanol was administered two hours after the VCO administration. Analysis of variance followed by Tukey's range test on the epithelium thickness and the diameter of the seminiferous tubules showed significant differences (p <0.05) of C+ group from the other groups. Whereas, there was no significant difference (p >0.05) was found among C-, T1, T2 and T3 group. The result concluded that VCO could protect the testis of mice from the damage caused by ethanol.
S Ravi, V. ., Soeharsono, S., Plumeriastuti, H., & Rachmawati, K. (2022). Virgin coconut oil protected the diameter and the epithelium thickness of seminiferous tubules of mice (Mus musculus) from oral ethanol induction . Ovozoa: Journal of Animal Reproduction, 11(1), 34–40. https://doi.org/10.20473/ovz.v11i1.2022.34-40
Agarwal A, Baskaran S, Parekh N, Cho CL, Henkel R, Vij S, Arafa M, Panner Selvam MK, Shah R. 2021. Male infertility. Lancet. 397(10271): 319-333.
Ballway JW, Song BJ. 2021. Translational Approaches with Antioxidant Phytochemicals against Alcohol-Mediated Oxidative Stress, Gut Dysbiosis, Intestinal Barrier Dysfunction, and Fatty Liver Disease. Antioxidants (Basel). 10(3):384.
Boateng L, Ansong R, Owusu WB, Steiner-Asiedu M. 2016. Coconut oil and palm oil's role in nutrition, health and national development: A review. Ghana Med J. 50(3):189-196.
Cacho JF, Lopez R. 2005. Food and nutritional analysis: Alcoholic Beverages. in: Worsfold P, Townshend A, Poole C. (Eds). 2005. Encyclopedia of Analytical Science (Second Edition). Pp. 292–302.
Condorelli RA, Calogero AE, Vicari E, La Vignera S. 2015. Chronic consumption of alcohol and sperm parameters: our experience and the main evidences. Andrologia. 47(4):368-79.
De lourdes, molina AM, Marrero D, Rodriguez E, Gonzalez V, Carbajal D. 2007. Effects of coconut oil on testosterone induced prostatic hyperplasia in sprague- dawley rats. J Pharm Pharmacol. 59(7): 995-999.
Dosumu OO, Osinubi AAA, Duru FIO. 2014. Alcohol induced testicular damage: Can abstinence equal recovery? Middle East Fertil Soc J. 19 (3): 221-228
Duca Y, Aversa A, Condorelli RA, Calogero AE, La Vignera S. Substance Abuse and Male Hypogonadism. J Clin Med. 2019 May 22;8(5):732.
En YS, Primarizky H, Widjiati W, Luqman EP. 2020. The effect of nicotine per inhalation on the diameter and epithelium thickness of the seminiferous tubules of rats. Iraqi J Vet Sci 34(1): 209-215
Eyres L, Eyres MF, Chisholm A, Brown RC. 2016. Coconut oil consumption and cardiovascular risk factors in humans. Nutr Rev. 74(4):267-80.
Figueiro FD, Bispo ACC, Guarido KL, Marianno P, Costa GA, Morimoto HK, Salles MJS. 2017. Effect of alcoholic beverages on progeny and reproduction of mice. Braz. J. Pharm. Sci. 53(4):e17141
Giannessi F, Scavuzzo MC, Giambelluca MA, Fornai F, Morelli G, Ruffoli R. 2015. Chronic alcohol administration causes expression of calprotectin and RAGE altering the distribution of zinc ions in mouse testis. Syst Biol Reprod Med. 61(1):18-25.
Hayati A, Karolina NA, Subani ND, Yudiwati R. 2014. The Potential of Garcinia Mangostana Pericarp Extract on Spermatogenesis and Sperm Quality of Mice (Mus musculus) after 2–Methoxyethanol Exposure. JAEBS. 4(4), 47-51.
Illam SP, Kandiyil SP, Narayanankutty A, Veetil SV, Babu TD, Uppu RM, Raghavamenon AC. 2021. Virgin coconut oil complements with its polyphenol components mitigate sodium fluoride toxicity in vitro and in vivo. Drug Chem Toxicol. 18:1-7.
Kołota A, Głąbska D, Oczkowski M, Gromadzka-Ostrowska J. 2020. Oxidative Stress Parameters in the Liver of Growing Male Rats Receiving Various Alcoholic Beverages. Nutrients. 12(1):158.
Koob GF, Arends MA, McCracken M, Le moal M. 2021. Volume Three - Alcohol, In Neurobiology of Addiction Series. Academic Press 3: 1-3.
Leslie SW, Siref LE, Soon-Sutton TL, Khan MAB. 2021. Male Infertility. [Updated 2021 Aug 12]. https://www.ncbi.nlm.nih.gov/books/NBK562258/[25-12-2021]
Muthusami, K. R., & Chinnaswamy, P. 2005. Effect of chronic alcoholism on male fertility hormones and semen quality. Fertil Steril. 84(4): 919-924.
Ogedengbe OO, Jegede AI, Onanuga IO, Offor U, Naidu EC, Peter AI, Azu OO. 2016. Coconut Oil Extract Mitigates Testicular Injury Following Adjuvant Treatment with Antiretroviral Drugs. Toxicol Res. 32(4):317-325.
Oremosu AA, Akang EN. 2015. Impact of alcohol on male reproductive hormones, oxidative stress and semen parameters in Sprague–Dawley rats. Middle East Fertil Soc J. 20(2), 114–118.
Prastyaningtyas K, Kurnijasanti R, Susilowati S, Suprayogi TW, Eliyani H, Sugihartuti R. 2021. The effect of red dragon fruit (Hylocereus polyrhizus) peel extract on Leydig cells number, seminiferous tubules diameter, and testicular weight of mice (Mus musculus) exposed to heat. Ovozoa 10(1): 18-24.
Satheesh N. 2015. Review on production and potential applications of virgin coconut oil. Annals. Food Sci Technol 16 (1): 115-126
Sheynkin, Y., & Gioia, K. 2013. Environmental and lifestyle considerations for the infertile male. AUA Update Ser. 32(4): 30-8.
Srivastava VK, Hiney JK, Dees WL. 2014. Actions and interactions of alcohol and transforming growth factor β1 on prepubertal hypothalamic gonadotropin-releasing hormone. Alcohol Clin Exp Res. 38(5):1321-9.
Van Heertum K, Rossi B. 2017. Alcohol and fertility: how much is too much? Fertil Res Pract. 10;3:10.
Wallace TC. 2019. Health Effects of Coconut Oil-A Narrative Review of Current Evidence. J Am Coll Nutr. 38(2):97-107.
Wurlina W, Mustofa I, MelesDK, Mulyati S., Putri DKSC, Suwasanti N. 2021. Administration of the α-tocopherol for repairing testicle histological damage in rats exposed to dioxin. Thai J Vet Med. 51(2), 293-301.
Ye XF, Miao CY, Zhang W, Sheng CS, Huang QF, Wang JG. 2021. Alcohol consumption in relation to cardiovascular and non-cardiovascular mortality in an elderly male Chinese population. BMC Public Health. 9;21(1):2053.
Copyright (c) 2022 Vishantheni S Ravi, Soeharsono Soeharsono , Hani Plumeriastuti, Kadek Rachmawati
This work is licensed under a Creative Commons Attribution-ShareAlike 4.0 International License.
Ovozoa  by Unair is licensed under a Creative Commons Attribution-ShareAlike 4.0 International License.
1. The journal allows the author to hold the copyright of the article without restrictions.
2. The journal allows the author(s) to retain publishing rights without restrictions
3. The legal formal aspect of journal publication accessibility refers to Creative Commons Attribution Share-Alike (CC BY-SA). 
4. The Creative Commons Attribution Share-Alike (CC BY-SA) license allows re-distribution and re-use of a licensed work on the conditions that the creator is appropriately credited and that any derivative work is made available under "the same, similar or a compatible license". Other than the conditions mentioned above, the editorial board is not responsible for copyright violation.