Media Gizi Indonesia (MGI) / National Nutrition Journal (ISSN International Centre ; p-ISSN 1693-7228 ; e-ISSN 2540-8410)  is a scientific journal on nutrition. It is periodically published every 4 months, in January, May, and September. MGI also collaborates with Perhimpunan Pakar Gizi dan Pangan Indonesia (PERGIZI PANGAN Indonesia). MGI serves as communication media for disseminating information on research results and literature reviews which focus on community nutrition, clinical nutrition, institutional nutrition, food service management, food technology, and current issues on food and nutrition. 
Announcements
2021-12-17
Dear Authors,
Due to the large number of articles submitted to our journal, the submission process will take a longer time, a maximum of 3 months.
Thank you for your attention
Read more about [UPDATE] Submission Process
Current Issue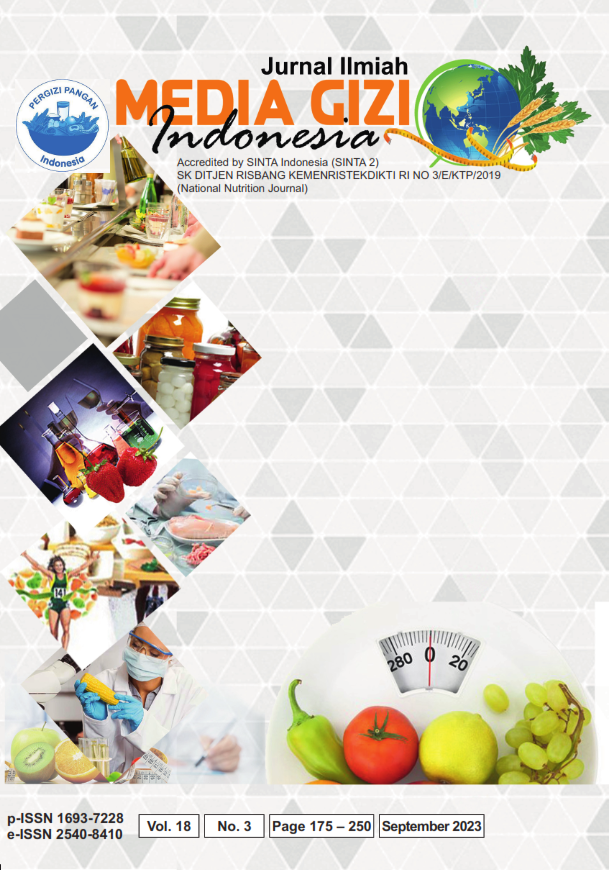 Vol. 18 No. 3 (2023): MEDIA GIZI INDONESIA (NATIONAL NUTRITION JOURNAL)
This volume provides original research in the field of nutrition. The theme for original research focus on child nutrition and adolescent health. To date, child and adolescent nutrition has become more attention because a good nutritional status in that period will manifest a better quality of life during adults. Moreover, stunting reduction become the emerging issue. For that, this current edition of MGI presents several best research related to child and adolescent nutrition in relation to anemia, toddler development, and dietary intervention. Besides presenting studies related to child and adolescent nutrition, the current edition of MGI also shows research in food product development to provide better food product in order to alleviate nutritional problems. Futhermore, original research on food service management among athletes and nursing homes complements this volume.
Full Issue