Moringa oleifera leaf extract restored the diameter and epithelium thickness of the seminiferous tubules of rat (Rattus norvegicus) injected with gentamicin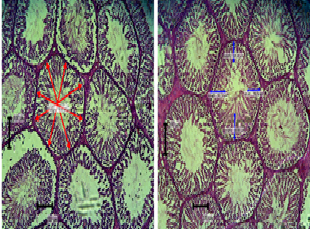 Downloads
This research aims to determine the effect of Moringa oleifera leaf extract (MLE) on the diameter and epithelium thickness of the seminiferous tubules of rats induced with gentamicin. This study used 25 male rats (Rattus norvegicus) aged 8-12 weeks with 150-200 grams body weight. Negative control group (C-) was injected with aquadest and given 0.5% Na-CMC orally, positive control group (C+) was induced with gentamicin injection of 5 mg/kg BW/day and given 0.5% Na-CMC orally, while groups T1, T2, and T3 were induced with gentamicin at the same dose and treated orally with MLE of 200, 316, 500 mg/kg BW/day. Analysis of variance showed significant differences and further analysis using Duncan Multiple Range Test showed difference in each group. The results showed that treatment with MLE of 500 mg/kg BW/day improved the diameter and epithelium thickness of the seminiferous tubules of rats injected with gentamicin. It could be concluded that MLE restored the diameter and epithelium thickness of the seminiferous tubules of rats induced with gentamicin.
Mardatillah, M., Wurlina, W., Yudaniayanti, I. S., Primarizky, H., Plumeriastuti, H., & Hamid, I. S. (2022). Moringa oleifera leaf extract restored the diameter and epithelium thickness of the seminiferous tubules of rat (Rattus norvegicus) injected with gentamicin. Ovozoa : Journal of Animal Reproduction, 11(1), 15–21. https://doi.org/10.20473/ovz.v11i1.2022.15-21
Al-Damegh MA. 2014. Stress-Induced Changes in Testosterone Secretion in Male Rats: Role of Oxidative Stress and Modulation by Antioxidants. J Anim Sci. 4: 70-8.
Aly HAA. 2019. Testicular toxicity of gentamicin in adult rats: Ameliorative effect of lycopene. Hum Exp Toxicol. 38: 1302-13.
Aly HAA, Hassan MH. 2018. Potential Testicular Toxicity of Gentamicin in adults Rats. Biochem Biophys Res Commun. 497: 362-7.
Baskaran S, Finelli R, Agarwal A, Henkel R. 2021. Reactive oxygen species in male reproduction: A boon or a bane? Andrologia 53: 1-12.
Chaves BJ, Tadi P. 2021. Gentamicin. In: StatPearls [Internet]. Treasure Island (FL): StatPearls Publishing. https://www. ncbi. nlm. nih. gov/ books/ NBK557550/. 9 December 2021.
Dafaalla MM, Hassan AW, Idris OF, Abdoun S, Modawe GA, Kabbashi AS. 2016. Effect of ethanol extract of Moringa oleifera leaves on fertility hormone and sperm quality of Male albino rats. World J Pharm Res. 5: 1-11.
Das AK, Rajkumar V, Verma AK, Swarup D. 2012. Moringa oleifera leaves Extract: A Natural Antioxidant for Retarding Lipid Peroxidation in Cooked Goat Meat Patties. J Food Sci Tech. 47: 585-91.
Dong X, Meng-Jiaou H, Yan-Qiu W, Yuan-Lu C. 2019. Antioxidant activities of quercetin and its complexes for medical application. Molecules 24: 1123.
Edeogu CO, Kalu ME, Famurewa AC, Asogwa NT, Onyeji GN, Ikpemo KO. 2020. Nephroprotective Effect of Moringa oleifera Seed Oil on Gentamicin-Induced Nephrotoxicity in Rats: Biochemical Evaluation of Antioxidant, Anti-inflammatory, and Antiapoptotic Pathways. J Am Coll Nutr. 39: 307-15.
Falowo AB, Mukumbo FE, Idamokoro EM, Lorenzo JM, Afolayan AJ, Muchenje V. 2018. Multi-functional application of Moringa oleifera Lam. in nutrition and animal food products: A review. Food Res Int. 106: 317-34.
Fejér J, Kron I, Pellizzeri V, Pľuchtová M, Eliašová A, Campone L, Gervasi T, Bartolomeo G, Cicero N, Babejová A, Konečná M, Sedlák V, Poráčová J, Gruľová D. 2019. First Report on Evaluation of Basic Nutritional and Antioxidant Properties of Moringa Oleifera Lam. from Caribbean Island of Saint Lucia. Plants (Basel) 8: 537.
Ge RS, Li X, Wang Y. 2021. Leydig Cell and Spermatogenesis. Adv Exp Med Biol. 1288:111-29.
Gopalakrishnan L, Doriya K, Kumar DS. 2016. Moringa oleifera: A review on nutritive importance and its medicinal application. Food Sci Hum Wellness 5: 49-56.
Griswold MD. 2018. 50 years of spermatogenesis: Sertoli cells and their interactions with germ cells. Biol Reprod. 99: 87-100.
Guerriero G, Trocchia S, Abdel-Gawad FK, Ciarcia G. 2014. Roles of reactive oxygen species in the spermatogenesis regulation. Front Endocrinol (Lausanne). 5: 56.
He L, He T, Farrar S, Ji L, Liu T, Ma X. 2017. Antioxidants Maintain Cellular Redox Homeostasis by Elimination of Reactive Oxygen Species. Cell Physiol Biochem. 44: 532-53.
Jahan S, Ain QU, Ullah H. 2016. Therapeutic effects of quercetin against bisphenol A induced testicular damage in male Sprague Dawley rats. Syst Biol Reprod Med. 62: 114-24.
Kathun S, Varma MC. 2017. Role of Moringa oleifera Leaf Extract on Silk Dye Waste Effluent Induced Histopathotoxicity on Liver and Testis of Swiss Albino Male Mice Mus musculus. IOSR J Pharm. 7: 1-7.
Khaki A. 2015. Assessment on the adverse effects of Aminoglycosides and Flouroquinolone on sperm parameters and male reproductive tissue: A systematic review. Iran J Reprod Med. 13: 125-34.
Khaki A, Khaki AA, Iraj S, Bazi P, Imani SA, Kachabi H. 2009. Comparative Study of Aminoglycosides (Gentamicin & Streptomycin) and Fluoroquinolone (Ofloxacin) Antibiotics on Testis Tissue in Rats: Light and Transmission Electron Microscopy Study. Pak J Med Sci. 25: 624-9.
Lord T, Nixon B. 2020. Metabolic Changes Accompanying Spermatogonial Stem Cell Differentiation. Dev Cell. 52: 399-411.
Machmudia A, Eliyani H, Widjiati W, Wurlina W. 2021. Efek pemberian α-tokoferol terhadap jumlah sel spermatogenik dan sel Leydig pada tikus putih (Rattus norvegicus) yang dipapar 2,3,7,8 Tetrachlorodibenzo-p-dioxin. Ovozoa 10:74-79.
Oda SS, El-Maddawy ZKh. 2012. Protective effect of vitamin E and selenium combination on deltamethrin-induced reproductive toxicity in male rats. Exp Toxicol Pathol. 64: 813-9.
Oduwole OO, Peltoketo H, Huhtaniemi IT. 2018. Role of Follicle-Stimulating Hormone in Spermatogenesis. Front Endocrinol (Lausanne) 9: 763.
Ogunsola OA, Owalabi JO, Fabiyi OS, Nwobi NL, Faluyi B, Akinbola AS. 2017. Moringa plant parts consumption had effects on reproductive functions in male and female rat models. IOSR J Dent Med Sci. 16: 82-6.
Pizzino G, Irrera N, Cucinotta M, Pallio G, Mannino F, Arcoraci V, Squadrito F, Altavilla D, Bitto A. 2017. Oxidative Stress: Harms and Benefits for Human Health. Oxid Med Cell Longev. 2017: 8416763.
Pratama API, Susilowati S, Maslachah L, Ratnani H, Suprayogi TW. 2021. The effect of watermelon (Citrullus lanatus) rind ethanolic extract on the number of leydig, sertoli, and spermatogenic cells of rat (Rattus novergicus) exposed to heat. Ovozoa 10: 7-11.
Rahayu I, Usman E, Reza M. 2019. Effect of vitamin C on testosterone level, sperm count and sperm morphology in gentamicin-induced Wistar rats. Int J Res Med Sci. 7: 451-6.
Redza-Dutordoir M, Averill-Bates DA. 2016. Activation of apoptosis signalling pathways by reactive oxygen species. Biochem Biophys Acta 1863: 2977-92.
Rezaei NJ, Bazzazi AM, Naseri Alavi SA. 2018. Neurotoxicity of the antibiotics: A comprehensive study. Neurol India 66:1732-40.
Saleh P, Abbasalizadeh S, Rezaeian S, Naghavi-Behzad M, Piri R, Pourfeizi HH. 2016. Gentamicin-mediated ototoxicity and nephrotoxicity: A clinical trial study. Niger Med J. 57: 347-52.
Su LJ, Zhang JH, Gomez H, Murugan R, Hong X, Xu D, Jiang F, Peng ZY. 2019. Reactive Oxygen Species-Induced Lipid Peroxidation in Apoptosis, Autophagy, and Ferroptosis. Oxid Med Cell Longev. 2019: 5080843.
Van Tran L, Malla BA, Kumar S, Tyagi AK. 2017. Polyunsaturated Fatty Acids in Male Ruminant Reproduction - A Review. Asian-Australas J Anim Sci. 30: 622-37.
Vergara-Jimenez M, Almatrafi MM, Fernandez ML. 2017. Bioactive Components in Moringa Oleifera Leaves Protect against Chronic Disease. Antioxidants (Basel) 6: 91.
Vijayprasad S, Bb G, Bb N. 2014. Effect of vitamin C on male fertility in rats subjected to forced swimming stress. J Clin Diagn Res. 8: 5-8.
Wong WJ, Khan YS. 2021. Histology, Sertoli Cell. In: StatPearls [Internet]. Treasure Island (FL): StatPearls Publishing. https://www.ncbi.nlm.nih.gov/books/NBK560631/. 27 December 2021.
Wurlina W, Mustofa I, Meles DK, Mulyati S, Putri DKSC, Suwasanti N. 2021. Administration of the α-tocopherol for repairing testicle histological damage in rats exposed to dioxin. Thai J Vet Med. 51: 293-301.
Yahya K, Hassan AH, Nadhem H. 2019. Evaluation the Effect of Gentamicin on Fertility of Male Rats & Probable Protective Role of Lipoic Acid. Indian J Public Health Res Dev. 10: 1230
Ye RJ, Yang JM, Hai DM, Liu N, Ma L, Lan XB, Niu JG, Zheng P, Yu JQ. 2020. Interplay between male reproductive system dysfunction and the therapeutic effect of flavonoids. Fitoterapia 147: 104756.
Copyright (c) 2022 Meidy Mardatillah, Wurlina Wurlina, Ira Sari Yudaniayanti, Hardany Primarizky, Hani Plumeriastuti, Iwan Sahrial Hamid
This work is licensed under a Creative Commons Attribution-ShareAlike 4.0 International License.
Journal Ovozoa  by Unair is licensed under a Creative Commons Attribution-ShareAlike 4.0 International License.
1. The journal allows the author to hold the copyright of the article without restrictions.
2. The journal allows the author(s) to retain publishing rights without restrictions
3. The legal formal aspect of journal publication accessibility refers to Creative Commons Attribution Share-Alike (CC BY-SA).
4. The Creative Commons Attribution Share-Alike (CC BY-SA) license allows re-distribution and re-use of a licensed work on the conditions that the creator is appropriately credited and that any derivative work is made available under "the same, similar or a compatible license". Other than the conditions mentioned above, the editorial board is not responsible for copyright violation.