Jumlah Koloni pada Media Kultur Bakteri yang Berasal dari Thallus dan Perairan Sentra Budidaya Kappaphycus alvarezii di Sumenep
[Number of Colonies in Bacterial Culture Media from Thallus and Waters of Cultivation Center of Kappaphycus alvarezii in Sumenep]
=
http://dx.doi.org/10.20473/jipk.v9i1.7633
Abstract views = 6184 times |
downloads = 79098 times
Abstract
                                                                             Abstrak
Kappaphycus alvarezii merupakan salah satu rumput laut yang banyak diminta oleh pasar internasional, tetapi saat itu terjadi kegagalan budidaya akibat bakteri pathogen. Penelitian ini bertujuan untuk mengetahui kelompok bakteri apa yang menginfeksi rumput laut (Kappaphycus alvarezii). Penelitian ini dilakukan dengan kultur bakteri yang berasal dari thallus dan perairan pada media PCA, selanjutnya dilakukan pengujian angka lempeng total (ALT). ALT menunjukkan jumlah koloni bakteri yang mendominasi pada suatu media kultur. Hasil penelitian menunjukkan bahwa jumlah koloni bakteri yang berasal dari media perairan lebih tinggi dibanding yang berasal dari thallus Kappaphycus alvarezii
                                                                             Abstract
Kappaphycus alvarezii is widely demanding seaweed in the global market, although many farmers face crop failure which is caused by pathogenic bacteria. This research aims to investigate the group of infectious bacteria from Kappaphycus alvarezii seaweed. Bacteria isolated from thallus were cultivated on PCA medium, then the total plate count was determined. The total plate count demontrates the the number of colony dominated on the culture medium. This research showed that bacterium colony derived from aquatic medium is greater than from Kappaphycus alvarezii thallus.
Keywords
Kappaphycus alvarezii, Pathogenic bacterium, Thallus
Full Text:
PDF
References
Andrito, W. 2007. Karaterisasi molekuler bakteri probiotik pada saluran skrining bakteri Vibrio Sp asli Indonesia. Pencernaan ikan kerapu bebek (Chromileptes altivelis) Berbasis Teknik 16 S rDNA. Skripsi, Faperika Universitas Riau.
Ansori, M. 2007. Analisa Jumlah Bakteri dan Keberadaan Esoherichis Coli Pada pengolahan ikan teri nasi Stolephosus spp di PT. Kelola Mina Laut Unit Sumenep. Universitas Trunojoyo Madura.
Aslan, L. M. 2006. Budidaya Rumput Laut.Konisius. Yogyakarta. 97 hal.
Buchanah, R. E., & Gibbons, N. E. 1974.Bergey's manual of determinative bacteriology 8th edition. Baltimore: The Williams and Wilkins Company.
Badan Pengawas Obat dan Makanan. 2008. Angka Lempeng Total (ALT).www.pom.go.id/ Diakses [14 Desember 2014].
Irianto, A. 2003. Probiotik Akuakultur.Cetakan I.Penerbit Gadjah Mada University Press. Yogyakarta. 125 hal.
Rasika, C., Torane, Gayatri, S., Kamble, Swati, M., Devare, Usha, D., Phalgune, Nirmala, R., & Deshpande. 2012. Isolation and characterisation of 1, 2 benzene dicarboxylic acid, bis (2 ethylhexyl) ester dioctyl phthalate, a bioactive compound from Ehretia laevis. Journal of Pharma Research, 5(6), 3251-3252.
Soenardjo. 2003. Membudidayakan Rumput Laut. Balai Pustaka Semarang.
Teurupun, A., Samuel, M., Timbowo, & Joyce. 2013. Identifikasi Kapang Pada Rumput Laut (Kappaphycus alvarezii) Kering Dari Desa Rap Rap Arakan Kecamatan Tatapan Kabupaten Minahasa Selatan. Universitas Sam Ratulangi. Perikanan dan Ilmu Kelautan. 1(1): 14-15.
Yulianto, K. 2002., Pengamatan penyakit iceice dan alga kompetitor Fenomena kegagalan panen pada rumput laut di Pulau Pari dan Kabupaten Seribu. Tahun 2000 dan 2001. Pusat Penelitian Oseanografi Lipi. Jakarta. Hal 2-4.
Refbacks
There are currently no refbacks.
Copyright (c) 2017 Jurnal Ilmiah Perikanan dan Kelautan
           RECENT ISSUES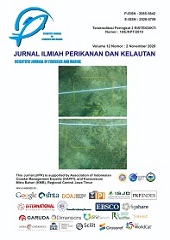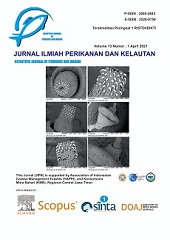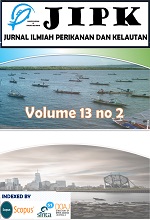 VOL 12, NO 2 (2020): NOVEMBER  |  VOL 13, NO 1 (2021): APRIL  | VOL 13, NO 2 (2021): NOVEMBER 
EDITORIAL  OFFICE
FAKULTAS PERIKANAN DAN KELAUTAN,
UNIVERSITAS AIRLANGGA
Kampus C UNAIR, Jl. Dharmahusada Permai No.330, Mulyorejo,
Kota Surabaya, Provinsi Jawa Timur. Indonesia. 60115
Telepon: (031) 5911451
Fax. (031) 5965741
Email : jipk@fpk.unair.ac.id
 This Journal is Supported by

This work is licensed under a Creative Commons Attribution-NonCommercial-ShareAlike 4.0 International License.