Jurnal Ilmu Perikanan dan Kelautan (JIPK)
Jurnal Ilmu Perikanan dan Kelautan (JIPK)  is a peer-reviewed and open access biannually (April and November) journal that publishes empirical research, recent science development in fisheries and marine, and significant and important research from high quality of research paper and review in the interest of the field of fisheries between the researchers, academics, students and general public. This journal gives readers the state of art of the theory and its applications of all aspects of fisheries. 
The scope of this journal includes, but is not limited to the research results of:
Aquaculture
Fish Diseases
Marine science
Oceanography
Aquatic resources management
Fisheries product technology
Fish capture technology
Fishery agribusiness
Fishery biotechnology, and
Fish health management.
JIPK accepts manuscripts written in English and in Bahasa (Indonesian). JIPK only processes submitted original script related of scope to fisheries and marine science and not being published by other publishers.
This journal (JIPK) is jointly published by the Faculty of Fisheries and Marine, Universitas Airlangga and Association of Indonesian Coastal Management Experts (HAPPI).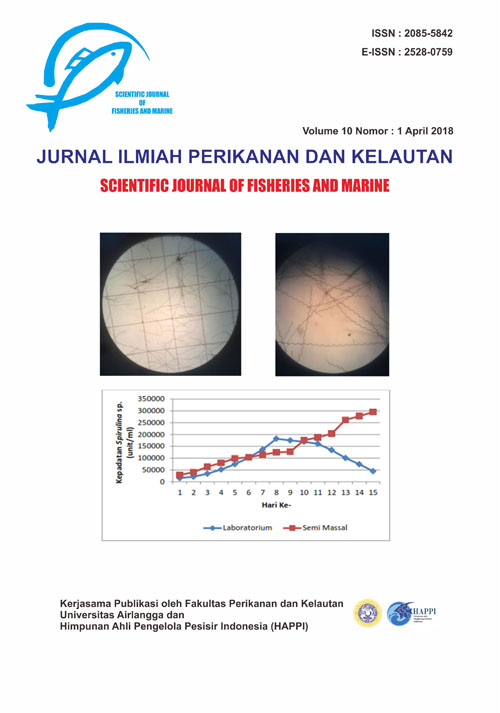 Announcements
News: NEW STYLE OF JIPK PUBLICATION AND DOCUMENT TEMPLATE, AND CHANGE THE EDITORIAL BOARD AND EDITORIAL POLICY

We would like to announce that JURNAL ILMIAH PERIKANAN DAN KELAUTAN (JIPK)  has added Change Editorial Board, Editorial Policy, and has new layout style and a document template. This change is starting from volume 10 issue 2, November 2018 edition.

We would like to follow the international journal trend as well, so we decide to have a new layout style in published manuscripts and cover, and document template

Starting from volume 9 issues 1 and 2, JIPK uses 2-column layouts, then on volume 10 issue 1 it changes into 1 column considering that the change is essential for the editors, lay outers and reviewers to understand the author's manuscript content and for time efficiency. After the Editor team visited, shared and studied various DOAJ and Scopus indexed journals in Indonesia including the visit to Agrivita journal in Malang on November 13th, 2018, and a visited to the editorial team of the UGM Scopus journal including the Indonesian journal of Geography, Indonesian Journal of Chemistry, Indonesian Journal of Pharmacy on November 15-16th, 2018. The finnaly, JIPK editorial team decided that start Volume 10 issue 2 to change the editorial team, editorial policy, layout, and the document template. The purpose of these changes was  to follow international journal trend as well and to facilitate JIPK to be indexed internationally by Scopus, Thomson Reuters, DOAJ and other indexes

 

Please check Volume 10 issue 2 later on November 2018 edition in this website. Thank you very much.

For administration purpose please download the Letter of Declaration below.

 

Posted: 2018-11-19
More...
Vol 10, No 1 (2018): Jurnal ilmiah perikanan dan kelautan
Table of Contents
Research Articles
Abstract views = 165 times | views = 188 times

Kismiyati Kismiyati, Renita Efa Ratna Sari, Wahju Tjahjaningsih

1-11
Abstract views = 146 times | views = 396 times

Rachmat Rizaldi, Woro Hastuti Setyantini, Sudarno Sudarno

12-20
Abstract views = 225 times | views = 44 times views = 115 times

Mardiana Rosita, Khoirul Hidayat, Iffan Maflahah

21-34
Abstract views = 153 times | views = 891 times

Nanik Retno Buwono, Raden Qonitah Nurhasanah

35-46
Abstract views = 122 times | views = 173 times

Sabrina Dhimas Putri Nabila, Rahayu Kusdarwati, Agustono Agustono

47-54
Abstract views = 64 times | views = 132 times

Arif Bimantara

55-62
Abstract views = 127 times | views = 198 times

Nasrullah Bai Arifin, Muhammad Fakhri, Muhammad Fakhri, Ating Yuniarti, Ating Yuniarti, Anik Martinah Hariati, Anik Martinah Hariati

63-74
Abstract views = 57 times | views = 43 times

Widya Paramita Lokapirnasari, Oky Setyo Widodo, Emy Koestanti

75-82
Abstract views = 270 times | views = 758 times

Diah Ayu Puspitarini, Sri Subekti, kismiyati kismiyati

83-92
EDITORIAL ARTICLES
JIPK Back Meter vol 10 issue 1

Abstract views = 7 times | views = 12 times
JIPK Front Meter vol 10 issue 1

Abstract views = 6 times | views = 41 times