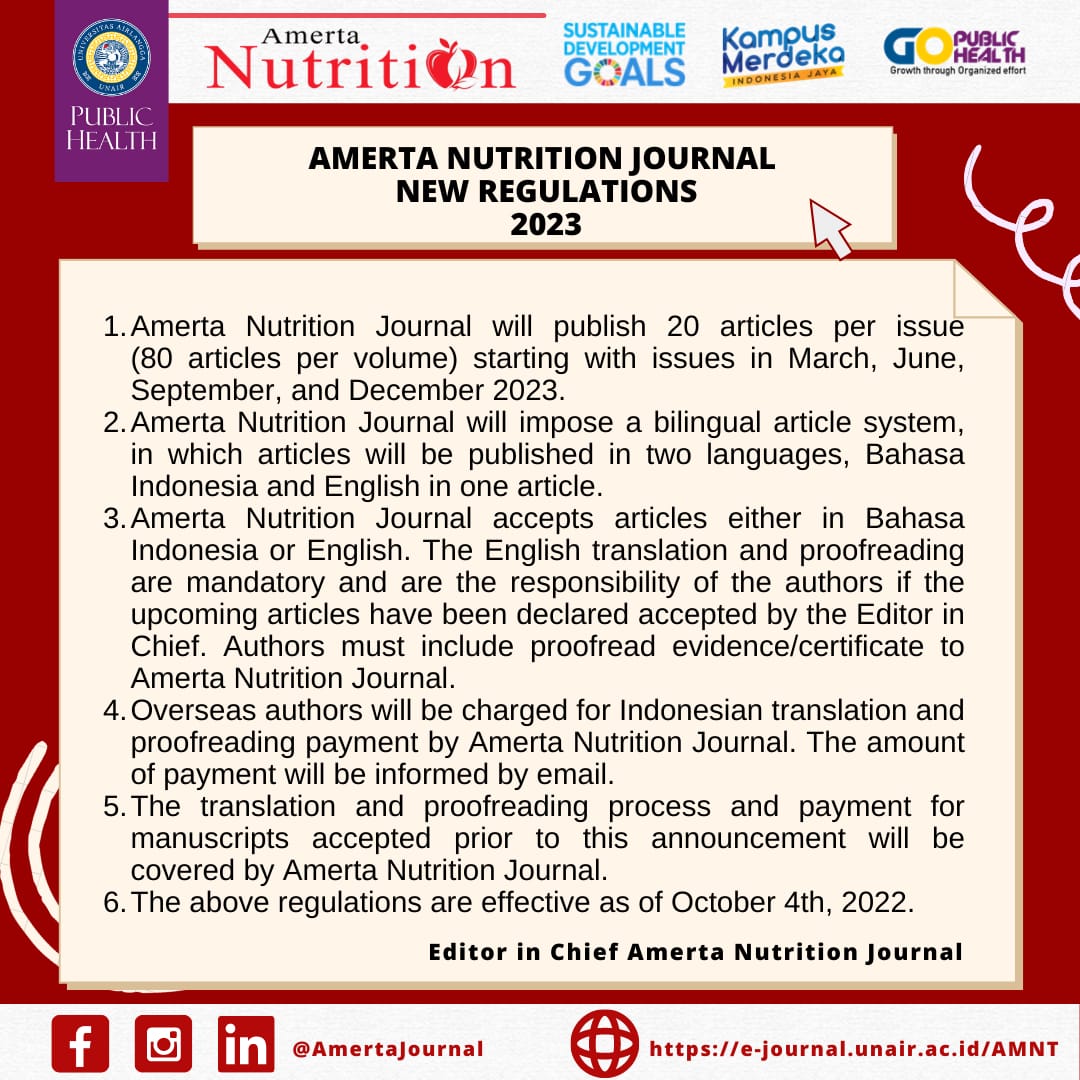 Amerta Nutrition (
ISSN International Centre
;
p-ISSN:2580-1163
;
e-ISSN: 2580-9776
) is a peer-reviewed open-access scientific journal published by
Universitas Airlangga
.  We provide a forum for original research, systematic reviews, and meta-analysis of nutrition and other health-related profession. Each volume of Amerta Nutrition is counted in each calendar year with four issues and is published every March, June, September, and December. Our journal has been indexed by DOAJ, Dimension, EBSCO, and many more. We welcome all articles from diverse sectors, such as registered dietitians (RD), nutritionists, public health workers, public health nutritionists, researchers, lecturers, students, and other health professionals emphasizing nutrition issues in
Asia and emerging nations.
Amerta Nutrition broadly welcomes the best articles on Nutrition in six scopes, including:
Public Health Nutrition (Focuses on community nutrition and society as a whole (populations) and aims at optimal nutrition and health status. This scope is related to preventing disease, prolonging life, developing policy, and promoting nutrition and efficiency through organized community effort.)
Community Nutrition (An area of nutrition that addresses the entire range of food and nutrition issues related to preventing disease and improving the health of individuals, families, and the community that have a standard link such as place of residence (geographic boundaries), language, culture, or nutrition-health-related issues.)
Clinical Nutrition (Focuses on the promotive, preventive, and curative diagnosis, and management of nutritional changes in patients linked to chronic diseases.)
Dietetics (Focuses on improving health and treating diseases to individuals (personalized) nutrition through diet-related programs and practical nutrition, such as clients, patients, carers, and colleagues.)
Food and Nutrition (Focuses on food formulation and food modifications that are related to health and nutrition.)
Food Service Management (Focuses on menu planning, food production, food safety and sanitation, and food financial management.)
Amerta Nutrition has been accredited by the Ministry of Science, Research, Technology, and Higher Education of Indonesia (RISTEKDIKTI RI) since 2017. The updated Accreditation Number: 105/E/KPT/2022, valid until 2026 (The certificate can be downloaded in Sinta 2 sign).